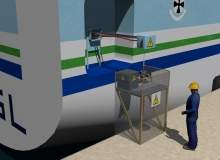 For years, road networks throughout Europe and around the world have been creaking under the strain of growing populations and the ever-increasing logistics operations required to keep them supplied. One of the most feasible options to ease the burden placed on roads is to shift a greater portion of the short-haul logistics load on to the marine highway, replacing trucks with small cargo vessels that can haul containers up and down coastlines and large inland waterways, with ports like Rotterdam, Hamburg, Le Havre and Felixstowe serving as major hubs for this short sea shipping trade.
One of the main stumbling blocks to expanding the role of short sea shipping for logistics is an environmental one – increasingly strict European limits on sulphur and particulate emissions from the shipping industry are forcing shipbuilders and owners to reassess the economics of short sea shipping, especially given the expense of low-sulphur diesel fuel.
This is an issue – among others – that the world's largest ship classification society, DNV GL, is hoping to address with ReVolt, its recently-developed concept vessel for entirely battery-powered short sea shipping. The concept ship is designed to run on a 3000kWh (kilowatt-hour) battery, allowing true zero-emissions operation if the vessel is charged using energy from renewable sources. The vessel's battery is good for a journey of 100 nautical miles before stopping to recharge, and requires around four hours for a full charge.
But that's not the end of the innovations being introduced by ReVolt. The concept vessel also operates unmanned using an array of sensors and navigation technologies, eliminating safety risks for onboard crew – there are 900 crew fatalities on average every year in the shipping industry – and maximising useable deck space for cargo loading. All in all, the operation and maintenance advantages of the ship are expected to create savings of up to $34m over its estimated 30-year life cycle when compared to a diesel-powered vessel. We spoke to DNV GL's senior researcher for maritime transport Hans Anton Tvete to discuss the ideas behind ReVolt.
Chris Lo: What logistics challenges inspired the development of the ReVolt concept?
Hans Anton Tvete: Well, we see that the road network in Norway is quite congested, and research done by Statistics Norway and the Institute of Transport Economics indicates that there's going to be increased pressure on the road network, with more dense urban areas going forward. So we saw that today's road network is not able to handle these changes. This is something that is high on the agenda both in the EU and in Norway. There are several incentive schemes going on to ease the pressure that's been put on the road networks.
CL: DNV has been involved in battery and fuel cell propulsion projects like FellowSHIP and the Viking Lady for a long time – how far has battery-powered propulsion technology come over the years?
HAT: It's definitely something that has caught attention. You mentioned the Viking Lady – I think the OSV [offshore support vessel] segment is a segment where batteries now need to be considered whenever newbuildings are contemplated. For sure, it's something that has really taken off. Using it in the short sea shipping segment, like we have, is quite new – there's nothing that has been looked at earlier, as far as I know. We wanted to make the ReVolt battery-powered to take the environmental friendliness of the concept to the extreme here. The infrastructure for charging obviously needs to be built out.
---
---
By using shore-side electrical power, or cold-ironing, ships can reduce emissions and operational costs.
---
CL: Why is battery-powered operation a particularly good fit for short sea shipping?
HAT: It's the relatively short distances between ports, and the fact that the vessel segment that we investigated in this concept, they are quite slow-going and small to start with. These are general cargo vessels; they operate with an average speed of 8.7 knots here in Norway, and the distance between ports is roughly 100 nautical miles. They go into all these small places. The cargo capacity is also quite small, with a TEU [20ft equivalent unit] capacity of around a hundred. So that was kind of the basis for our design, and we believe that since that was the operational profile we worked on, we found out that a fully battery-powered solution could actually prove a feasible solution.
CL: Have you done research on the extent to which vessels like ReVolt could ease pressure on road-based logistics networks?
HAT: Here we rely on work being carried out by the Institute of Transport Economics and also numbers done by the Shortsea Promotion Centre of Norway. It indicates that 3.8 billion tonne-kilometres are eligible for transfer [to short sea shipping], where it's cargo that is to be transported further than 300km and where the end recipient is closer than 25km to a port or terminal.
CL: The environmental benefits are clear, but what are the operational advantages of the ReVolt design?
HAT: Well, it's obviously not only environmental; it's the savings with regards to the fuel costs. Electricity, at least here in Norway, it's a much less expensive form of energy than low-sulphur diesel, which will become even stricter going into 2015. The battery solution has a limited need for rotating machinery, which is the main cause of technical breakdowns, so maintenance will go down. Crewing, obviously, as this ship is unmanned. How much with respect to crew is a little bit dependent on how the shore infrastructure will be, as some of the functions, at least for surveillance and such, will be moved to shore.
CL: In terms of ReVolt's environmental footprint, how important is it for the ship to use energy from renewable sources to recharge?
HAT: It's of the essence. Using a coal plant to generate electricity, for instance, would just move the emissions to a different location. You would not have any direct local emissions in ports, which is kind of a benefit as you don't have any sulphur or particle emissions, and you're able to run a plant onshore more efficiently than onboard a ship, where the power production is dependent on weather and speed and so on. But in Norway, where we have close to 100% renewable energy mix, particularly from hydropower, we consider the ReVolt a zero-emissions ship. But yes, it's of the essence to have the energy coming from renewable sources.
CL: Would the vessel be financially practical to build today?
HAT: The battery pack is quite a cost driver for the project. We have used prices of $1000 per kWh, so the total cost of the ReVolt would be $3m just for the batteries. So that is a real cost driver. But when you make it unmanned, you can deduct costs related to [accommodation] and a lot of outfitting. So all in all, we calculate that the building costs would be similar to that of a traditional crewed diesel-powered ship today. But [regarding] battery technology going forward, we foresee that prices will decrease and make it actually quite financially attractive from a building perspective.
CL: Do you think a short-haul vessel like ReVolt could help demonstrate the safety of unmanned technology before wider deployment?
HAT: Yes, I think so. First I should mention that this is a step-by-step process of course, that more and more automation will be introduced before you have 100% unmanned vessels coming into operation. But it's more likely that an unmanned concept like ReVolt would be introduced in territorial waters where individual countries set the rules for navigation.
---
---
As unmanned and automated technologies continue to advance on land and in the air, Rolls-Royce's marine division is looking to implement the idea at sea.
---
CL: And in the meantime, an international legal framework for unmanned vessels would need to be developed?
HAT: Yes, because currently this ship is not allowed to operate.
CL: Do you think unmanned vessels are the future in terms of economy and safety?
HAT: I truly believe so. I think we are now experiencing a push towards an increased level of automation, enhanced navigational assistance and condition-based monitoring sensors being introduced. Having no crew aboard a ship will, of course, mean there are no crew members to jeopardise. But we see that our clients are moving in this direction with increased automation, so we are preparing for a future where the increased level of automation is part of improving the safety of shipping.
CL: The vessel is still being tested – what tests have you been carrying out, and what data have they been providing?
HAT: We built a 1:20 demonstrator of the ReVolt with a replicated propulsion system. We have equipped it with different sensors to test the autonomous capabilities. We want to research more on sensor fusion and look at what sensors, what kind of information from sensors, needs to be in place to create a truly 100% situational awareness around the ship, in order to operate it safely. This is something we do here in the fjord outside our head office at Høvik.
CL: How important is it for concept vessels like ReVolt to inspire ship owners and builders about what's possible with today's technology?
HAT: That's what we're hoping to achieve – to show that it actually will be not only safer and greener, but also financially attractive, so it pays off to invest in more environmentally friendly and efficient tonnage. That is something that we hope to achieve. Our customers are moving in this direction, and we need to make sure that as this shift comes, we are able to qualify that technology, and to develop rules for classification to ensure that these ships operate safely. That is our goal here.