Video feature: The New Port Project: Qatar's marine megaproject
Qatar's $7.4bn New Port Project is a greenfield development on the largest scale, transforming an empty stretch of sand into a cutting-edge commercial port. Chris Lo delves into the project's economic background, and charts its progress through 2013 and beyond.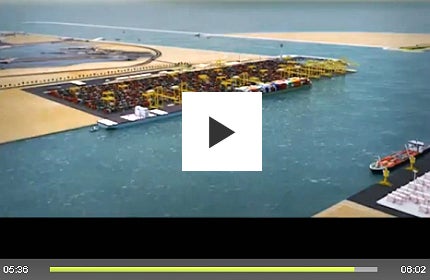 During the last three decades, the six nations comprising the Gulf Cooperation Council (GCC) have fostered an environment of economic growth that has few parallels anywhere in the world. Primarily driven by massive oil and gas reserves, the governments of states such as Saudi Arabia, the United Arab Emirates and Qatar have invested billions to develop local economic hubs and the infrastructure necessary to support local industry.
"2013 will see the start of dredging work for the port's access channel and basin."
While petroleum revenues and the willingness of governments to commit to enormous public spending programmes lies at the heart of the region's economic vitality, the availability of huge tracts of greenfield land provides an abundance of suitable sites to build the next generation of industrial hotspots, whether it's Saudi Arabia's purpose-built industrial cities, or Qatar's New Port Project (NPP), one of the world's largest greenfield port developments.
Situated on a 26.5km² coastal site just south of Qatari capital Doha, this behemoth $7.4bn megaproject is a response to the need for greater port capacity, as Doha's existing deepwater port rapidly approaches its maximum throughput capacity. Qatar, like the rest of the GCC countries, has invited the world to do business, and now needs to quickly ramp up the scale of its port operations.

Building Qatar's mega-port
Instead of attempting to upgrade the existing commercial port at Doha, which would be difficult because of its central urban location, Qatar's Emir Sheikh Hamad Bin Khalifa Al Thani issued Emiri Decree No. 37 in summer 2007, authorising the development of an entirely new port, capable of handling six million TEU of container traffic a year and accommodating the world's largest next-generation container ships.
"The existing port, located in the heart of the city, is currently a major bottleneck to the development of Qatar," said Tim Verdon, programme manager for Aecom, which is managing the project as part of a major contract from Qatar's New Port Project Steering Committee. "The new port will quadruple importation volumes, allowing Qatar to meet its obligations to deliver the stadiums, hotels and infrastructure required for the World Cup in 2022."
"Transforming an empty stretch of sand into a world-class commercial port is no simple task."
Construction of the port is now well underway, and, as the video above shows, transforming an empty stretch of sand into a world-class commercial port is no simple task. Upon first-phase completion in 2016, the port will incorporate three dedicated container terminals, as well as a multi-use terminal with an annual capacity for 750,000 livestock, half a million vehicles and a million tonnes of bulk grain.
The site will also host a brand new 4.5km² base for the Qatar Emiri Naval Forces and will have a connecting canal to Qatar Economic Zone 3 (QEZ3), an industrial and residential hub that will act as a gateway to the rest of Qatar and encourage an efficient interface between manufacturing and import / export through the port.
Work on the project in 2012 was dominated by the construction of the port's 8.5km quay wall, the first block of which was laid in July, with a further 35,000 following through 2012 and beyond. This year, 2013, will see the start of dredging work for the port's access channel and basin, as well as land reclamation for the naval base, all of which was contracted to Middle East Dredging Company (MEDCO) in March 2012.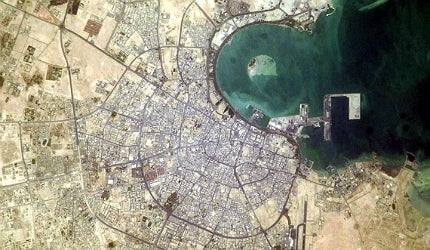 It's another huge task, as Tony G Locke, managing director of Weir Minerals Europe, which was sub-contracted by MEDCO in December 2012 to supply pumps for the dredging, explained. "This is a project on an enormous scale," he said last month.
"The amount of solid rock that will be dredged would be enough to fill the Great Pyramid at Giza 18 times over or the Royal Albert Hall 500 times over."
Evidently, a vast programme of work remains to be undertaken on the NPP before this new greenfield port becomes operational in early 2016. But once completed, the port promises to become a lynchpin in the Qatar National Vision 2030, creating a vital shipping hub in the Persian Gulf and, with a planned rail link connecting the port to Qatar and neighbouring GCC countries, another economic stimulator for the region as a whole.
---
Related content
---
Qatar is currently constructing a new container port located between the municipalities of Al Wakrah and Mesaieed.
Drydocks World Dubai shipyard is the largest ship repair facility in the Middle East.
---