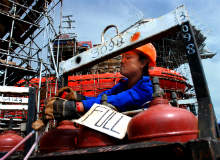 The shipbuilding industry was dealt a huge blow by the global economic crisis in 2008, when vessel demand decreased, dragging down prices and shortening orderbook covers over the following seven years. Currently, huge over-capacity is still looming over shipbuilding.
"Most shipyards globally have struggled to recover from the 2008 fallout and very few are actually operating profitably," says maritime analyst and team leader of IHS's ship new construction department Robert Willmington.
Despite big fluctuations in price and demand, the major markets – China, Japan and South Korea – remain at the forefront of the global shipbuilding and ship repair industry, together comprising approximately 89% of the market share.
However, a group of countries in Southeast Asia are emerging as competitors.
With the financial backing of their governments, a healthy dose of foreign investment due to lower labour costs, scheduled infrastructure developments and business-friendly regulations, Southeast Asian countries are currently securing some of the biggest deals in the shipbuilding industry.
Philippines: high growth and high hopes
The Philippines has been steadily rising as one of the top shipbuilding centres since 2010, when it first outstripped the European market to join the industry's high ranks as the fourth-biggest shipbuilding hub in the world.
"The real bright spot in Southeast Asian shipbuilding is the Philippines," Willmington says. "Clearly the Philippines continues to outshine all other south-eastern countries and I see no reason for this to change in the near future."
At the start of 2015, it was announced that the Philippines' largest shipyard, HHIC-Phil's Subic facility, had registered over $5bn in sales since full-capacity operations began in 2009.
---
---
The $50bn Nicaragua Canal scheme promises to bring huge economic benefits to Central America's poorest country.
---
"HHIC also has a relatively full orderbook up to 2017 and has orders in hand for post-Panamax boxships, very large crude carriers and LPG [liquefied petroleum gas] tankers," Willmington says.
On 21 April, a contract between Hanjin Heavy Industries and CMA CGM, France's biggest shipping company, revealed that the Philippines will be building three of the world's largest container vessels at Subic. The 20,000 TEU ships are planned to be delivered by the second half of 2017.
Currently operating a total of around 121 shipyards across its territory, the Philippines is predicted to produce over 4.8 million in ship gross tonnage between 2015 and 2018 – the most in Southeast Asia.
"I believe longer-term that the Philippines could grow its presence significantly, should other foreign shipbuilders choose to locate production there," Willmington says. "The country has a significant, relatively low-cost labour pool which has excellent maritime expertise. In addition, local governments are keen to encourage foreign direct investment to boost domestic employment levels."
The country's central government also seems to be favouring the industry's growth. Shipping and shipbuilding are listed in the Philippines' 2012 Investment Priorities Plan, according to MARINA, the Filipino Maritime Industry Authority. The shipbuilding sector benefits from a number of tax exemptions, as well as investment incentives to domestic shipbuilding and ship repair sectors.
Some drawbacks remain. In September 2014, maritime expert and Offshore Solutions Unlimited president Thomas S. Wissmann highlighted some of the major challenges facing the Philippines' shipbuilding industry. These include a high number of imported vessels and maritime materials, non-compliance with environmental and HSE standards and lack of modern shipbuilding and ship repair (SBSR) facilities.
However, as the country is registering strong growth in GDP, the shipbuilding market is expected to develop further. Work is in progress on 87 vessels and additional deliveries are scheduled over the next three years.
Singapore: Southeast Asia's specialist shipbuilder
Singapore dominates the market when it comes to the construction of customised and specialised vessels, such as offshore support and supply vessels, dredgers, yachts and research vessels. In 2013, nationwide ship repair and conversion generated $3.5bn in turnover, according to the Association of Singapore Marine Industries (ASMI), while the shipbuilding sector attracted a further $631m.
Singapore is currently setting the grounds for a big yard expansion. According to an industry directory, engineering group Sembcorp Marine is "investing in a mammoth new facility" in Tuas, west Singapore. The future 206ha shipyard will integrate Sembcorp's shipbuilding, ship repair and offshore engineering operations into a single unit and it will become Singapore's largest shipyard on completion in 2024.
"Most shipyards globally have struggled to recover from the 2008 fallout and very few are actually operating profitably."
Until then, high-profit contracts are securing the country's position as a preferred niche ship manufacturer. On 22 April, a Sembcorp-owned shipyard secured a $41m conversion contract for transforming a shuttle tanker into a floating storage and offloading vessel at Sembawang Shipyard, on Singapore's north coast.
Although Singapore is currently exposed to the offshore sector, which is "in a period of significant over-supply" according to Willmington, research published by ASMI forecast an increasing global demand for specialist vessels. This could be highly beneficial to the Singaporean shipbuilding market, which is currently set to produce over 800,000 tonnes in gross tonnage over the next three years.
Malaysia's strategic position
Malaysia is strategically positioned for an increased demand of SBSR, and much like the Philippines, the country's 120 registered shipyards are aided by exemptions from import duty and sales tax.
Three years ago, the Malaysian Government introduced its Shipbuilding/Ship Repair Strategic Plan 2020, designed to "boost Malaysia's industrial competitiveness in the maritime industry" and generate just over $6bn in turnover. The economic plan announced Malaysia's ambition to control 2% of the global shipbuilding industry by 2020. Keeping "realistic", the Association of Marine Industries of Malaysia (AMIM) president and chairman Tan Sri Ahmad Ramli Mohd Nor said the country would focus on the production of "small and medium sized vessels of up to 30,000 tonnes".
To meet its targets of a 10% industry growth rate before 2020, the Malaysian Industry-Government Group for High Technology and AMIM have put in place a number of incentivising strategies, such as training skilled workers, strengthening the institutional framework and introducing business-friendly policies.
Since the plan was presented in 2011, a number of developments have already been implemented. For example, shipbuilder Boustead Heavy Industries Corp initiated new designs for offshore support vessels that would incorporate environmentally friendly technology. The prototype for these new ships will be built starting 2016. Another initiative is the deepening of the Kuala Baram basin and the clean-up of polluted waters in the area in order to allow the development of new shipyards.
In March, Malaysia-based offshore support vessel builder Nam Cheong struck a $58m deal for building vessels set for delivery between 2015 and 2016. This pushed Malaysia's current orderbook to a "robust" $458m, according to Nam Cheong CEO Leong Seng Keat.
---
---
With the price of Brent crude remaining low, oil tanker operators are taking advantage of contango market conditions.
---
But, like Singapore, Malaysia is also exposed to the over-supplied offshore sector, which is why a high proportion of the Malaysian orderbook has been delayed.
"We see significant opportunity for order cancellations during 2015," Willmington predicts.
Indonesia: shipbuilding revival on the horizon?
Indonesia's struggling shipping and shipbuilding industry has been yearning for a clear government-initiated development plan, especially after the blow of the 2008 downturn and overtonnaging issues. At the beginning of 2015, a number of shipbuilding insiders were deploring Indonesia's shipbuilding business as "stagnant" due to the local preference to import ships rather than manufacture them locally.
"Indonesia is also potentially in a difficult position with heavy exposure to the offshore sector, however it benefits from regular orders from the Indonesian Government for patrol vessels and intra-island ferries," explains Willmington.
Confidence in the industry's future received a boost with the election of President Joko Widodo in October 2014. The centrepiece of his electoral campaign was the vow to develop and strengthen Indonesia's maritime sector and to turn it into a "global maritime axis".
The Jakarta Globe reported in January 2015 that at the time, high costs of production meant that Indonesian vessels were 30% more expensive than their Chinese equivalents. Market regulation and the country's tax framework were also reported as counter-productive to the construction and export of ships.
The situation seems to be changing. The country's shipyards and shipbuilding associations welcomed Widodo's $292.5m investment into building freight and passenger ships as part of his "maritime highway" initiative announced early 2015.
Clear targets for the development of the country's shipbuilding industry took shape in the Indonesian Ministry of Industry 2012-2025 plan. One aim of the plan is to produce vessels with a capacity of 200,000 tonnes deadweight by 2020.
Although the shipyard business is blighted by tariffs that add 25% to production costs, with increased pressure from industry groups, the government is taking steps to remove the tariffs on imported ship components throughout the country. At the moment, the shipbuilding core is in the Batam Free Trade Zone, concentrating over 70 shipyards, an industrial area free from import tax and VAT.
Furthermore, in April this year, China announced its interest in investing a total of $63bn in Indonesian infrastructure. In particular, Chinese investors would spend $10.9bn on shipyard estates.
All these incentives are fuelling hope for a strong revival of the country's shipbuilding and ship repair industry in Indonesia.
Vietnam: leaving the past behind
Currently in the middle of a shipbuilding industry restructure, Vietnam is set to rise from its murky maritime past.
"The Vietnamese Government, which had high hopes for Vietnam to become a leading shipbuilding nation in the 2000s via state intervention, has more or less dropped out of global shipbuilding," Willmington explains.
"We see significant opportunity for order cancellations during 2015."
In 2010, Vinashin, one of Vietnam's leading shipbuilders, went bankrupt under a debt of $4.5bn in the middle of a mismanagement scandal.
"The state-owned portion of Vietnamese shipbuilding was more or less devastated by the fallout from the 2008 financial crisis, however foreign direct owned shipyards have more often than not benefitted due to the ability to gain lower labour costs than in their domestic markets,"
Vinashin, since renamed the Shipbuilding Industry Corporation, has been broken up and fully restructured from within by the government. On 12 April, Vietnam's Minister of Transport Dinh La Thang announced that although the company has now largely recovered from its fall, further restructuring will take place. It now aims to achieve sales of $333m in 2015, despite the fact that a high proportion of Vietnam's existing orderbook has been postponed.
"However, Hyundai Mipo (HMD) of South Korea continues to support its joint-venture shipyard in Vietnam," says Willmington. "Known as Hyundai-Vinashin, this yard has a healthy orderbook for vessels allocated to it by HMD."
In November 2014, the Ministry of Transport announced a cooperative plan between Vietnam and Japan to develop Vietnam's shipbuilding industry by 2020, with a further vision for 2030. The primary objectives of the next five years are to develop the capabilities of current shipbuilding and ship repair units and also develop new ones to meet market demand, both domestic and foreign.
Concerning ship repair, the plan aims to introduce environmentally friendly technology that would accommodate work on 300,000-tonne ships. To achieve this, the number of shipyards will decrease, but they will be consolidated into larger, more efficient establishments.
Reaching out to foreign investors, Vietnam's Dong A Shipbuilding Joint Stock Company recently entered a $175m shipbuilding venture with Myanmar to build container vessels, cargo ships and tankers. The joint venture aims to attract more foreign orders for domestic ships, a prime requirement if Vietnam is to secure its place among the world's top shipbuilding nations.