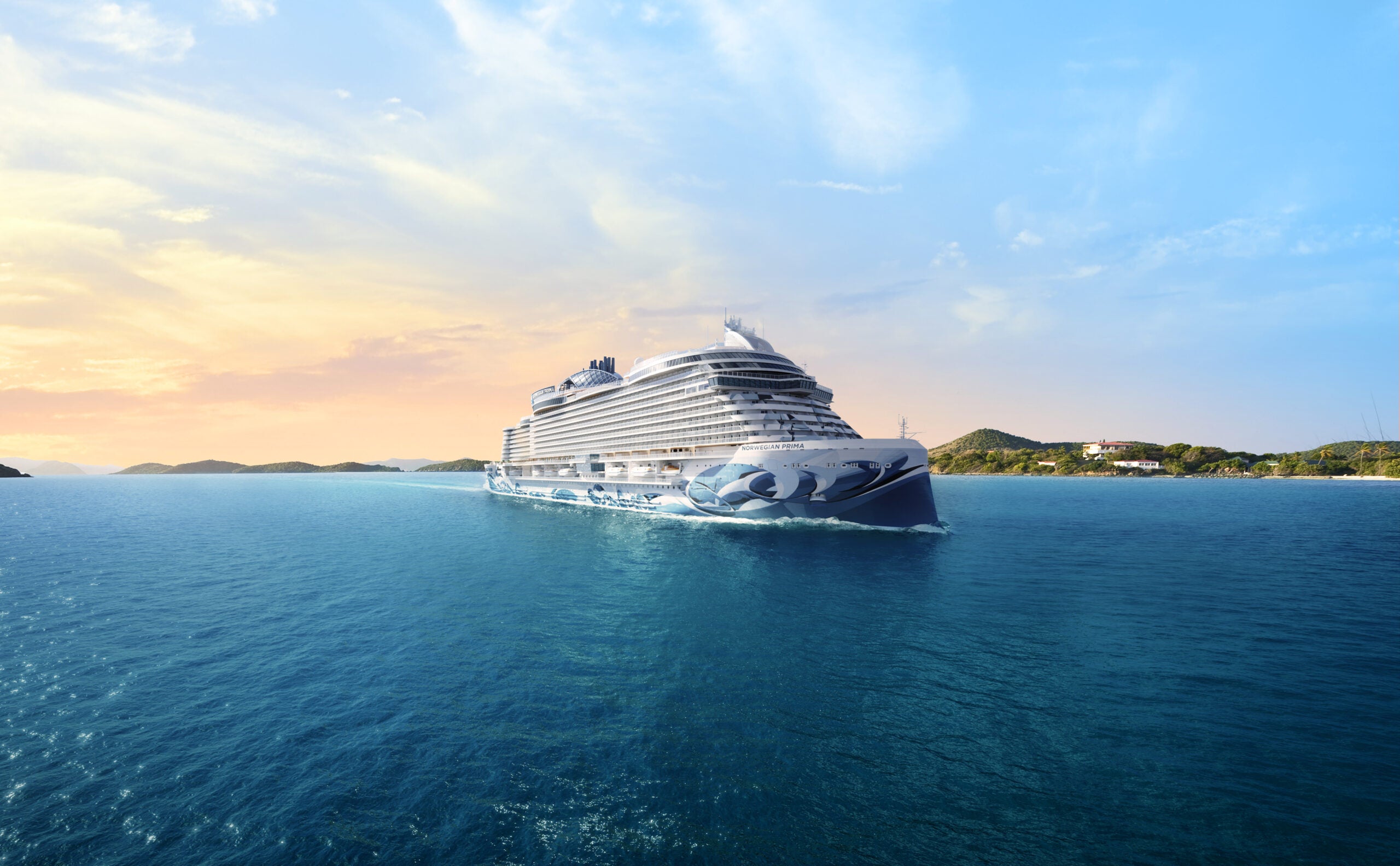 On 27 August, Katy Perry, godmother of Norwegian Prima, christened the new Prima Class ship from its theatre in Reykjavík, Iceland. President and CEO of Norwegian Cruise Line (NCL) Harry Sommer proudly described Prima, the first of six to be delivered by 2027, as "the pinnacle of everything our 55-year-history has been preparing us for" to the 2,500 guests watching. 
It was a moment of celebration for this new class of ship, which literally breaks away from the Breakaway Plus class of NCL's previous fleet – and it was fitting that Perry's finale soared with "Firework". One of Perry's biggest hits, it has been used by organisations and charities to motivate young people – this demographic is clearly part of the target audience for Prima.
For consumers who "pull out all the stops"
Sommer says that despite the upscale design of the Prima class – the vibrant three-deck Penrose Atrium at the heart of the ship was created by boutique design company Studio Dado in Miami – he's not looking for a different guest.  
"Our research indicates they take a range of vacations, sometimes hotels, sometimes cruise ships, and we hope this will be their annual vacation where they pull out all the stops to go somewhere exotic and go home happy," he says during the inaugural sailing from 26 August to 3 September.
Design-wise, there are echoes of Virgin Voyages and the premium tones of Celebrity Cruises' Beyond – both of which target adults – but then there is this serious investment and deck space dedicated purely to fun, rivalling the likes of MSC Cruises and Royal Caribbean, which are family-focused.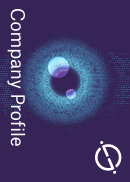 Onboard, you'll find the Galaxy Pavilion with its abundant state-of-the-art VR games and 4D experiences; the three-level Speedway, where fifteen drivers will be able to simultaneously race and reach speeds of 30 mph; dualling double slides The Rush, where guests can race each other; and The Drop – a ten-storey slide that starts in freefall.
There's also a tidal wave raft waterslide; Tee Time, a game of supercharged crazy golf; Flight Club-esque darts, and a stadium that includes pickleball and shuffle ball. Entertainment is also high energy with the Price is Right Live (in the version I watched, Katy Perry and Orlando Bloom ended up on stage together) and The Donna Summer musical. 
Sommer insists that he doesn't look at the market in terms of competitors, reminding us that 1.5 billion people take a vacation "that doesn't involve staying at a relative's house" and of those, 30 million people take a cruise, making 2% of the market.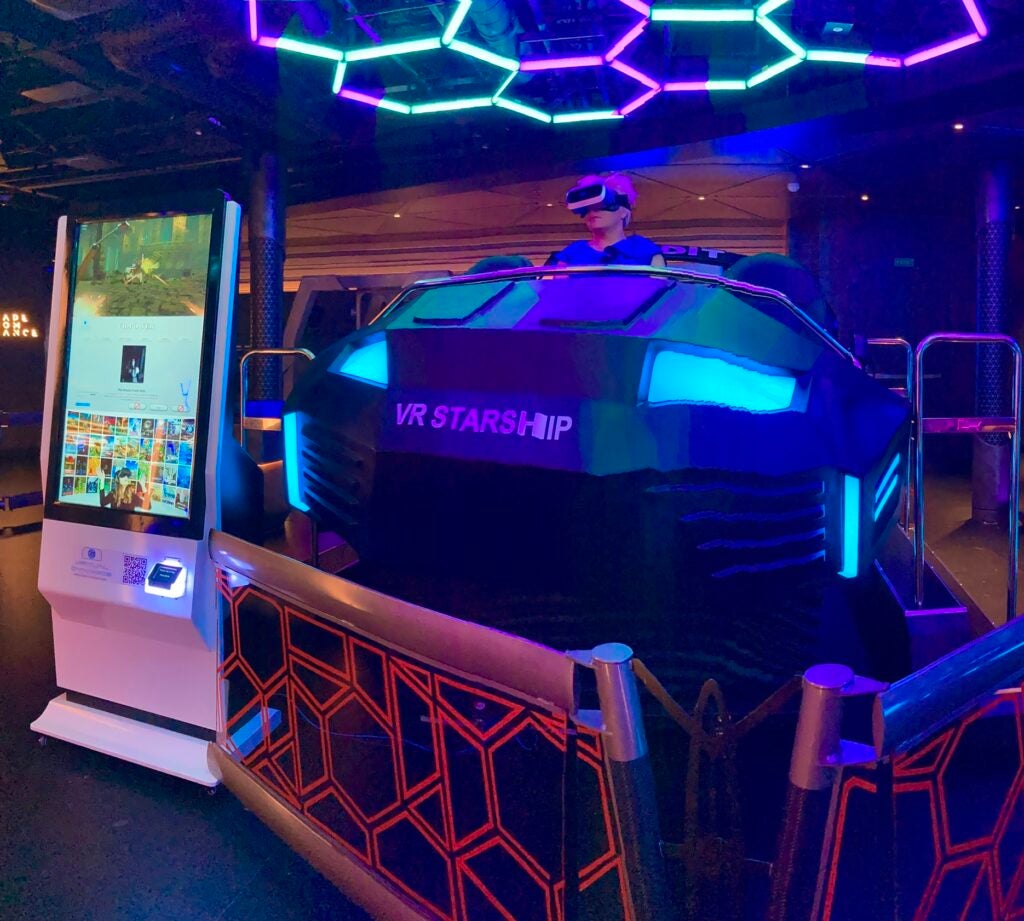 "Our competition isn't other cruise lines, there are so many customers for all of us," Sommer says.
Then add in the exclusive offering of The Haven – a luxurious 8-deck complex with an infinity pool overlooking the ship's wake – an outdoor spa, and family suites with a 24-hour butler service (a challenger to MSC Cruises' Yacht Club), along with the new luxury Mandara Spa, fitness options, and the 22 dining venues, and Prima starts to appeal to an extremely wide consumer base indeed.
Sommers could be creating the ultimate cruise cocktail for the "so many customers" he has identified.
The Prima focuses on intimate, elegant, upscale spaces
Working with shipbuilding veterans Fincantieri, NCL put The Haven at the aft of the ship and the engines in the middle to provide the space needed for the 44,000 square-foot triumph that is deck 8.
The Infinity Beach outside the Local Bar and Grill (there is one on the opposite side of the deck too), is one of the most beautiful, serene spaces I have ever experienced on a ship and I found myself drawn to this pocket of peacefulness.
Comfortable double mattresses lie next to the infinity pool and are bordered by clear blue waterways that ripple and shimmer in the sunshine. Although the Local Bar and Grill, a chilled American-style café, became a top choice for breakfast or lunch, I wasn't expecting to find this special, spacious area here.
During the sailing, having never seen a design like this on the deck of a cruise ship before, I ask Sommer what the inspiration was behind this unique space. His answer uncovers further revelations about NCL's target audience and design motivations.
"Our guests don't want to be surrounded by a thousand other people in one venue," he says – adding that even before Covid-19 this was the case, but that the pandemic accelerated this trend.
"We want to create small, intimate, elegant upscale spaces, so rather than one large sundeck, we created a smaller sundeck within a secondary sundeck, a beach club, and sundecks on each side on deck 8."
The goal of creating intimate and elegant spaces is a theme that extended across the entire food and beverage offering. There are two main dining rooms (Hudson's and the Commodore Room, which have 270-degree views), as well as three debuting restaurants – Palomar, Hasuki, and Nama – and a plethora of others, including the Indulge Food Hall, which hosts 11 eateries such as Los Lobos and Onda.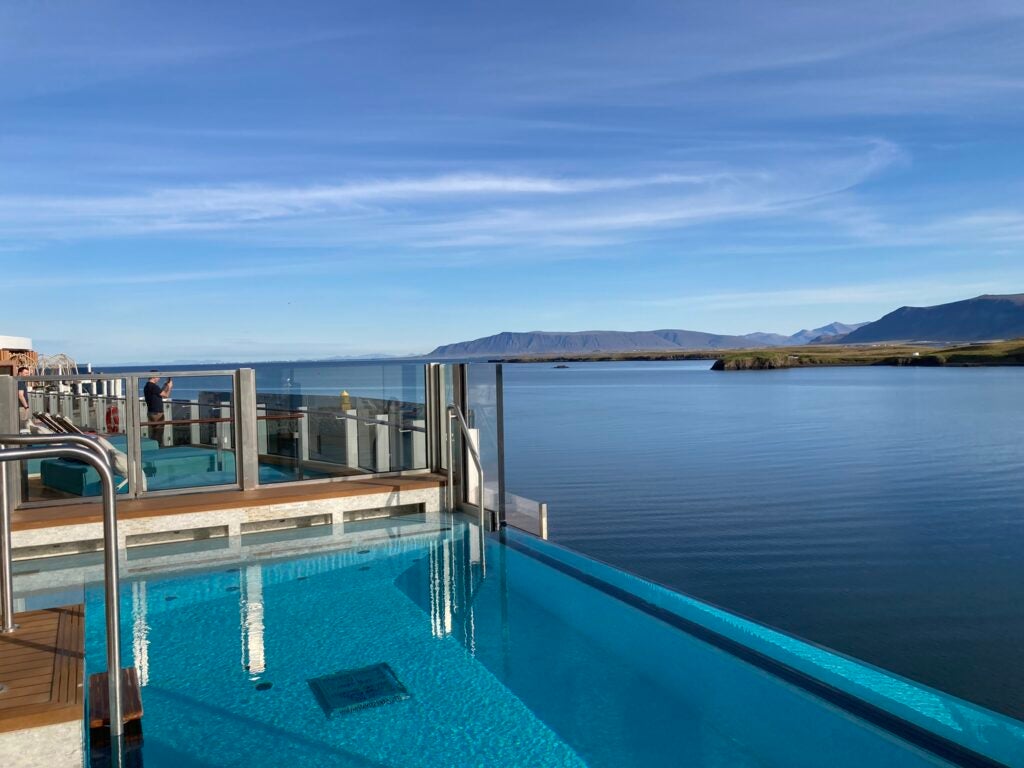 The line has also made a bold change to the main restaurant menu. Rather than having it on a 14-day rotation, as is typical for cruise dining rooms, on Prima they will offer just one fixed menu with dishes the chefs are "experts" at creating.
"We have 22 dining venues on this ship and the average guest might be in the main dining room for two to three nights, so instead of a rotating menu we said: 'why don't we create one fantastic one?'" Sommer explains.  
"I don't know any restaurant in the world that changes their menu every night – 99% of the restaurants we know and love have the same menu every night. We think it will work out well and, if it does, we're going to roll it out across the rest of our ships."
A personalised wellness experience
Sommer says that the goal of the Prima is to elevate the guest experience on board and the diversity of Prima's firsts shows how hard the line is working to attract customers across the board. It features the first three-level racetrack at sea and, in the new luxury Mandara Spa, a charcoal sauna and two-storey cascading waterfall – both of which are firsts for the cruise industry. 
"Our latest health and wellness experiences were designed to awaken the senses of our guests like never before, pairing world-class design and architecture with one-of-kind offerings that truly allow our guests to unwind and escape," says Sommer.
The Rockwell Group, in partnership with One Spa World, were behind the spa's design. There are two pools, vitality (cool) and salt floatation (warm), and heated stone sun loungers all around and a thermal suite that provides a collection of hot and cold experiences.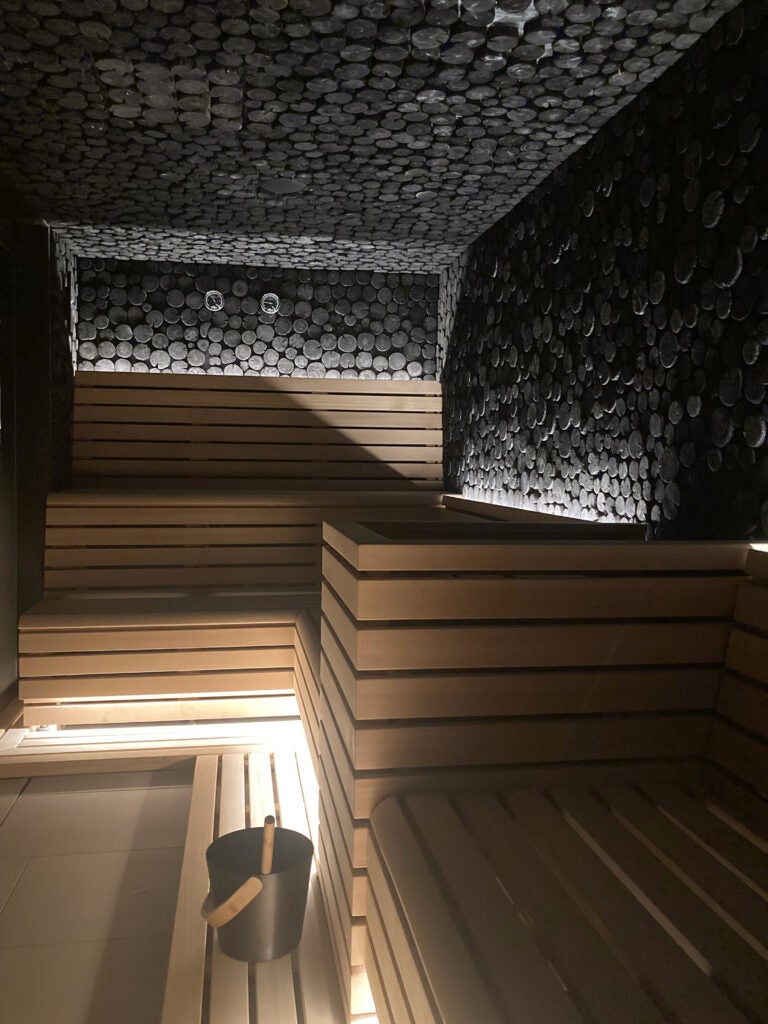 There are three saunas, Finnish, charcoal, and infrared; along with ice, salt, and steam rooms. While NCL has offered guests a spa service before, this is the debut of its extensive thermal spa experience, which allows guests to cycle through hot and cold treatments.
"This spa is our biggest yet at sea for NCL and the thermal suite is on another level compared to any of the other ships," says Sarah Jane Singaram, spa manager of the Mandara Spa.
"In the Mandara Spa, we have a promise to all of our guests who walk through the door, that we want to inspire their wellness and ensure they commit to their wellbeing. We want them to start their journey with us and go home relaxed, rejuvenated, and rested."
Personalisation plays a major part in elevating the service guests receive at the spa on board Norwegian Prima. "We teach our staff that no guest should be given the same service," says Singaram.
"We tailor-make and customise every treatment to the person in front of us, through a thorough consultation and also recommendation for future rituals because not all concerns can be fixed in one service."
Having experienced a Swedish massage on board, I can confirm that a thorough consultation drives a personalised delivery, which caters to the areas you need the most relief. My massage therapist gave me a debrief afterwards and recommended treatments and actions that I could take to continue the improvement.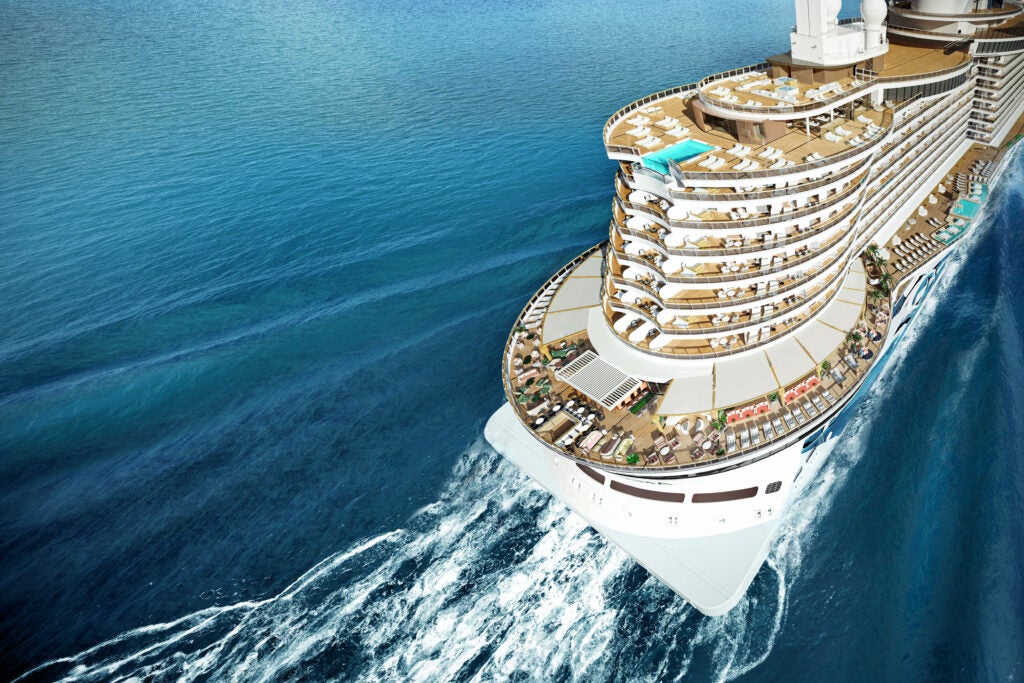 Prima is a tough act to follow
In the Pulse fitness centre, connected Technogym equipment fills the room, and group classes are held at its centre. There is also a popular spin class studio, personal training sessions, and a recovery room.
This is because Pulse has also joined forces with industry giant Hyperice, to run warmup and recovery sessions through the use of Hyperice's Hypervolt massage guns – showing that the Prima team is well on top of fitness industry trends. They can also provide 20-minute sessions with Normatec boots, a leg recovery system, which provides pneumatic compression to enhance circulation and reduce soreness.  
Prima, the prototype for this new Prima Class of ship, is different, a la mode, and primed to give a broad range of consumers exactly what they need. Viva, the next Prima Class ship debuting in 2023, has a tough act to follow.  
From 3 September, Norwegian Prima will cruise itineraries in Northern Europe, from the Netherlands, Denmark, and England; and then offer Caribbean cruises from New York City, Galveston, Texas, and Miami in October and November.