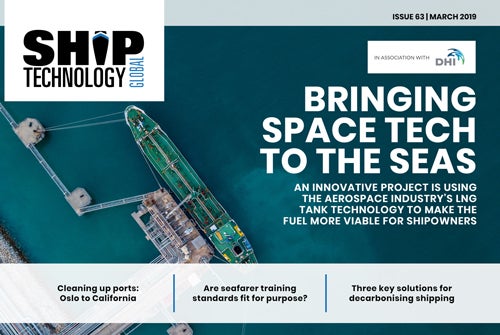 Our March issue is heavily focused on the amalgam of options currently under investigation to help decarbonise shipping.
Firstly, we look at the joint effort of Swiss technological giant ABB and SINTEF, one of Europe's largest independent research organisations, to test the viability of fuel cells as an energy source for ship propulsion.
We also talk to non-profit group Transport & Environment about its latest report which singles out three key solutions to displace fossil fuels: batteries, hydrogen and ammonia. The group explains why these technologies – and the correct combination of the three – could represent the best course for cutting emissions in shipping.
Finally, we round up the most effective initiatives in clearing up ports of debris and air pollution, and sit down with the brain behind SpaceTech4Sea, which aims to adapt composite technologies developed for the space industry to accommodate LNG shipping.
Read the edition in full here.
In this issue
Could fuel cells soon be used in ship propulsion?
Swiss technological giant ABB recently partnered with SINTEF, one of Europe's largest independent research organisations, to test the viability of fuel cells as an energy source for ship propulsion. The project seeks to find out how this technology can be scaled to power passenger and cargo ships.
Read the article here.
Cleaning up ports: from Oslo to California
From underwater drones in Norway to an Australian-designed floating rubbish bin, tech companies and port authorities are increasingly linking up to clean up waterways and tackle air pollution. Patrick Kingsland profiles the most pioneering projects and asks what role local communities play in creating change.
Read the article here.
Are merchant seafarer training standards fit for purpose?
The IMO STCW Convention and Code governs training standards for around two million merchant seafarers. Julian Turner asks the IMO and the International Chamber of Shipping whether it is time for a review to ensure the regime keeps pace with industry trends.
Read the article here.
Three key solutions for decarbonising shipping
Non-profit group Transport & Environment recently published a report on the best ways for the shipping industry to decarbonise its operations, identifying batteries, hydrogen and ammonia as key. However, without support, incentives and proper recognition by bodies like the EU, it could take a very long time for this to happen, as Adele Berti finds out.
Read the article here.
LNG in shipping: could space tech lighten the load?
Athens-based marine consultancy Ocean Finance is working with partners on SpaceTech4Sea, an innovative project using the aerospace industry's lightweight LNG tank technology to make the fuel more viable for shipowners. Chris Lo discusses the project and its benefits for LNG adoption in global shipping with Ocean Finance director Panayotis Zacharioudakis.
Read the article here.

Signal Ocean: using AI to bring ship management into the 21st century
Signal Ocean is a new platform that aims to enhance commercial performance for the shipping industry by extracting key data from emails and combining it with publicly available information, to provide a single commercial view of the market. Adele Berti spoke to founder Ioannis Martinos to find out more.
Read the article here.
Next issue | May 2019
The political turmoil currently hitting Venezuela is damaging the country's economy, putting the national maritime sector in deep water. With economic uncertainty still dominating the climate and trading relations restricted, what damages is the Venezuelan shipping sector suffering from its political crisis?
We catch up with ORCA AI, a new entrant to the market, which launched an AI-based tool to improve safety in navigation, and look into the dredging efforts along the Mississippi River and their importance for the US shipping sector as a measure against erosion.
In the next issue, we also round up five key takeaways of the UK's new maritime strategy, and report from inside London's Smart Ports Summit.
Finally, after years of sporadic reports related to GPS spoofing, we find out how much of a threat this form of cyberattack poses to the commercial shipping industry.