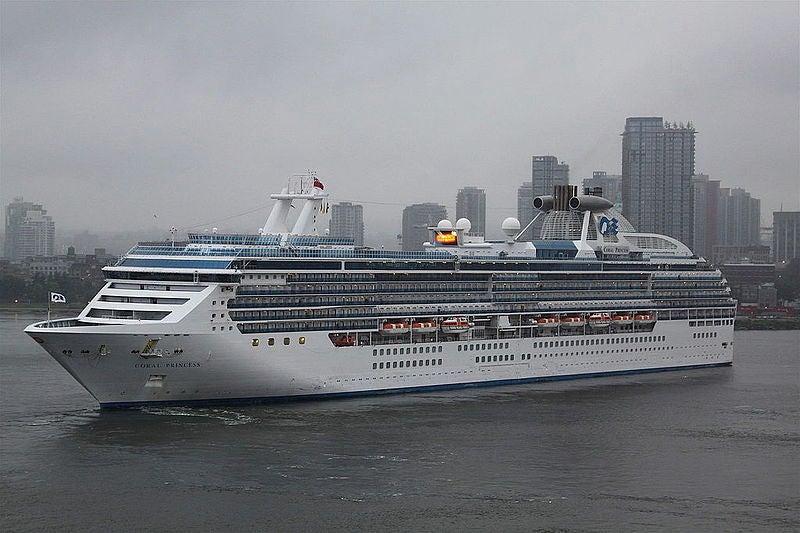 ---
Visit our Covid-19 microsite for the latest coronavirus news, analysis and updates
---
Follow the latest updates of the coronavirus (Covid-19) outbreak on our timeline.
---
Read about the effect of coronavirus (Covid-19) on cruise ships.
---
Princess Cruises has announced that the Coral Princess cruise ship has 12 confirmed cases of Covid-19 on board of the 13 samples that were sent for testing.
Of the 12 cases, seven are passengers and five are crew members. The samples were sent for testing to Barbados on 31 March.
All guests on board are undergoing self-isolation in the staterooms and the meals are being provided via room service. Guests are also provided with complimentary internet and guest stateroom telephone service.
Additionally, when they are not working, the crew are also reported to be in the staterooms.
The ship is carrying 1,020 passengers and 878 crew.
The ship departed from San Antonio, Texas, US, on 5 March and was scheduled to end the journey on 19 March at Buenos Aires, Argentina.
Due to port closures, changing regulations and flight cancellations, guests could not disembark the ship at Buenos Aires as previously planned.
On 20 March, due to the decree issued by Argentina's President Alberto Fernandez, Coral Princess departed from the port of Buenos Aires.
The ship arrived at Bridgetown, Barbados, on 31 March to transfer extra provisions. The ship is scheduled to arrive at Fort Lauderdale, Florida, US, on 4 April.
The cruise ship operator is currently seeking permissions and is working with local officials to disembark at Fort Lauderdale.
It is the fourth cruise ship operated by Princess Cruises that has reported Covid-19 outbreaks.
Diamond Princess, Grand Princess in California and Ruby Princess in Australia have also reported an increase in the confirmed cases on board and after disembarkation.
Diamond Princess, which was quarantined in Japan, reported approximately 700 cases and eight deaths and is considered to be the most affected cruise ship.
On 2 April, Holland America Line's two cruise ships, Zaandam and Rotterdam, received permission to dock in Everglades, Fort Lauderdale, Florida, US.