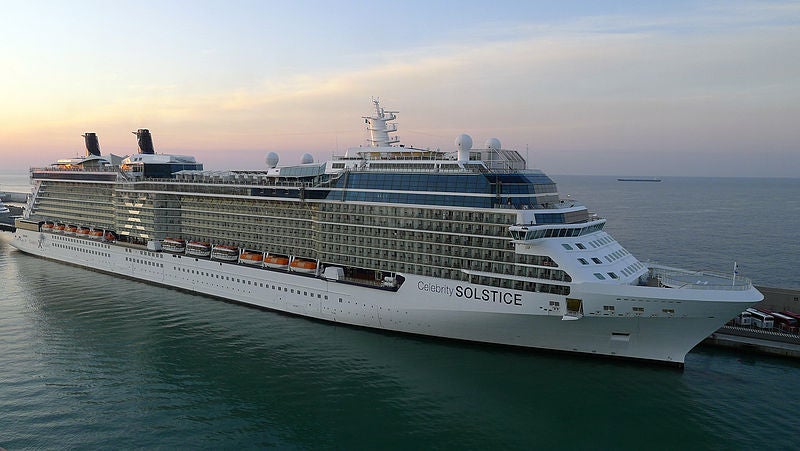 ---
Visit our Covid-19 microsite for the latest coronavirus news, analysis and updates
---
Follow the latest updates of the coronavirus (Covid-19) outbreak on our timeline.
---
Read about the effect of coronavirus (Covid-19) on cruise ships.
---
A passenger who was on the Celebrity Cruises ' Celebrity Solstice cruise ship has died due to the coronavirus (Covid-19).
WA Health has confirmed that the man was in his 70s and died at the Joondalup Health Campus. He was isolated and was receiving care.
The cruise ship docked in Sydney, Australia, between 18 and 20 March.
This is the second Covid-19-related death in Western Australia (WA). The first death was a man who was evacuated from Princess Cruises' Diamond Princess cruise ship.
WA Health confirmed 26 cases today, of which four are from cruise ships Ruby Princess, Sun Princess and Voyager of the Seas.
Another cruise ship, Vasco da Gama, is scheduled to arrive at Fremantle in Western Australia.
1,500 passengers on the cruise ship will be quarantined on Rottnest Island. However, the permission to disembark was revoked as the island only has 300 isolation units.
The ship is expected to dock in Fremantle on Friday, 27 March. The announcement was made by Western Australian Premier Mark McGowan.
The move follows the mismanagement of the Ruby Princess cruise ship that docked in New South Wales, Australia.
Health authorities said that there is a minimum of 133 people who tested positive for the virus and one death reported on the ship. Passengers disembarked from the ship on 19 March.
McGowan said: "We have seen what has happened in Sydney Harbour.
"It was a complete and utter disaster. I will not allow that to happen in WA. There are no circumstances where we will allow passengers or crew to wander the streets in our state."
All the passengers on the ship will have to stay on board until the flights are arranged for them to return home. The ship carries 800 Australians, 150 passengers from other countries and 550 crew members.
There are no illnesses reported on the ship and no one has tested positive for Covid-19. The ship has been on the sea for 13 days so far.