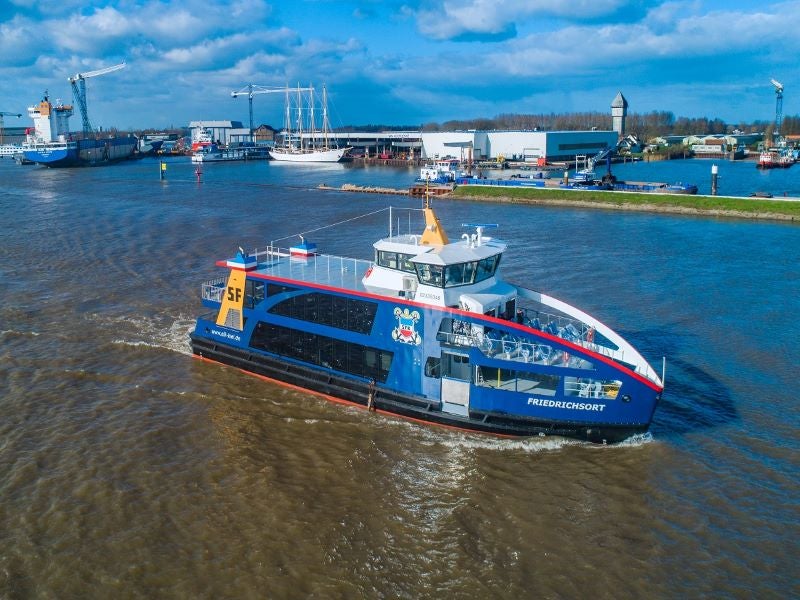 Dutch shipbuilder Holland Shipyards Group has received a contract from Germany's Schlepp- und Fährgesellschaft Kiel (SFK) for the construction of two new ferries.
Under the new contract, Holland Shipyards will build a hybrid cycle and foot ferry, called Laboe, that can accommodate 300 people.
It will measure 32.4m x 8.8m and will feature a hybrid drivetrain fuelled by either generators or a battery bank.
The vessel's battery capacity will be unlike the earlier delivered hybrid ferries.
Laboe will be fitted with two 272kWh batteries to support sailing larger distances.
The shipyard will construct a smaller all-electric cycle and foot ferry, named Dietrichsdorf, that can house 140 pedestrians and 60 bicycles.
Measuring 24.95m by 7.5m, it will have an installed battery capacity of 1,092kWh.
Similar to sister vessels Düsternbrook and Wellingdorf, the ferry will be fitted with the non-conventional automated mooring system with electric-hydraulically operated mooring hooks on both sides of the vessel.
Holland Shipyards stated that it has helped the German ferry operator 'make good on its promise to provide green transport to the people of Kiel' by providing five green ferries in the last few years.
The shipbuilder said: "SFK's uncompromising approach to sustainability lies close to Holland Shipyards Group's heart, as the yard is also actively looking for, and implementing systems and structures for more sustainable shipbuilding."
The company delivered the first newbuild ferry to SFK in 2020, as well as four other ferries later.