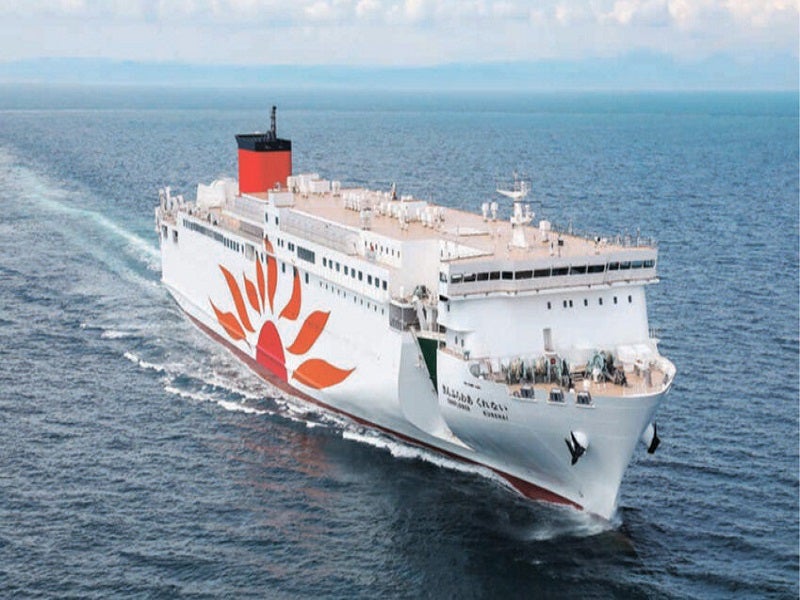 Mitsui OSK Lines (MOL) has announced that Japan's first liquefied natural gas (LNG)-fuelled ferry, called Sunflower Kurenai, has been entered into service.
Owned by MOL and operated by its group company Ferry Sunflower, the ferry travels between the Sunflower Ferry Terminal in Osaka Prefecture and Beppu International Tourist Port in Oita Prefecture.
Sunflower Kurenai is the first of two ferries that the company is introducing. It is a replacement for the Sunflower Ivory ferry.
MOL's second LNG-fuelled ferry, Sunflower Murasaki, will also be operated by Ferry Sunflower.
In a statement, MOL said: "Compared to earlier ferries, the new ferry offers greater transport capacity and convenience for both cargo and passenger transport. In freight transportation, it has greater capacity to load trucks and provides a larger, more comfortable room for truck drivers.
"In addition, the floor area of the Grand Bathroom is doubled and the number of seats in the restaurant was enlarged 1.5 times, and spacious and open public areas including a three-layer atrium were newly created.
"The new vessel is intended to promote and enhance the company's 'Casual Cruise Concept'."
MOL's new ferry is claimed to be the first of its kind in Japan and features advanced environmentally-friendly specifications, such as a high-performance dual-fuel engine that is designed to operate on both LNG and heavy fuel oil.
Each LNG fuel-powered ferry is estimated to cut approximately 25% of carbon emissions as well as 100% of sulfur oxide.
MOL aims to achieve net zero greenhouse gas (GHG) emissions by 2050, and as part of this initiative, the company is promoting the wider adoption of LNG fuel through the advancement of an LNG fuel supply system.
Going forward, the company plans to build two more new LNG-fuelled ferries and put them into service by 2025 to replace the vessels currently operating on the Oarai-Tomakomai route.