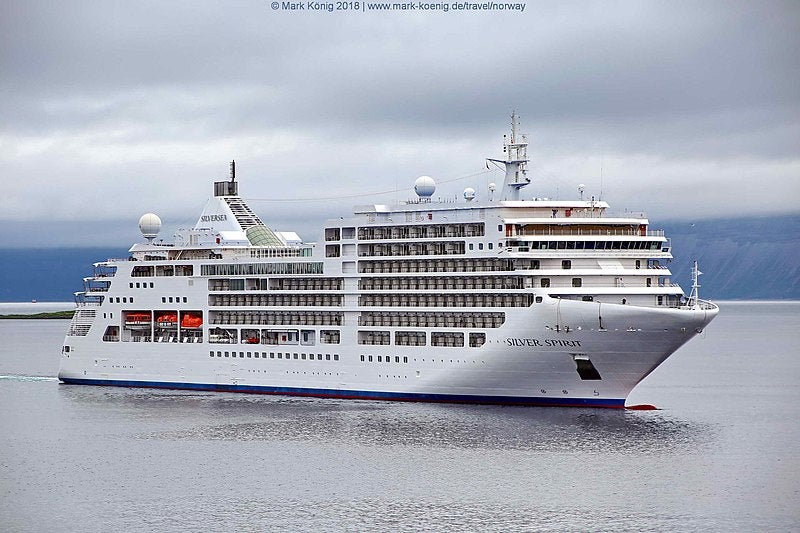 ---
Visit our Covid-19 microsite for the latest coronavirus news, analysis and updates
---
Follow the latest updates of the coronavirus (Covid-19) outbreak on our timeline.
Read about the effect of coronavirus (Covid-19) on cruise ships.
---
Myanmar has barred Silver Sea Cruises' the Silver Spirit cruise ship from docking at Yangon over fears of the recent coronavirus (Covid-19) outbreak.
The cruise ship was scheduled for a four-day stopover in Yangon, Myanmar, but the country's government revoked docking permissions.
Health and Sports Ministry deputy director Khin Khin Gyi said that the government made the decision in an emergency meeting in Naypyitaw.
Gyi said: "The main reason is that the cruise ship stopped in several countries with confirmed coronavirus cases."
The ship previously had a stop in Phuket, Thailand, and was scheduled to reach Thilawa Multipurpose International Terminal on 4 March.
The ship is currently carrying 485 passengers and more than 350 crew members.
The epidemic has so far killed over 3,100 and infected more than 90,000 people around the world. Currently, Myanmar has no confirmed cases and has tested 45 suspected individuals.
Last month, the Dominican Republic denied entry to Fred Olsen Cruise Lines' MS Braemar cruise ship as a number of passengers on board were reported to have flu and respiratory infections.
Jamaica and Cayman Islands barred MSC Cruises' Meraviglia cruise ship from entering their shores as it was carrying a sick crew member who travelled to countries with confirmed coronavirus cases.
The cruise ship was later allowed to dock in Mexico and Mexican health officials have confirmed that there are no coronavirus cases on board.
Cruise Lines International Association (CLIA) has announced the adoption of extended screening for cruise ships.
Among the other measures, CLIA members have been asked to prohibit the boarding of passengers who have travelled or had a layover in the airports of South Korea, Iran, China, Hong Kong, Macau and any Italian municipalities that are under lockdown.
In addition, CLIA has also asked members to carry out pre-boarding screenings and implement other prevention methods.