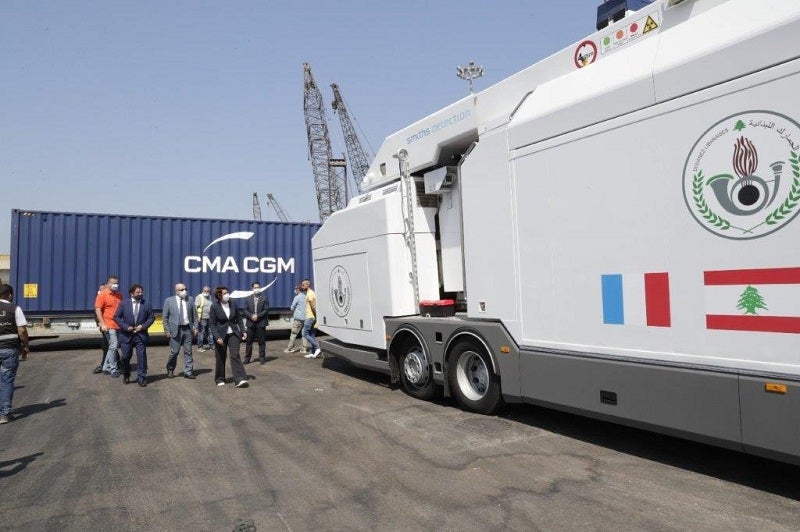 UK-based security company Smiths Detection has delivered its HCVM scanner, a mobile X-ray inspection system, to the Lebanese Customs at the Port of Beirut to help enhance the port's safety.
The equipment has been supplied in collaboration with the Embassy of France in Lebanon, the French Ministry of Economy and Finance, Expertise France and the CMA CGM Group.
The HCVM scanner is expected to improve the port's security by detecting illegal substances and hazardous materials.
Financed by the General Directorate of the Treasury, the X-ray system is intended to help discourage or prevent smuggling activities at the port.
The company will also provide two years of maintenance services for the solution on a weekly basis, as well as offering technical assistance for its deployment and training for Lebanese Customs officers overseeing its functioning.
Smiths Detection claims that the HCVM scanner can be easily moved from one location to another.
The device was transported from France to Beirut by Smiths Detection's partner, CMA CGM.
French ambassador to Lebanon Anne Grillo said: "This new scanner will improve the detection of dangerous goods and the fight against smuggling.
"It will thus contribute to Lebanon's economic recovery by restoring to Lebanese Customs its full capacity to act."
Smiths Detection commercial vice president Jerôme de Chassey said: "We are proud to be able to help Lebanon improve its security.
"The impact of the tragic explosion that devastated Beirut last year continues to be felt, and smuggling has continued since that disaster.
"This system, which will be vital to protect people and property, has been designed to be easy to use in order to facilitate the work of Lebanese Customs.
"This donation would not have been possible without the cooperation of our partners, first and foremost the French Government and the CMA CGM group, to whom we are immensely grateful."