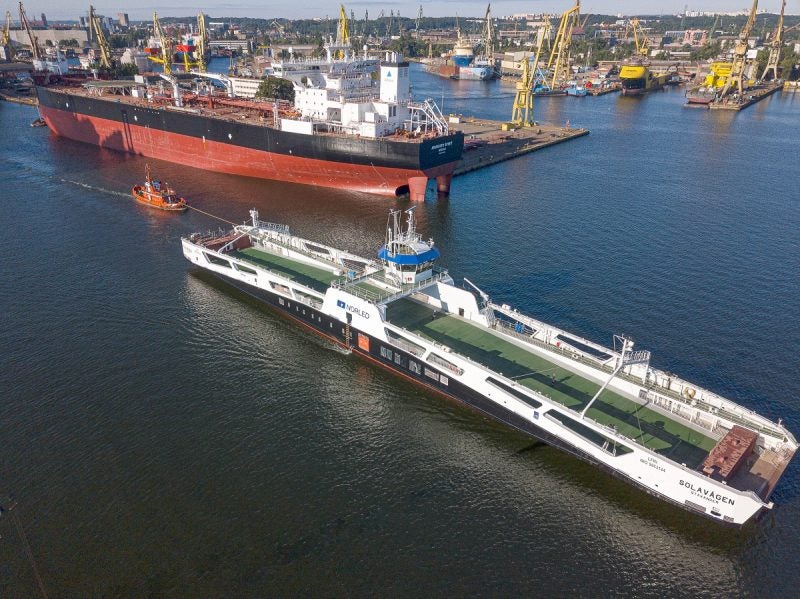 Remontowa Shipbuilding said that the second electric passenger / vehicle ferry of four, Solavågen (B619/2), has started sea trials.
The ferries are being built for Norwegian shipowner Norled.
The four vessels are being constructed in Remontowa Shipbuilding and will sail in the Norwegian fjords. They will operate on the links between Festøya – Solavågen and Mannheller – Fodnes.
The first electric ferry was delivered at the end of June and has started service on the Festøya-Solavågen line in the middle of last month.
The third ferry is currently under construction. The equipment work is underway and most of the cable works have been carried out.
For the fourth vessel, the shipbuilder is carrying out the burning of technological inserts and installation of equipment, as well as the continuation of hot works. The company is planning the cable-laying in the second half of this month.
Sembcorp Marine subsidiary LMG Marin design office carried out the design of the ferries, while Marine Design & Consulting (RMDC) was responsible for the working documentation.
Other companies of the group, Repair Electrical Solutions, Repair Hydroster Systems, Repair Coating & Equipment and Repair Lighting Technologies, are also participating in the construction.
In May last year, Norled and shipyard Westcon reached an agreement for the construction of two new environmentally friendly ferries.
One ferry will run on hydrogen fuel, while the other will be a battery-powered ferry, quite similar to MF Ampere.
In October 2018, Norled placed an order with Sembcorp Marine for the design and construction of three identical hybrid plug-in roll-on / roll-off (RoPax) passenger ferries.
In July 2018, LMG Marin secured a contract to design two battery-plug-in double-ended diesel-electric hybrid ferries to be operated by Norled.