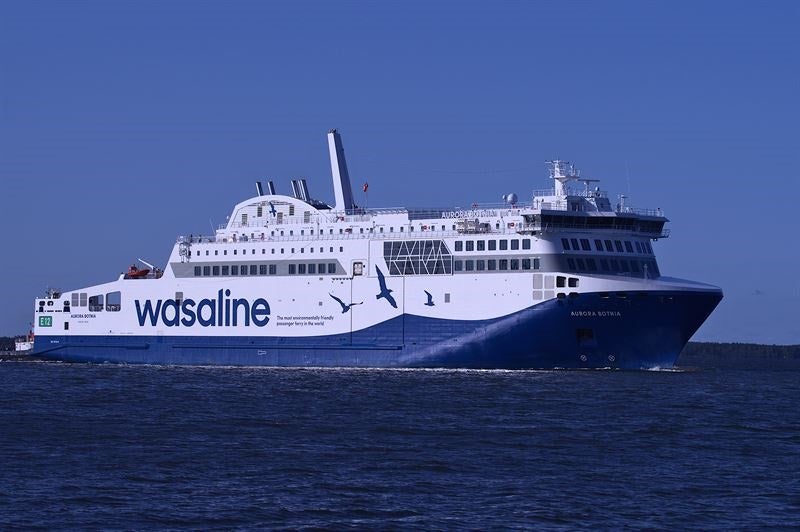 Finnish-Swedish ferry operator Wasaline has entered a ten-year agreement with Wartsila for the optimised maintenance of its new ferry, Aurora Botnia.
The deal, which took effect this month, was signed in June.
Aurora Botnia has been constructed at Finland's RMC shipyard and is said to be 'the most environmentally-friendly RoPax ferry in the world'.
With the capacity to accommodate 800 passengers, the 150m ferry will also have 1500 lane metres for vehicles.
It will operate between Vaasa in Finland and Umeå in Sweden, with both ports offering liquefied natural gas (LNG) bunkering facilities and battery charging capabilities.
Propulsion for Aurora Botnia has been developed on a hybrid solution using the Wartsila 31DF dual-fuel engine and batteries.
Wartsila 31DF will be able to function on LNG fuel as well as BioLNG.
Additionally, the scope of the agreement covers the latest digital solutions on the basis of artificial intelligence.
These solutions will help in the timely detection of potential faults and offer effective predictive maintenance backing.
According to the agreement, the operation will be modified to reduce unscheduled downtime and attain the lowest possible carbon footprint.
In a statement, Wartsila said: "The vessel will act as a floating test laboratory linked to Wartsila's Smart Technology Hub in Vaasa, Finland, allowing real-time operational monitoring. This will maximise efficiency and provide valuable data for future developments of solutions capable of the highest levels of sustainability."
The ferry is also loaded with Wartsila's Data Bridge platform, which gives continuous insight into the ship's performance.
It will feature Wartsila's LNG Pac gas storage solution, Wartsila thrusters, catalysators, controls, an energy and power management system, and integrated electrical and automation systems.
Furthermore, Aurora Botnia will be equipped with the Wartsila Nacos Platinum integrated vessel control system.
Recently, Samsung Heavy Industries and Wartsila signed a joint development programme agreement to develop ammonia-powered ships with four-stroke auxiliary engines for future newbuild projects.