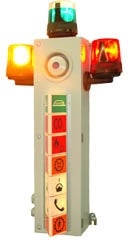 Shipborne Light Signal Alarm System (LSAS)
The light signal alarm system (LSAS) is a mini-programmable logic controller (PLC)-based light signal and stand-alone visual alarm system, which can also be adapted to your alarm and monitoring logic. The LSAS provides visual and audible alarm signals for a variety of configurable parameters, controlled by the control unit. Features of the LSAS include:
High-quality components
Modern concept
Shortest delivery time due to modular pre-manufacturing method
Best price / performance ratio
Clever commissioning and test features (integrated test mode / lamp test)
Acoustics delay settings, adjustable by user
Easy to install
Degree of enclosure of all engine room devices: real IP55
Compact control unit design
Requires just one 230V AC power supply
µP controlled dynamic acoustics
Standard LSAS types consist of six or seven alarm indicators (symbols). More indicators are available if required and clients can select from multiple acoustics philosophies, up to 120dB sound level.
PDF Available