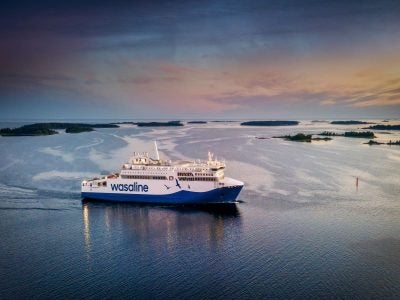 Aurora Botnia is the first car and passenger vessel to meet the specifications of the Clean Design notation. Credit: Mikael Matikainen.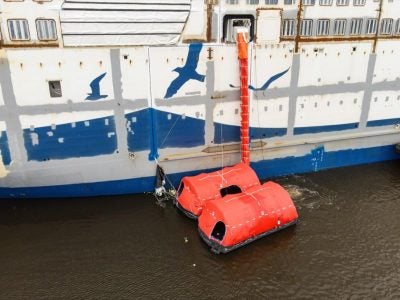 The Aurora Botnia ferry uses evacuation systems instead of traditional lifeboats. Credit: Mikael Matikainen.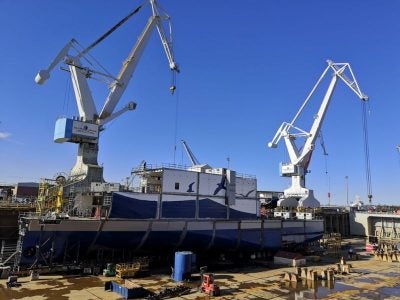 The vessel was constructed at Rauma Marine Constructions' shipyard in Finland. Credit: Mikael Matikainen.
Aurora Botnia is a new liquefied natural gas (LNG)-powered car and passenger ferry operated by Finnish shipping company Wasaline, a subsidiary of Finnish/Swedish shipowner Kvarken Link.
Kvarken Link is owned by the city of Vaasa, Finland, and Umeå Kommunföretag, a holding company of Umeå Municipality, Sweden.
Aurora Botnia operates between the cities of Vaasa in Finland and Umeå in Sweden.
The construction of the roll-on/roll-off passenger (RoPax) ferry commenced at Rauma Marine Constructions' shipyard in Finland in September 2019. It involved an investment of approximately €120m ($139.1m).
The vessel was floated out in September 2020, while sea trials were completed in June 2021. It was delivered and christened in August 2021. Its maiden voyage took place in the same month.
Aurora Botnia ferry design and features
Aurora Botnia features two cargo decks and has a freight capacity of 1,500 lane metres. It offers accommodation for up to 800 passengers in 68 cabins. The vessel has a length of 150m, a width of 26m, and a draught of 6.1m, while its gross tonnage is approximately 24,300t.
The ferry is equipped with the latest eco-friendly technologies making it the first car and passenger ferry in the world to receive the Clean Design class certificate from the international classification society DNV. The use of electricity while approaching or departing harbours reduces noise and emissions. The LNG-operated machinery also results in reduced emissions of sulphur, nitrogen, and carbon dioxide (CO₂).
Aurora Botnia is equipped with two KONE MonoSpace® passenger elevators and a KONE MonoSpace® service elevator.
The safety equipment on board the ferry includes two evacuation systems in place of lifeboats. The safety evacuation systems, which can be launched from the deck of the ship in 90 seconds, include an evacuation chute and an automatically inflatable life raft. Passengers can slide through the evacuation chute to the life raft.
The marine evacuation system uses lesser storage space and provides a high capacity, while also enabling quick rescue operations when compared to traditional safety systems.
Aurora Botnia accommodation and amenities
The Aurora Botnia ferry offers accommodation in 29 A4 class cabins, 18 B4 inside cabins, and two cabins for disabled passengers. In addition, it offers five separate cabins for passengers travelling with pets. All cabins feature beds, a toilet, shower, and a smart TV.
A business lounge with 34 seats and tables for two and four persons is located on deck eight. It provides coffee, tea, newspapers, and Wi-Fi access. Located on deck seven, the comfort lounge provides a place to relax with bookable recliners. The seating lounge features a salon with 42 seats and provides free Wi-Fi access.
A pet lounge is also available on board with direct access to the weather deck where passengers can take a short walk outdoors with their pets.
Dining and retail offerings
The car and passenger ferry features fully-licensed restaurants that offer a variety of food options influenced by the local area.
The à-la-carte restaurant located on deck eight offers a three-course menu of the month featuring the finest cuisines of the season and special beef, which is dry-aged on board. The archipelago buffet on deck eight features the best land and seafood. The restaurant can accommodate 200 guests while the buffet mainly serves locally produced food and dishes from selected suppliers and non-alcoholic drinks, including coffee and tea.
A café on board the ship offers quick snacks, including homemade meals, salads, burgers, and sandwiches. The bar and pub offer beer, wine, cider, and other drinks. The bar has seating space for more than 200 guests while the adjacent pub offers seating for an additional 40 members.
A modern playroom for children is available that offers games, toys, a slide, and screens for watching cartoons and playing video games.
The shopping areas on deck seven sell a range of products, including perfumes, sweets, beverages, tobacco products, toys, and accessories.
Aurora Botnia propulsion and navigation systems
The propulsion system integrates a hybrid solution comprising four Wärtsilä 31DF dual-fuel engines, and batteries. The four engines can run on both LNG and biogas. LNG is the primary fuel source while biogas is the secondary source.
The ship is also equipped with Wärtsilä's LNG Pac gas storage solution, thrusters, controls, catalysators, integrated electrical and automation systems, and an energy and power management system.
The ferry's propulsion system also includes ABB's Azipod® electric propulsion and liquid-cooled 6MW AC drives. The Azipod® technology reduces the fuel usage of the ship by up to 20% compared to traditional propulsion systems. It also ensures quiet and vibration-free operation of the ferry.
Aurora Botnia is equipped with an integrated vessel control system based on Wärtsilä's Nacos Platinum navigation system.
Contractors involved
The engine units were supplied by Wärtsilä while the propulsion units were supplied by ABB, a Swedish–Swiss automation company. Wasaline also signed a ten-year maintenance agreement with Wärtsilä for Aurora Botnia in June 2021.
Danfoss, a Danish engineering company, supplied the ship's AC drives, while the elevator units were supplied by KONE, a Finnish engineering and service company.
Graphic designer Kudos Dsign provided the interior design. Merima, a turnkey solutions company for shipbuilding, was involved in the construction of all the public areas and cabins, including large parts of the technical areas.
Finnish firm WE Tech Solutions was contracted to provide the vessel's main generators, propulsion drives, battery banks, DC-to-DC converters, and associated systems.
Finland-based coatings company Nor-Maali and Norwegian chemicals firm Jotun provided steel surface coatings for the ship. Surface treatment specialist Ermail managed the coating project. Halton Marine supplied FDB2 fire and gas dampers for the ferry.