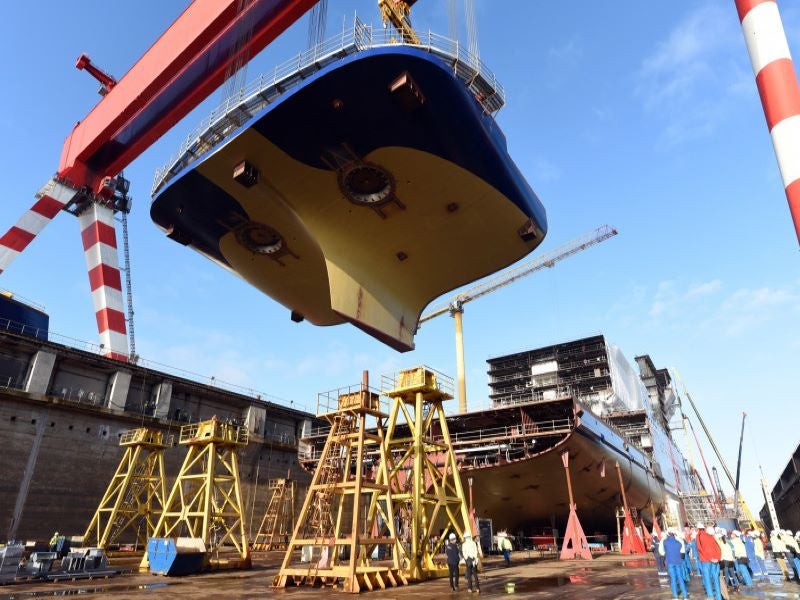 Celebrity Beyond is a new Edge series cruise ship being built for Celebrity Cruises. Credit: Celebrity Cruises.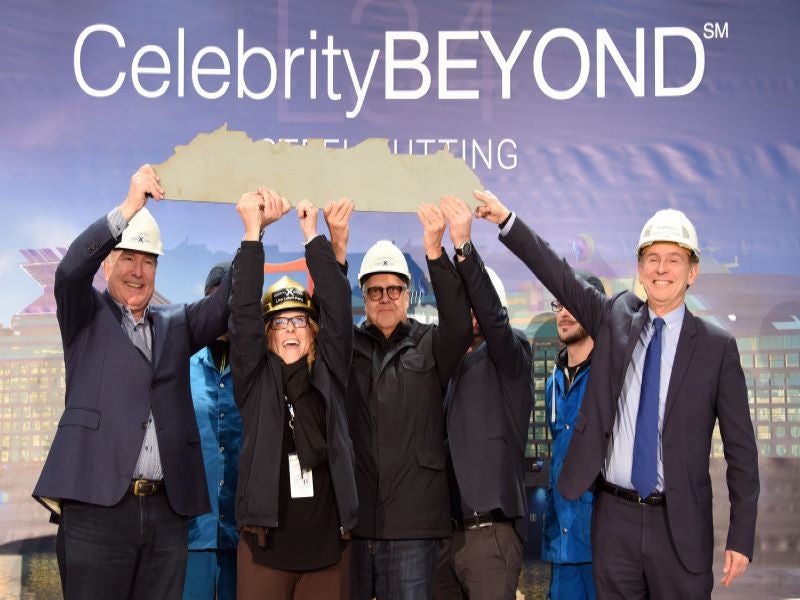 First steel for the vessel was cut in January 2020. Credit: Celebrity Cruises.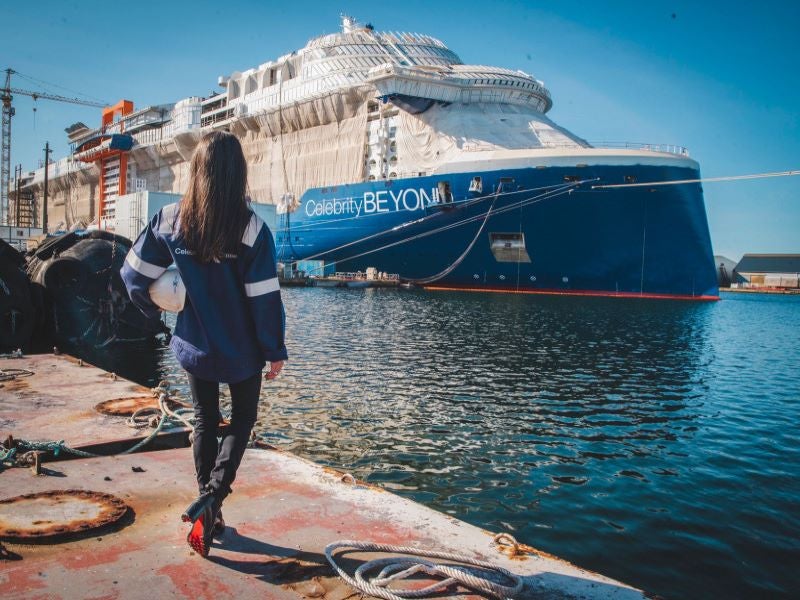 Celebrity Beyond is expected to commence its maiden voyage in April 2022. Credit: Celebrity Cruises.
Celebrity Beyond is Celebrity Cruises' new Edge series cruise ship, which is being constructed by Chantiers de l'Atlantique shipyard in Saint-Nazaire, France.
The ship is the third in the Edge series of Celebrity Cruises, a wholly-owned subsidiary of Royal Caribbean Group. It will join its sister ships Celebrity Edge and Celebrity Apex.
First steel for the new Edge series vessel was cut in January 2020, while a keel-laying ceremony was held in November 2020. The cruise ship completed sea trials in the Bay of Biscay, along the western coast of France, in February 2022.
Celebrity Beyond cruise ship design and features
Celebrity Beyond will have a length of 1,073ft, beam of 128ft and draught of 27ft. It will have 17 decks and be able to accommodate 3,260 passengers. It will have a gross tonnage of 140,600t and cruising speed of 22k.
The main open deck of the ship will be 40% bigger compared to Celebrity Edge and Celebrity Apex.
Grand Plaza will be a three-storey gathering space, offering an airy and open indoor area with intimate seating. To be located at the centre of the ship, it will be bigger than the Grand Plazas on board the other two Edge series ships.
It will have different lighting settings to change the ambience as required. The Rooftop Garden will be an outdoor space with cantilevered floating pools extending right over the water's edge.
An exclusive resort space, known as The Retreat, will be provided for suite guests. The Resort Deck, which will be a two-storey sundeck of The Retreat, will be an asymmetrical space with a 25-yard lap pool surrounded by an outward-facing, terraced pool deck.
Eden will be a three-storey venue with outward-facing glass. The Solarium on the Resort Deck will be an adults-only venue with a glass dome-covered pool area and hot tubs.
Passengers will be able to shop from the Celebrity Shops, which will offer products from global brands. The Destination Gateway, a multi-purpose area, will support onshore exploration as well as on board enrichment activities.
Staterooms on board Celebrity Beyond
Celebrity Beyond will feature a total of 1,646 luxurious staterooms, which offer free Wi-Fi and include eXhale® bedding along with Cashmere™ mattresses. Most of the staterooms will be installed with a king-size bed.
Automation technology will be installed in the rooms to control everything from the shades and lighting to the AC with just a tap on a screen.
Each stateroom of the AquaClass, Concierge Class and Edge Stateroom with Infinite Veranda categories will offer living space of 243ft² (22.57m²), including a 42ft² (3.9m²) veranda.
All guests of AquaClass will have complimentary access to the SEA Thermal Suite and a spa concierge. The SEA Thermal Suite, with eight distinct spaces, will allow guests to relax before or after spa treatments.
The Edge Single Stateroom with Infinite Veranda for solo travellers will offer 142ft² (13m²) of interior space and a 42ft² (3.9m²) veranda.
Other cabin categories include Veranda on Edge, Ocean View Stateroom and Inside Stateroom.
Furthermore, Celebrity Beyond will offer the Accessible Stateroom category for guests with mobility issues and other disabilities. The staterooms will have wider doors, roll-in showers and grab bars.
Suite rooms
The Retreat's Iconic Suites will be the largest in the Celebrity Cruises fleet, offering an indoor space of 1,892ft² (175.77m²) with a 689ft² (64m²) veranda. Each suite will offer panoramic views from front to back.
The Penthouse Suite at The Retreat will offer 1,378ft² (128m²) of space, with a 197ft² (18.3m²) veranda. It will feature a living/dining area, main bedroom, bathroom, dressing room, guest bedroom with bathroom, terrace and private hot tub. Guests in the Penthouse Suites will also have a personal Retreat Host, who will provide in-room services.
The Edge Villa at The Retreat will feature six, two-storey luxury residences. Each suite will offer a 950ft² (88.25m²) split-level space that can accommodate up to four guests. These ocean-facing private villas will offer a private terrace with a 3ft plunge pool, bedroom and two bathrooms.
Interior space in the Royal Suites will be 687ft² (63.82m²), while the veranda will occupy 72ft² (6.68m²).
Other suite categories on board the cruise ship include Celebrity and AquaClass Sky.
Dining and bar areas on board Celebrity Beyond
The Celebrity Beyond will feature 32 food and beverage venues, including eight speciality restaurants, 14 cafes, bars and lounges, four main dining restaurants, two exclusive restaurants, and four complimentary casual dining venues.
The main dining restaurants will be the Cyprus Restaurant, serving food and beverages of the Mediterranean region, and Tuscan Restaurant, which will offer Italian-inspired dishes.
The Normandie Restaurant, offering a French dining experience, and the Cosmopolitan Restaurant, featuring global cuisines, will be the remaining two main dining areas.
The speciality restaurants will include Le Voyage by renowned chef Daniel Boulud, Fine Cut Steakhouse, French bistros-inspired Le Grand Bistro, Le Petit Chef, Raw on 5, Eden Restaurant and Rooftop Garden Grill.
The Le Petit Chef dining concept will use innovative technology to make 3D animated characters appear beside the plate on the table and prepare the dishes before serving the actual dish.
The Raw on 5 will offer a range of seafood. The Magic Carpet, a cantilevered floating platform on the starboard side of the ship, will feature comfortable seating, a full bar and space to host live music performances. It will be located more than 13 decks above sea level.
The complimentary casual dining venues will be Eden Café, Spa Cafe and Juice Bar, Oceanview Café, and the Mast Grill, which will be situated on the top deck.
Designed by interior designer Kelly Hoppen, Luminae at The Retreat will be a private restaurant with Michelin-starred menus.
An exclusive restaurant for AquaClass guests, the Blu restaurant will offer healthier lifestyle-inspired dishes.
Celebrity Beyond will feature several bars, including World Class Bar, Sunset Bar, Craft Social Bar, Retreat Lounge, Martini Bar, Eden Bar, Mast Bar and The Pool Bar.
Itineraries
Celebrity Beyond is scheduled to commence its maiden voyage from Southampton, England, on 27 April 2022. The ten-night trip will cover locations in Western Europe, including Bordeaux, France; Lisbon, Portugal; and Seville, Palma de Mallorca, Malaga and Barcelona in Spain.
The scheduled itineraries between Spring and early Fall 2022 include Mediterranean sailings around the Italian and French Riviera, as well as trips to Malta, the Greek Islands and Italy.
Planned trips between October 2022 and April 2023 include sailings across the Caribbean, with stops in the Bahamas, US Virgin Islands, Mexico and the Cayman Islands.