Crystal Mozart is the biggest inland cruise ship in Europe. Image courtesy of Crystal Cruises, LLC.
The river cruise ship can accommodate 154 guests. Image courtesy of Crystal Cruises, LLC.
Crystal Mozart was completely refurbished for operation under Crystal Cruises. Image courtesy of Crystal Cruises, LLC.
The new vessel features suites and penthouse equipped with technologically advanced amenities. Image courtesy of Crystal Cruises, LLC.
The river cruise ship features a range of casual dining options, lounges and bars. Image courtesy of Crystal Cruises, LLC.
The Palm Court will provide live entertainment to guests. Image courtesy of Crystal Cruises, LLC.
The top Vista deck includes public spaces for guests to enjoy the scenic beauty of the Danube River. Image courtesy of Crystal Cruises, LLC.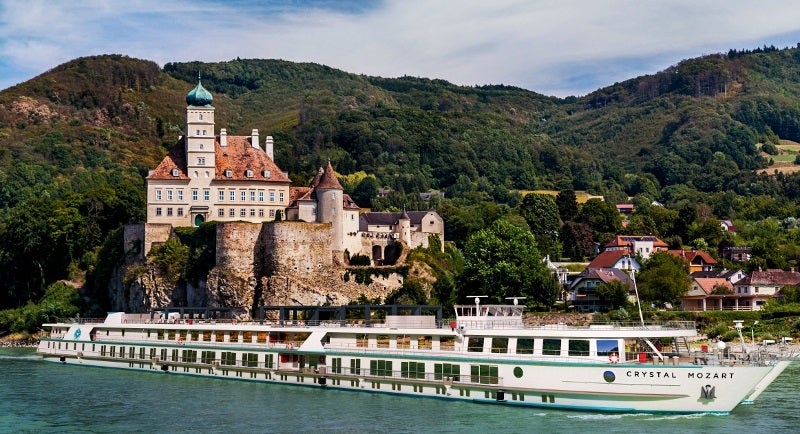 Crystal Mozart, a river cruise ship operated by Crystal Cruises, was christened in Vienna, Austria, on 11 July 2016 and is expected to enter service in October 2016. The vessel will sail on the Danube River covering destinations in Austria, Germany, Slovakia, Hungary, Serbia and Croatia.
The new ship marks the entry of Crystal Cruises into the river cruise market through Crystal River Cruises. The 154-guest capacity refurbished vessel is the first of five river cruise ships ordered by Crystal Cruises.
The remaining four river cruise ships, namely Crystal Bach, Crystal Mahler, Crystal Debussy and Crystal Ravel, are new builds that are scheduled to enter service between 2017 and 2018. The company's current fleet includes two ocean cruise ships, namely Crystal Serenity and Crystal Symphony, and one luxury yacht, named Crystal Esprit.
Crystal Mozart design and construction details
Crystal Mozart was originally built as MS Mozart in 1987 in Germany by the Deggendorfer yard to operate under Peter Deilmann Cruises' fleet. It was purchased by Premicon in December 2009 and modernised in 2010. In 2012, it was refurbished again to join Dertour's fleet as Dertour Mozart.
"The 154-guest capacity refurbished vessel is the first of five river cruise ships ordered by Crystal Cruises."
Following overwhelming response to its decision to enter the river cruise market in 2017, Crystal Cruises purchased the Mozart from Dertour in 2015 for immediate refurbishment. The ship entered dry dock for six months in Ennshafen, Austria, before completion of refurbishment at the Oesvag shipyard in Linz, Austria.
The 3,100gt Crystal Mozart is the biggest European inland cruise ship measuring 395ft (120.4m) long and 75ft (22.9m) wide. The vessel has a unique semi-catamaran design, a hybrid between a monohull and catamaran. Its hull consists of two outer carried structures through an interposed flat hull part.
Refurbishment works on the ship included the installation of new wiring, new air-conditioning, skylights, and new windows and doors. A damaged propeller was also replaced.
The vessel's hull was painted with a special coating used for yachts. New support beams were added to fit the expanded top deck. A new elevator, connecting the three interior decks of the ship, was also added.
The ship's new colour scheme consists of black, white and grey hues. The interiors include velvet furnishings with a luxury finish. The refurbished vessel used approximately 300t of marble throughout.
Crystal Mozart accommodation and deck plan
Crystal Mozart includes four decks namely Harmony, Seahorse, Crystal and Vista. The first deck, Harmony, includes 41 single bedroom, fixed-window suites measuring 219ft² (20.3m²).
Deck two includes 21 suites with French balcony measuring 219ft² (20.3m²) and one 204ft² (18.9m²) suite with French balcony. The Seahorse deck includes 12 penthouses measuring 330ft² (30.6m²) and two 883ft² (82m²) two-bedroom Crystal suites. The Crystal Life Spa is also located on the Seahorse deck.
Lounges and dining facilities, including the Vintage Room, Waterside restaurant, Bistro Mozart, Cove, Blue and Palm Court, are located on the Crystal deck.
The top deck, Vista, includes public spaces, a living garden roof, deck chairs for lounging, and an outdoor fitness area.
Amenities onboard the river cruise ship
Crystal Mozart provides guests with a number of technologically advanced amenities including Apple® iPad devices for use as digital directories and 40in flatscreen high-definition (HD) televisions.
The suites and penthouses feature king-size beds, walk-in closets, coffee machines, refrigerators, and backlit bathroom mirrors. Room service, dry cleaning and butler service are also available for guests.
Bathrooms aboard the ship feature the state-of-the-art TOTO Washlet personal cleaning systems. They also include automatic open/close toilets with heated seats, aerated water and air dryer.
Digital signage is available throughout the ship providing guests with information on ports, weather forecasts, available dining reservations and so on.
The Crystal Life Spa features two treatment rooms, a Jacuzzi, whirlpool, steam rooms and an indoor pool.
Entertainment and dining facilities
Waterside is the main restaurant on the ship, providing farm-to-table breakfast and lunch. The Blue bar and grill will serve sandwiches and snacks, while Bistro Mozart will serve pastries, fruit and snacks, coffee, espresso and tea.
The Cove will serve cocktails, while the Palm Court will provide live entertainment with a Bösendorfer Grand Piano. The 12-seat Vintage Room offers a gourmet experience to guests. The Connoisseur Club, a smoking lounge, is also part of the ship.
Crystal Mozart will offer guests with private shore excursion options. It is equipped with 30 electronic bikes and 32ft Wider speedboats for guests to explore shore locations.
Engine and propulsion details
Crystal Mozart is equipped with two Deutz six-cylinder diesel engines, which generate an output of 1,185kW. It is also includes two Caterpillar diesel generators with a power output of 500kVA.
The vessel's propulsion system includes two five-bladed fixed pitch propellers, which provide it a cruising speed of 12k.
Contractors involved
Almaco Group was contracted to modernise 50 crew cabins and crew areas aboard the ship.