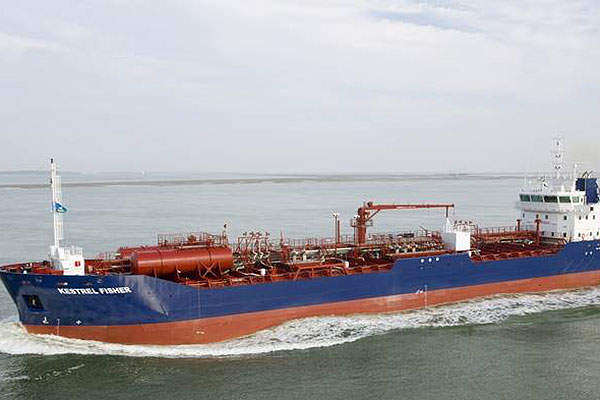 King Fisher and its sister vessel Kestrel Fisher will carry gasoline, diesel oil, lubrication oil and jet fuels. Image courtesy of Damen Shipyards Group.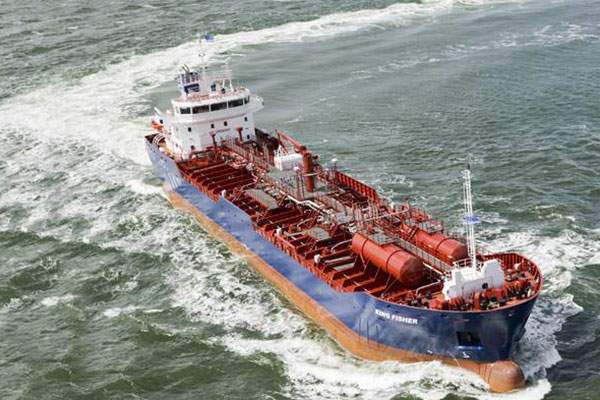 King Fisher is the first ship of the Damen Double Hull Oil Tanker 8000 design built at Damen Shipyards Bergum. Image courtesy of Damen Shipyards Group.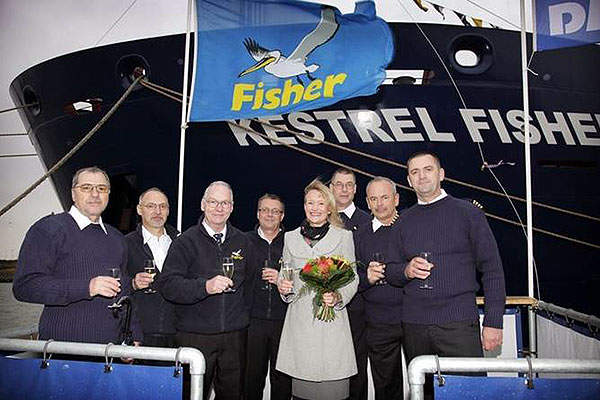 Kestrel Fisher was delivered in October 2013 to James Fisher Everard. Image courtesy of Damen Shipyards Group.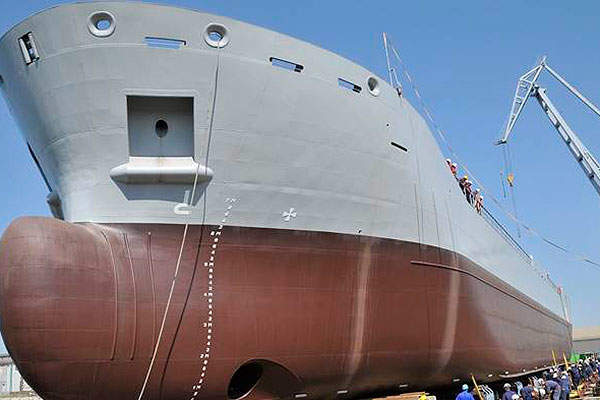 The second Damen Double Hull Oil Tanker 8000 being launched at Damen Shipyards Galati. Image courtesy of Damen Shipyards Group.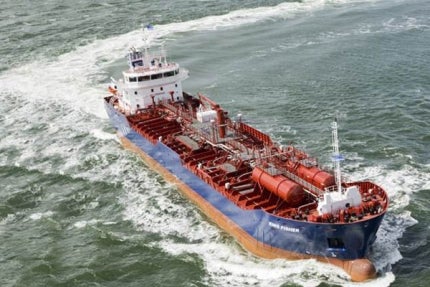 The Damen Double Hull Oil Tanker 8000 type oil tankers are built by Damen Shipyards. The first two ships of the class were ordered by De Opfeart Beheer. The hulls of the two vessels, incorporating advanced safety and efficiency features, were built at Damen Shipyards Galati, Romania. The twin oil tankers, King Fisher and Kestrel Fisher, were outfitted at Damen Shipyards Bergum yard.
The oil tankers will be operated by James Fisher Everard along the British Isles, the continent and in Scandinavian and Baltic waters for carrying gasoline, diesel oil, lubrication oil and jet fuels.
King Fisher and Kestrel Fisher were delivered in June 2013 and October 2013 respectively.
Damen 8000 design
Both tankers incorporate a stainless-steel double hull. The vessel has an overall length of 104.52m and beam of 17m, while the length between perpendiculars is 99.92m. The maximum draught and shallow draught of the ship are 6.3m and 3.8m respectively.
The two vessels, built according to the Tanker 8000 design, have a gross tonnage of 4,631t. The deadweight of King Fisher is 7,072dwt, while that of Kestrel Fisher is 7,076dwt.
Fuel storage system
Each of the twin Damen 8000 tankers has ten epoxy-coated cargo tanks with five segregations and fixed tank-cleaning systems. Each vessel has a capacity to carry 8,363m³ of fuel.
Each vessel has two slop tanks with a capacity to store 172m³ of bilge. The heavy fuel oil (HFO) and marine diesel oil (MDO) capacities of the tankers are 258m³ and 43m³ respectively. Each tanker can carry 21m³ of lubricating oil, 17m³ of fresh water and 3,330m³ of ballast water. The vessels are fitted with ten electric-driven deep-well cargo pumps with a capacity of 200m³ each.
---
Related content
---
Damen Shipyards Sharjah (DSS) is located at the Sharjah Hamriyah free-zone, UAE.
---
Amidships is the cargo manifold system, which contains three cross-overs allowing loading or discharging three grades simultaneously and a single forward-positioned manifold handling two grades. Hose handling is enabled by a 1.5t crane with a maximum outreach of 16m. The cargo and ballast valves are hydraulically controlled from a centrally located cargo control room.
Each ship is provided with one vapour return system and one purge air compressor. The vessels are also outfitted with two portable gas-freeing fans with a capacity of 3,000m³ per hour.
The vessels are outfitted with two general service pumps with a discharge rate of 150m³ per hour. Ballast water can be discharged at a rate of 400m³ per hour using two pumps in the cargo area. An emergency fire-fighting pump, which can discharge 50m³ of water per hour, is also available. The loading computer system aboard the vessel tracks bulk loads.
Deck layout / equipment
The deck is equipped with two electro-hydraulic bow anchor winches and four electro-hydraulic mooring winches; two on the aft and two on the bow of the vessel.
Safety equipment onboard includes one free-fall life boat capable of carrying 12 persons and one man overboard (MOB) boat with davit.
Damen 8000 accommodation
Onboard accommodation facilities include single cabins with necessary sanitary facilities.
The accommodation facilities are outfitted with modern technologies to reduce noise levels and provide fine living experience.
Engine / propulsion details
Each tanker is equipped with a diesel-electric propulsion system comprising a Caterpillar-Mak 8M25C diesel engine driving a controllable pitch propeller (CPP). The engine produces a power output of 2,640kW at 750rpm.
"The propulsion system of the tanker enables it to cruise at a speed of 12.3kt."
A power take-off/power take-in (PTO/PTI) is attached to a shaft generator. One shaft generator of 435kVA output is fitted to increase the flexibility of the propulsion system for peak loads. It provides up to 400kW in PTI mode to drive the propeller shaft in case the main engine fails.
The vessel also has two Caterpillar gen-sets rated at 420kW each and an auxiliary 80kVA emergency generator set. The oil tankers are equipped with a 400kW electrically-driven bow thruster fitted with a fixed pitch propeller (FPP) for easy manoeuvring at small ports and terminals.
The propulsion system of the tanker enables it to cruise at a speed of 12.3kt.
Auxiliary equipment / systems
Auxiliary equipment and systems include three separate purifier units for lube oil, MDO and HFO, a 1,500kW thermal boiler for heating HFO tanks and cleaning cargo tanks, one booster unit, one economiser, two starting air compressors and one 20t/day freshwater generator.
The tankers are also equipped with a sewage treatment plant and a bilge water separator that meets Marpol 2009 regulations. The engine room is provided with a CO2 and water mist fire-extinguishing system.