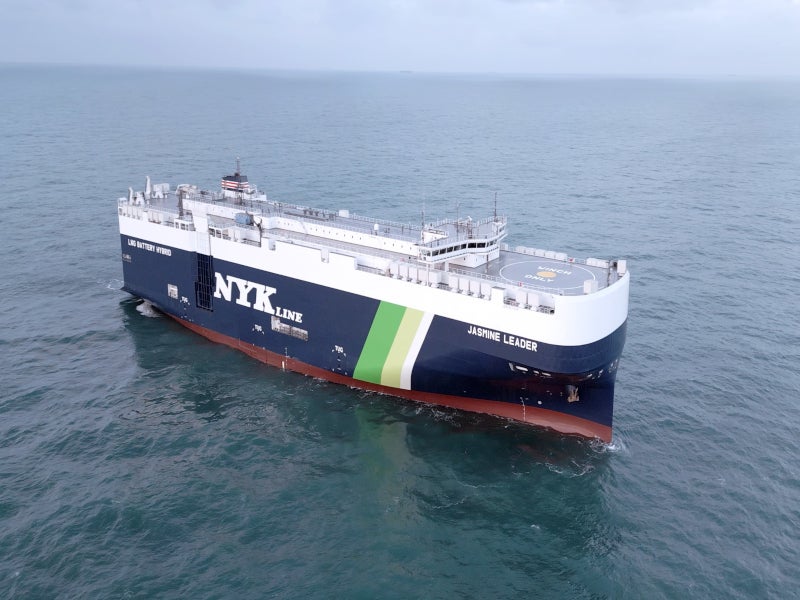 Jasmine Leader, an LNG-fuelled PCTC, was delivered to NYK in January 2023. Credit: Nippon Yusen Kaisha (NYK).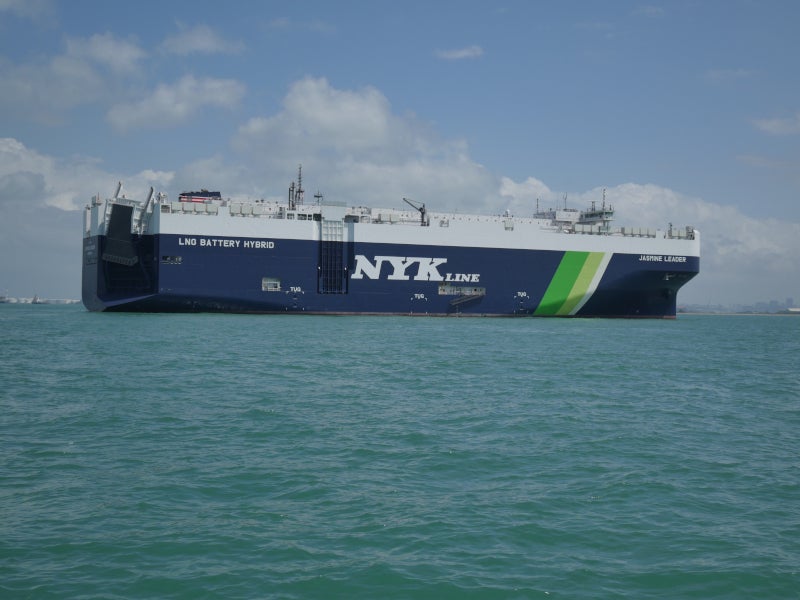 The LNG-powered carrier has a length of 199.9m and a width of 38m. Credit: Nippon Yusen Kaisha (NYK).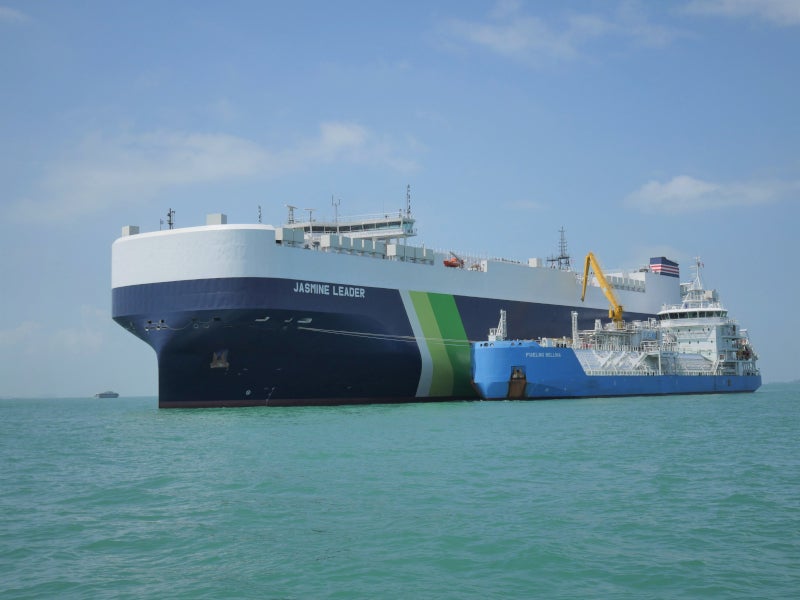 Jasmine Leader completed its LNG bunkering in Singapore by receiving LNG fuel from FuelLNG Bellina. Credit: Sembcorp Marine.
Jasmine Leader is a pure car and truck carrier (PCTC) ordered in February 2021 by Japan-based shipping and logistics company Nippon Yusen Kaisha (NYK).
Delivered in January 2023, it is the first of the four liquified natural gas (LNG)-fuelled carriers ordered by NYK and the third to join the company's fleet, after Plumeria Leader and Sakura Leader. The vessel will be managed by NYK Shipmanagement, the ship management arm of NYK.
The carrier is part of NYK's plan to replace its existing fleet with 40 new LNG-fuelled PCTCs over the next decade. NYK plans to receive 20 new LNG-powered PCTCs by 2028 under its Sail GREEN brand.
LNG is being used by the company as a bridge solution until zero-emission marine fuels such as ammonia and hydrogen are introduced in the future.
Jasmine Leader's design and features
Jasmine Leader is 199.9m long, 38m wide and has a gross tonnage of 72,800 tonnes and a capacity of 7,000 units.
It is equipped with battery hybrid technology, which allows the carrier to run on LNG and battery power, thereby mitigating blackouts and supporting bow thruster operation.
The use of LNG as the primary fuel will reduce sulphur oxide emissions by 99%, nitrogen oxide emissions by 96% and carbon dioxide emissions by approximately 40%.
In addition, the environmental build of the vessel is aligned with NYK's target of net-zero emissions of greenhouse gas by 2050.
Jasmine Leader is designed for worldwide service to carry cars, buses, vans, International Maritime Dangerous Goods packaged dangerous cargo (DG), as well as freight containers loaded on MAFI trailers. It will also be used to transport finished vehicles produced by Mazda Motor.
Jasmine Leader propulsion
Jasmine Leader is equipped with WinGD 7X62DF-2.1 two-stroke engine, which is coupled with shaft generators, DC links and battery systems. The engine uses low-pressure dual-fuel technology for sustainable propulsion.
The engine is available in a five to eight cylinders configuration with a power range between 7,700kW and 19,080kW from 80rpm to 103rpm.
The engine uses intelligent control by exhaust recycling technology, which delivers enhanced combustion control using inert gas. The technology is used to cool and recirculate the exhaust gas through a low-pressure path while operating in gas mode.
The two-stroke low-speed engines are more efficient due to the use of the main engine and battery-assisted electrical energy management, which optimises the auxiliary engine load.
The hybrid system can deploy several operating modes, including peak shaving for efficient deep-sea shipping.
LNG bunkering operations
Jasmine Leader entered the Hiroshima port for the first time in February 2023 after receiving LNG fuel from Kayuga, an LNG-bunkering ship operated by Central LNG Marine Fuel Japan, a joint venture established by NYK, Kawasaki Kisen Kaisha, JERA and Toyota Tsusho.
Kawasaki Kisen Kaisha is a transportation company based in Japan, while JERA is a power generation company and Toyota Tsusho is the trading arm of Toyota.
The carrier also completed its LNG bunkering with FueLNG in March 2023 in Singapore, making it the first PCTC LNG bunkering in the country. FueLNG Bellina was used for Jasmine Leader's LNG bunkering.
FueLNG is a joint venture between Keppel Offshore and Marine, a manufacturer of rigs and offshore production vessels and Shell Eastern Petroleum, a company involved in the refining and distribution of petroleum products.
Contractors involved in the Jasmine Leader
China Merchants Jinling Shipyard, a shipping company based in China, was engaged to build the Jasmine Leader carrier.
Winterthur Gas and Diesel (WinGD), a developer of low-speed engines for marine propulsion based in Switzerland, supplied the 7X62DF-2.1 two-stroke engine for the vessel.
The engine was supplied as part of a contract signed in August 2021 to supply 7X62DF-2.1 engines and associated systems for four LNG-fuelled PCTCs ordered by NYK.