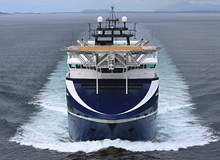 The Rem Gambler, with a bollard pull of 344t, is considered as one of the most powerful anchor handling tug supply vessels (AHTS) in the world. It is capable of undertaking offshore construction support (OCS) operations and is outfitted for underwater remotely operated vehicle manoeuvres. It was delivered to its owner Rem Con, a subsidiary of Rem Offshore, in June 2010.
Rem Con had awarded a $255m (NOK1.4bn) contract to Aker Yards (now STX Europe) for construction of two AHTS vessels in May 2007. Rem Gambler is one of the two vessels.
Rem Gambler construction
The keel for the vessel was laid in December 2008 and launched in December 2009. The steel hull was built by STX RO Offshore in Tulcea, Romania and the vessel was outfitted by STX Norway Offshore in Brattvaag, Norway.
Design and bulk
The vessel is of STX Europe AH 12 design. The AH 12-based vessels are high performance ultra large AHTS vessels and are provided with large winch packages.
The overall length of the vessel is 95m, moulded breadth is 24m and length between perpendiculars is 85m. Depth to the main deck is 9.8m. The summer displacement at 7.8m draft is 11,233t.
Storage capacity
The maximum speed of the vessel is approximately 18.9kts, where as the economic speed is about 12k.
"The vessel is equipped with five Rolls Royce tugger winches."
The vessel's deadweight is approximately 5,000t, gross tonnage is 8,053t and net tonnage is 2,415t. The deck area is 760m2 and cargo holding capacity is 10t/m².
Ballast water storage capacity of the tank is 3,673.8m³, fresh water storage capacity is 932.9m³ and fuel oil storage capacity is 2,006.1m³.
Ballast water can be discharged at a rate of 250m³/h, fresh water at 250m³/h and fuel oil at 2 x 250m³/h.
Accommodation
A total of 70 berths are available for accommodation in 20 one-man and 25 two-man fully air conditioned cabins. The mess room can seat 40 people. The vessel has one dayroom, one galley, two cool stores, two freezers and eight offices. There is also a helicopter reception. Other facilities include three lounges, two conference rooms and a gymnasium.
Propulsion
"Rem Gambler is considered one of the most powerful anchor handling tug supply vessels in the world."
The hybrid engine installation of the vessel allows it to operate in various configurations such as diesel mechanical propulsion, diesel electrical propulsion or a combination of both.
The vessel is powered by two, medium speed Wartsila V3216 mechanically-controlled main diesel engines. There are four Caterpillar 3516 auxiliary generator sets, each rated at 2,188kW, and one Caterpillar C9 emergency generator of 380kW capacity. There is also a 4,000kW ABB shaft generator.
Propulsion is achieved by two 4,600mm Wartsila/ Lips main propellers, each of 11,180kW capacity. The vessel is fitted with two Rolls Royce TT2400 DPN FP bow thrusters of 1,200kW each and one 1,200kW Rolls Royce TT2400 DPN FP stern thruster.
Two Rolls Royce UL 2001 FP azimuth thrusters are fitted, one on the aft and the other forward of the vessel. The steering is achieved by two Becker SC-2550/580 K2 rudders.
Equipment
The vessel is equipped with one deck crane, two cargo-rail cranes with Rolls Royce manipulators and one offshore crane. The deck crane has a safe working load (SWL) of 12t at 13m outreach capacity. Of the two cargo-rail cranes, one has 5t SWL between 3.2m to 10m and the other one has 3t SWL between 10m to 12.3m outreach.
The vessel is equipped with five Rolls Royce tugger winches. Other deck equipment includes a Teamtec OGS400C incinerator, two 20t windlasses, and two 20t mooring winches.
Towing / anchor handling equipment includes two Rolls Royce shark jaws, Triplex Pop-up pins, two Rolls Royce towing pins, six rig chain gypsies and two Rolls Royce rig chain back tension winches. All main and secondary winch systems are outfitted with spooling devices.
Navigation and communications
Navigation equipment includes two Furuno radars, Anschutz Pilotstar autopilot, three Anschutz STd 22 gyros, one Furuno NX-700 Navigational Telex (NAVTEX), two Kongsberg Differential Global Positioning Systems (DGPS), two GP-150 GPS, one Furuno FE-700 Echo Sounder and one Furuno VDR Voyage Recorder.
The communication equipment includes two Inmarsat C A3 Furuno Global Maritime Distress Safety Systems (GMDSS), Broadband 500 Satellite Communications (Satcom), Zenitell intercommunication (Intercom) devices, six Furuno VHF, GSM fitted mobile phones, a Seatel TV system and Shipequip Ku band V-sat system.