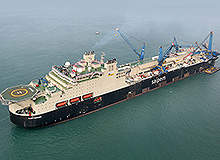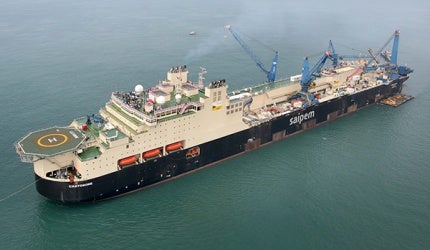 Castorone is an ice-class pipe laying vessel (PLV) being built for Saipem, a subsidiary of Italian energy company Eni. In her first job, the new vessel will be used to perform marine activities for the development of the Jack and Saint Malo (JSM) fields in the US Gulf of Mexico. She will be deployed in the first quarter of 2013 to transport and install a crude oil export pipeline.
In March 2011, Keppel Shipyard, a subsidiary of Keppel Offshore & Marine, was contracted for the completion of the Castorone. The project is being jointly undertaken by Keppel Shipyard and its sister company Keppel Singmarine.
The two companies are responsible for detailed engineering, fabricating marine systems and outfitting, and installation and integration of marine and pipe laying equipment. They are also responsible for commissioning the marine systems and conducting sea trials.
The ship arrived at Keppel Shipyard for outfitting after being constructed in China. An official naming ceremony for the new build was held in Singapore in September 2012. The pipe layer is expected to be delivered in January 2013.
Navalimpianti Tecnimpianti Group was contracted to design and assemble the vessel's pipe handling and storage system. Engineering assistance for the completion of the design was provided by Navalprogetti, a ship design company.
Design and dimensions of the Castorone PLV
Castorone will be deployed in the first quarter of 2013 to transport and install a crude oil export pipeline.
Castorone's design was completed by Navalprogetti. The vessel's resistance and propulsion tests were undertaken at Krylov Shipbuilding Research Institute (KSRI) of St. Petersburg, Russia.
The length between perpendiculars was elongated from originally decided to be 260m to 266.4m to increase the buoyancy and structural support capacity of the hull at bow.
The whole hull was brought together and fitted in the aft part with two structural skegs to support the shaft line. The vessel also has a helicopter deck. It is suitable for the operations of the Sikorsky S-61 N helicopter.
With a handling capacity of over 500m/hr, the vessel's pipe deck receivers, handling and storage systems help to minimise the transfer time between the pipe barge and PLV holds. For each pipe hold, the system can handle single or multiple pipe holds and pipe stores.
The transit speed of the vessel will be 14kt, while her bollard pull with main propellers will be 180t. Pipe laying capacity is 12m for the triple joint or 18m for double joint, with pipe size up to 48in excluding coating.
The overall length of the vessel excluding its ramp is 290m. Moulded breadth is 39m and transit draft is 6.5m, while minimum operational draft is 7m. Displacement of the vessel at maximum operational draft of 10m is 89,000t.
Castorone accommodation and other facilities
A total of 702 people can be accommodated onboard the vessel. Other facilities will include a mess room, offices, conference rooms, television rooms, crew lifts, and a gymnasium/recreation room.
Cargo/tank capacity and deck equipment of Saipem's Castorone
The vessel will feature a cargo deck with a clear deck area of 4,300m2. Fuel oil tank capacity will be 6,500m3, fresh water capacity will be 941m3 and ballast water capacity will be 30,000m3.
An official naming ceremony for the new build was held in Singapore in September 2012.
Castorone will be fitted with a knuckle boom crane. Safe working load (SWL) of the crane at a 30m outreach will be 600t, and at 46m will be 350t. There will be two gantry cranes, each of 52t capacity at 35m, and three tensioners of 250t each. The vessel will also be equipped with an abandonment and recovery (A&R) winch.
Castorone propulsion and manoeuvring
The vessel's power plant will be comprised of eight main generator sets, each capable of generating 8,400kW at 600rpm. There will also be an emergency generator of 1,200kW capacity. Power will be distributed through two separate switchboards of 11kV.
Castorone will be fitted with eight side thrusters. These will include two bow thrusters and six azimuth thrusters.
For automatic position and heading, the vessel will be provided with a fully redundant Dynamic Positioning (DP) Class-3 control system comprised of two HiPAPs (high precision acoustic positioning) 500 for 3,000m of water depth and two differential global positioning system (DGPS) reference systems.
---
Related content
---
The Seven Pacific is a state-of-the-art, ice-class, pipelaying and construction vessel owned by Subsea 7.
---