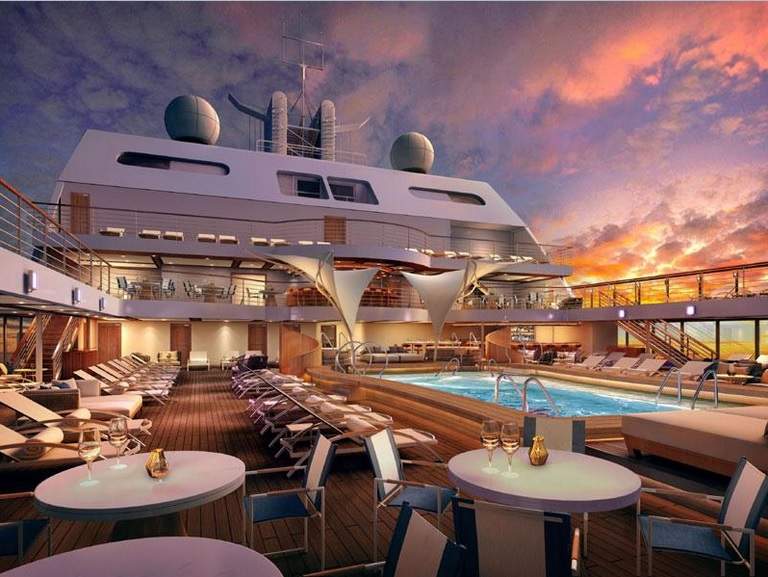 Seabourn Ovation offers ultra-luxury cruising with expanded public areas. Image courtesy of Seabourn Cruise Line Limited.
Four Wärtsilä 32 engines are installed on Seabourn Ovation. Image courtesy of Wärtsilä.
Seabourn Ovation's sister ship Seabourn Encore was delivered in November 2016. Image courtesy of Wärtsilä.
Seabourn Ovation is the second of two ultra-luxury cruise ships ordered from Fincantieri by Seabourn Cruise Line, a part of Carnival Corporation. It is the sister ship to Seabourn Encore, which was delivered in November 2016.
The keel for Seabourn Ovation was laid at the Fincantieri shipyard in Sestri, Italy, in December 2016 and the vessel was delivered in April 2018.
The cruise ship embarked upon its maiden voyage in May 2018.
Seabourn Ovation cruise ship design details
Seabourn Ovation incorporates modern design elements and concepts. The indoor and outdoor guest spaces are designed by Adam D Tihany. The ship features an additional deck and newly developed public spaces in tune with the reputation of Seabourn.
"The cruise ship embarked on its maiden voyage in May 2018."
The vessel is installed with Wärtsilä navigation, automation and sensor systems, including Wärtsilä Nacos Platinum and Wärtsilä Valmatic Platinum systems. It also features a video wall, a tank level and flood detection system, as well as a valve remote control.
The ship is 210m-long and 28m-wide and has a gross tonnage of 40,350t. It has the capacity to accommodate up to 600 guests on a double-occupancy basis and sails at a cruising speed of 18.6k.
Accommodation aboard the ultra-luxury cruise ship
Seabourn Ovation offers accommodation in spacious suites furnished with wardrobes, comfortable seating and sleeping spaces, elegant bathrooms, an in-suite bar, and personal entertainment facilities.
Suites are available in five categories, including Signature Suite, Owner's Suite, Penthouse Suite and Veranda Suite. The Wintergarden Suite features large windows, dining space for six guests, a sofa bed, two televisions, a whirlpool bathtub, a pantry with wet bar, a glass-enclosed solarium and two water closets.
The suites also offer amenities such as storage and walk-in wardrobes, a collection of wines or spirits, seating area, in-suite entertainment facilities, Molton Brown wellness products and personalised stationery.
Dining and entertainment aboard Seabourn Ovation
Dining venues on board the vessel include The Grill by Thomas Keller, which serves a la carte menus. Sushi offers a range of maki rolls, sashimi, and salads, while The Restaurant serves breakfast, lunch and dinner in an open-seating style.
Guests can find a collection of a la carte items, daily specials and regionally themed dinners at The Colonnade restaurant. The Patio is a casual poolside venue serving salads, soups, pastas, pizzas, hot dogs, specialty hamburgers, and grilled chicken and seafood.
Entertainment on Seabourn Ovation is provided by a range of venues, including Observation Bar, The Seabourn casino, Evening Under the Stars, and Sky Bar.
The cruise ship also features The Retreat lounge with 15 private cabanas, a fitness centre, Spa at Seabourn, and a watersports marina.
Propulsion
The ship is equipped with four Wärtsilä 32 engines, and a diesel-electric propulsion drive system, including two 6,000kW double-winding synchronous motors, two frequency converters with line-controlled inverters and two fixed pitch propellers.
The propulsion system also integrates two 1.75MW bow thrusters, two 1.5MW stern thrusters and four AC motors for the thrusters. Electrical equipment includes two dedicated 6.6kV switchboards and four transformers.