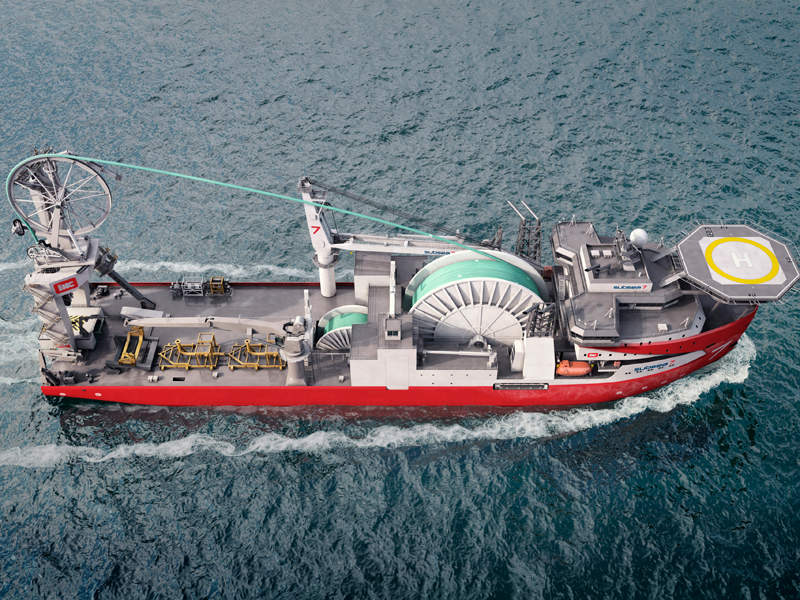 Seven Vega is a new reel-lay vessel being built by Royal IHC at its Krimpen aan den IJssel shipyard in Netherlands for Subsea 7.
Capable of installing complex rigid flowlines in water depths up to 3,000m, the new vessel will replace Subsea's Seven Navica, which will be retired from reel-lay operations.
Subsea 7 placed a contract with Royal IHC for the design and construction of the new reel-lay vessel, in October 2017.
The keel-laying ceremony of the vessel was held in July 2018, while delivery is scheduled for the first half of 2020.
Seven Vega reel-lay vessel design and features
The Seven Vega reel-lay vessel will be 149.2m-long and 13m-deep with a breadth of 33m and draught of 8.3m. Its deadweight will be 10,800t, and gross tonnage and net tonnages will be 21,334t and 6,400t respectively.
Vessel design focuses on operational efficiency, flexibility and crew safety. Multi-level workstation in the vessel improves operations near the firing line, while the fixed auxiliary reel will provide payload flexibility.
"The vessel will also feature a helideck equipped with Kongsberg HMS 100 monitoring system for handling Super Puma, S61N, S76 and S92 helicopters."
The ship will have the capacity to accommodate 120 people in different cabins, including four suites, 42 single cabins and 37 double cabins.
On-board communications will supported by fleet broadband maritime satellite service. The vessel will carry two XLX-EVO ROV systems with a maximum operational depth of 3,000m.
Seven Vega deck and tank capacities
The main deck will offer an area of 800m² and will have a maximum strength of 10t/m². The vessel will also feature a helideck equipped with Kongsberg HMS 100 monitoring system for handling Super Puma, S61N, S76 and S92 helicopters.
The vessel will be fitted with a main active heave-compensated (AHC) crane with a loading capacity of 250t and a 50t auxiliary deck crane, a 15t auxiliary deck crane and a 20t ramp top crane. The auxiliary cranes will support personnel operations.
Classified by Lloyd's Register, the vessel will have the capacity to store 2,900m³ of marine gas oil, 725m³ of potable water, 3,900m³ of ballast water and 1,680m³ of technical FW in ballast tank. It will also feature heeling / stabiliser tanks with a storage volume of 1,200m³.
Seven Vega pipelay systems
The vessel will be installed with two reels with a 5,600t storage capacity main reel and a secondary reel with a capacity of 1,600t. The vessel will have a maximum dynamic top tension capacity of 600t.
The pipelay systems will be able to install pipeline end terminations (PLETs) measuring 5mx5mx10m. The vessel will also be fitted with two 325t abandonment and recovery winches to recover a catenary weight of 650t.
Other systems will include a piggyback direct electrical heating (DEH) cable, a 75t spooling-on tensioner, twin level workstation and a pipe-in-pipe straightener.
Propulsion details
The reel-laying vessel will be powered by three main engines that generate a maximum power of 3,500kW each. It will also be equipped with three generators with a rated power of 4,000kW each.
The propulsion system will also include three 3,200kW stern azimuth thrusters, two 2,400kW retractable bow and azimuth thrusters, as well as two 2,200kW bow tunnel thrusters.
The vessel will also be equipped with Kongsberg Class-III dynamic positioning (DP) system for accurate positioning and manoeuvring in harsh environments.
A maximum bollard pull of approximately 100t will be provided in DP3 failure mode, and a maximum speed of 13k.
Contractors involved
Croonwolter&dros and Bakker Sliedrecht received a subcontract from Royal IHC for engineering, production and installation of the integrated electrical and nautical system in February 2018.
Huisman was contracted for the production and installation of a 250t main AHC offshore crane for the vessel.
Hyundai will be responsible for supplying the main diesel generators while the thrusters will be provided by Wärtsilä.