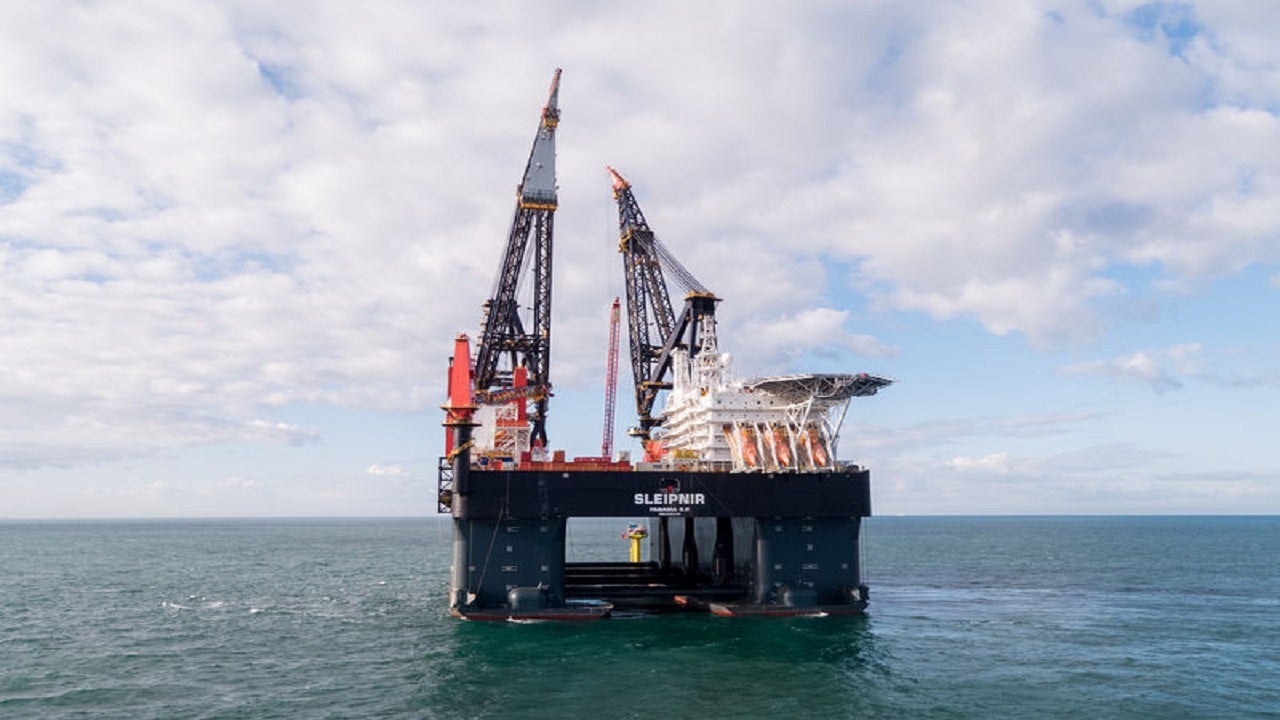 Heerema Offshore Services' Sleipnir was commissioned in May 2019. Credit: Heerema Marine Contractors.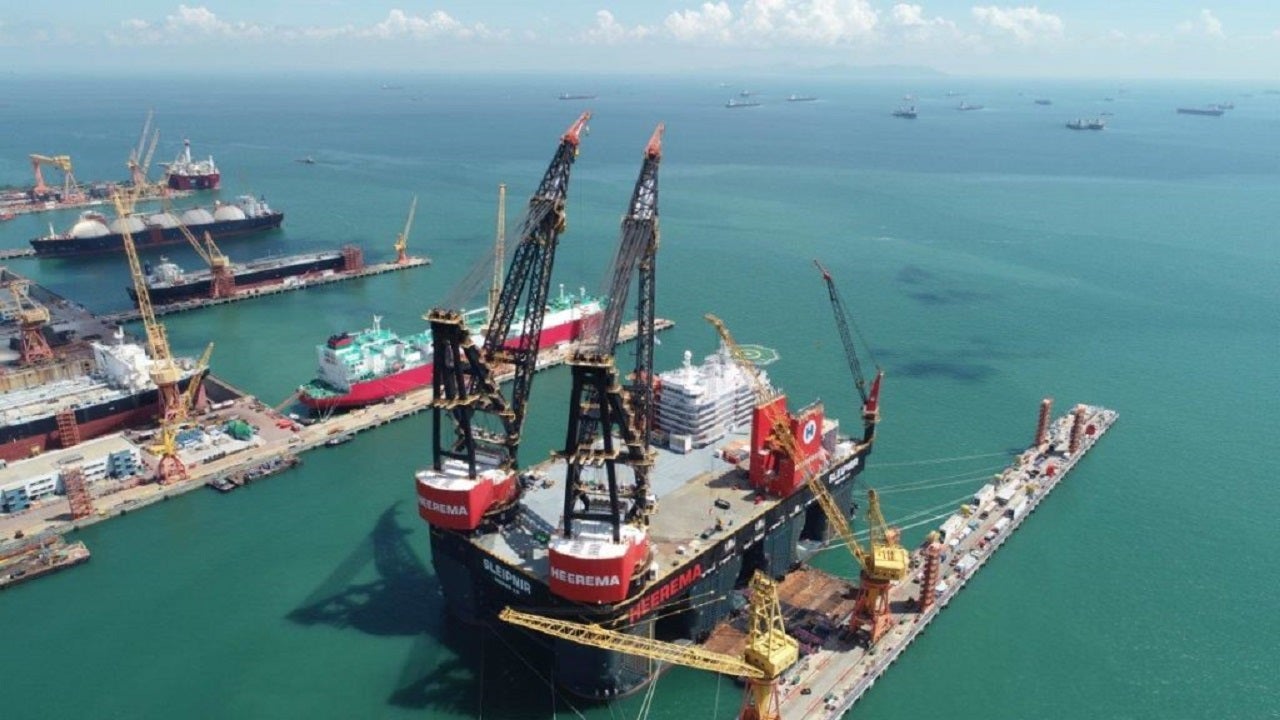 Sleipnir has an operating draught between 12m and 32m. Credit: Sembcorp Marine.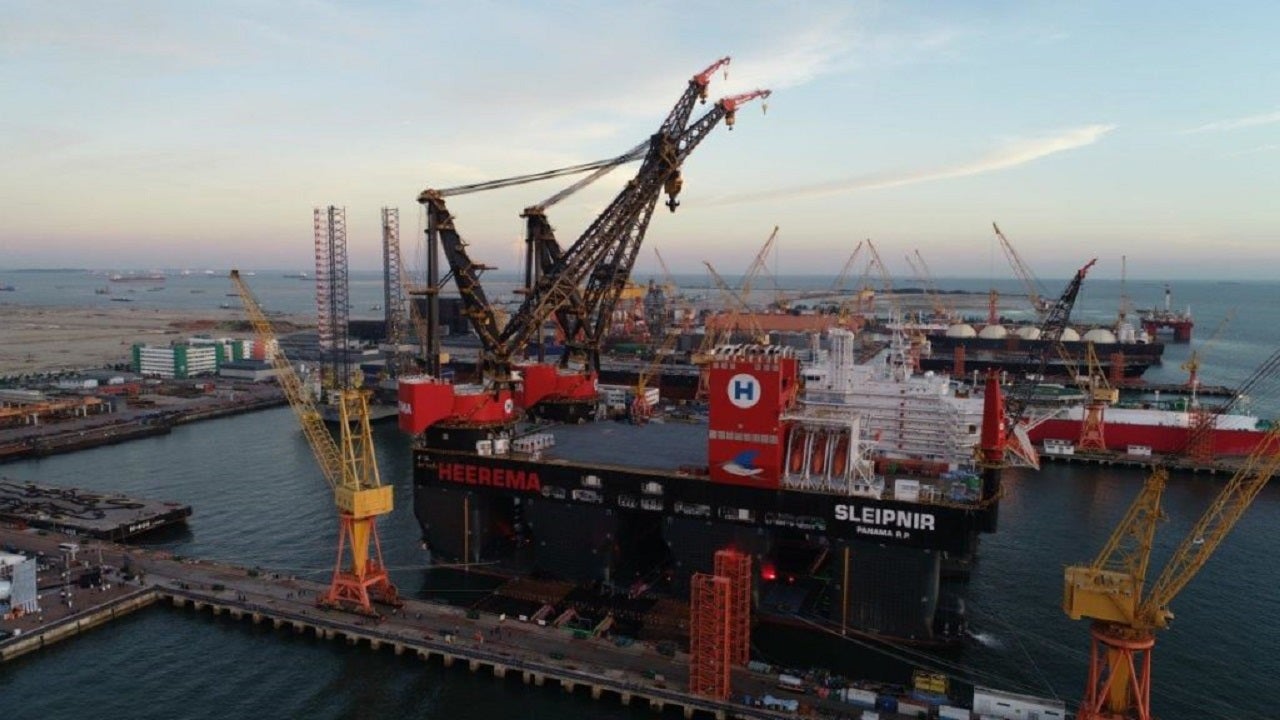 The Sleipnir semi-submersible crane vessel is equipped with three lifeboat stations to assist it in distress. Credit: Sembcorp Marine.
Sleipnir semi-submersible crane vessel is a new-generation self-propelled heavy-lift crane vessel offered by Singapore's SembCorp Marine for Netherlands-based Heerema Offshore Services.
The vessel was built at SembCorp Marine's Tuas Boulevard Yard in Singapore. Commissioned in May 2019, Sleipnir is one of the world's biggest crane vessels.
The semi-submersible vessel can perform installation and removal of subsea equipment, decommissioning services and heavy lifting operations in offshore oil and gas facilities.
Technical specifications and features of Sleipnir crane vessel
Sleipnir is 220m-long and 102m-wide, and has a depth of 49.5m and an operating draught between 12m and 32m.
The deck load capacity is 20,000 metric tonnes (mt), whereas the main deck has a working area of 12,000m² and offers a load capacity of 10mt/m².
With a displacement of 273,700t, the vessel can accommodate 400 people in single and double cabins, equipped with air-conditioning and heating systems.
A helideck, located at the stern of the vessel, can assist lift-off and landing of a single helicopter of type Augusta Westland EH101 or Sikorsky S-92. The helideck has a diameter of 28m and is capable of handling loads of 15.6mt.
Equipment on board Sleipnir semi-submersible crane vessel
A bulk loading station, featuring four bulk loading reels, is installed at the port and starboard sides of the vessel to support hose handling operations.
Three lifeboat stations are carried on the Sleipnir to assist the vessel in distress. Each station comprises three DNV OS E-406-standard FF1200 freefall lifeboat systems, fitted with LA1200H and LA1200HO skid launch davits, while each lifeboat can carry up to 70 people.
A 12-point mooring system is used to provide station-keeping for the vessel at sea. It is made up of fairleads, 12t Stevpris Mk-6 anchors, control system, electric-driven winches, and wire sheaves for holding 1,750m wire rope.
The vessel incorporates several position reference systems, developed by Norwegian firm Kongsberg Maritime, for accurate positioning during offshore installation operations.
Heavy-lift capabilities of Sleipnir
The Sleipnir semi-submersible crane vessel is equipped with two heavy-lifting tub-mounted cranes with a capacity to lift 10,000mt each at a working radius of 48m.
The dual cranes provide heavy lift capacity for the installation and removal of offshore structures, including floating platforms, foundations and mooring systems.
The main hoist can lift 1,000mt of loads to a depth of 1km below sea level and can reach heights of 129m above the waterline. The auxiliary crane hoist has a lifting capacity of 2,500mt at a radius between 33m and 60m.
The cranes also feature a 200mt whip hoist with a maximum radius of 153m. Additionally, the vessel has one 70mt pedestal-mounted lattice boom crane, capable of reaching depths of 2km.
Sleipnir crane vessel propulsion and performance
The Sleipnir heavy-lift crane vessel is powered by 12 8MW, tier III-compliant, four-stroke MAN Diesel & Turbo 8L51/60DF engines, which are designed to run on both low sulphur marine gas oil and liquefied natural gas.
In November 2019, Heerema announced plans to switch its vessel switched from diesel generators to wind energy, which will be sourced from Eneco's Landtong Rozenburg wind farm.
With a combined output of 96MW, the propulsion system provides a transit speed of 10k.
Eight 5.5MW WST-65U underwater demountable fixed-pitch, variable speed azimuth thrusters, including four retractable type, are installed at forward and aft portions of the vessel ensure better manoeuvrability.
Station-keeping is enabled by the onboard dynamic positioning system, built in accordance with Lloyd's Register's IMO Class 3 is the DP (AAA) notation.
The vessel also features medium-voltage switchboards, transformers and MV7000 drives.
Contractors involved
Huisman Equipment signed a letter of intent for the construction of two 10,000mt cranes for the Sleipnir semi-submersible crane vessel in March 2014.
Sembcorp Marine subsidiary Jurong Shipyard and Heerema Offshore Services signed a letter of intent to build the new crane vessel in March 2015.
A $1bn engineering and construction contract was awarded by Heerema Offshore Services to Sembcorp Marine in July 2015. Steel cutting ceremony of the cranes was held in the same month.
Lloyd's Register was contracted to class the Sleipnir crane vessel in August 2015. Sembcorp Marine awarded a contract to MAN Diesel & Turbo in October 2015 for the supply of MAN 8L51/60DF engines and selective catalytic reduction systems. In the same month, Sembcorp Marine placed an order with Wärtsilä for eight 5.5MW thrusters.
Harding Safety won a contract to provide FF1200 freefall lifeboat systems with davits in January 2016. Excel Marco was contracted to provide the safety system package for the vessel. Fendercare Marine supplied protective equipment to reduce the risk of damage to the vessel during operations.
Rolls-Royce received a £8m ($11.3m) contract to deliver a 12-point mooring system for the crane vessel in February 2016. Tamrotor Marine Compressors (TMC) supplied compressed air systems for the vessel.
Palfinger Marine was contracted to supply two bulk loading stations in June 2016, while GE was selected by the builder a month later to equip the Sleipnir vessel with electrical propulsion systems.