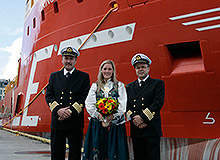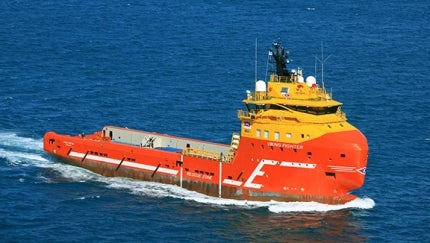 Viking Fighter is an environment-friendly platform supply vessel (PSV) designed by STX OSV and fitted and furnished at its shipyard in STX OSV Brattvaag.
The ship was designed in Alesund, Norway, and its hull was constructed at STX OSV Braila in Romania prior to its assembling in STX OSV Brattvaag. The vessel is classified as DNV 1A1 class by Det Norske Veritas (DNV).
"The vessel is classified as DNV 1A1 class by Det Norske Veritas (DNV)."
The naming ceremony of Viking Fighter was held in July 2012 and the vessel was delivered to the owner in the same month. The ship is owned by NorSea Group (NSG) and managed by Eidesvik. The chartering and operation of the vessel have been entrusted to Maritime Logistic Services.
The vessel will operate in the North Sea and the Barents Sea with lower resistance and operating cost due to its design, and will be capable of carrying out firefighting services and oil recovery operations.
Design and capacity of the platform supply vessel
Viking Fighter, which is a PSV 08 CD designed vessel, is 81.7m long, 18m wide and has a draft of 6.5m. It has a gross tonnage of 3,616t and a dead weight of 4,000t.
The cargo deck of the vessel measures 56m in length and 14.8m in breath, and covers a total area of 840m².
Viking Fighter accommodation facilities
The vessel will be capable of accommodating 26 people in 12 one-man cabins and seven two-man cabins. All the cabins are provided with shower and toilet facilities.
Public facilities onboard Viking Fighter include a non-smokers area, a smokers area, a laundry room, a gymnasium, three state cabins, an office and a hospital room.
A Norsafe 655 Mako MOB-boat with a capacity of accommodating six people and six 16-man liferafts are provided in the vessel.
Tank capacity and discharge rates of Viking Fighter PSV
Viking Fighter will be equipped with a tank washing system comprising both hot and cold water, a liquid mud tank and a base oil tank. The vessel will also be integrated with chemical injection systems for cleaning.
---
Related project
---
Viking Princess is a liquefied natural gas (LNG)-driven multipurpose offshore vessel owned by Eidesvik Supply and operated by Eidesvik.
---
Viking Fighter has a capacity of holding 900m³ of fuel oil, 1,670m³ of ballast water, 993m³ of fresh water, 1,250m³ of liquid mud, 200m³ of methanol, 300m³ of dry bulk, 300m³ of base oil and 1,500m³ of ORO.
The ORO system, comprising a MEL-C electrical boiler with a capacity of 1,250kW and steam lances for heating the ORO tanks, was supplied by Parat. The boiler acts as a back-up for the central heating system of the vessel.
The vessel features loading and discharge stations on both sides for all types of liquid cargo and dry bulk. The discharge rate of fuel oil, liquid mud and brine is 200m³ per hour while the discharge rate of potable water is 400m³ per hour. Ballast water is discharged at a rate of 300m³ per hour while methanol and other special products are discharged at a rate of 150m³ per hour.
Deck equipment
Viking Fighter is fitted with a crane with a load lifting capacity of 2t at 17m outreach. Other equipment onboard Viking Fighter include two tugger winches, a forward mooring winch and a pair of Capstan fitted aft.
Navigation and communication systems
Navigation equipment onboard the Viking Fighter includes three Anchutz gyrocompasses, an Anschutz Autopilot Pilot Star D, two Furuno radars (FRC-2117 and FAR-2137S BB), a Furuno FA-150 Automatic Identification System (AIS) and Oil Detection Radar software.
"The vessel will operate in the North Sea and the Barents Sea."
It also includes a Telchart Electronic Chart Display and Information System (ECDIS), a Furuno FE-700 Echo sounder, a Furuno DS-80 Doppler Log, a Taiyo TD-L 1550 VHF Direction Finder, two Gill Ultrasonic wind sensors, two Furuno GP 150 DGPS and a Sirius Sir-3 Navtex.
Communication systems fitted to the vessel include VHF and UHF radio telephones supplied by Motorola, two Tron SART 9 Ghz radar transponders, two sea-Tel 6009 V-Saat antennas, two EPIRBs, and Inmarsat C GMDSS antennas.
Propulsion details of Viking Fighter PSV
Viking Fighter is installed with two 1,665kW engines and two 1,100kW engines of Wartsila WPL20 make.
The vessel is propelled by two Schottel Twinpropellors with azimuths of 1,600kW each.
The main generators include two AvK DSG 99 K1/8W and two AvK DSG 86 M1/8W capable of producing 690V of power each. The vessel is also equipped with a Leroy Somer generator with a capacity of 440V and a C6.6 ACERT Caterpillar generator for emergency.
Furthermore, the vessel is equipped with a Brunvoll FU-74-LTC-2000 Bowthruster and a Brunvoll AR-63-LNA-1650 Azimuth thruster with rated capacities of 850kW and 800kW respectively.
---
Related content
---
Far Solitaire Platform Supply Vessel, Norway
Far Solitaire is a monohull platform supply vessel (PSV) owned by Farstad Supply and managed by Farstad Shipping.
Vestland Mira Platform Supply Vessel, Norway
Vestland Mira is a Norwegian platform supply vessel (PSV) built by Havyard Ship Technology for Vestland Offshore.
---