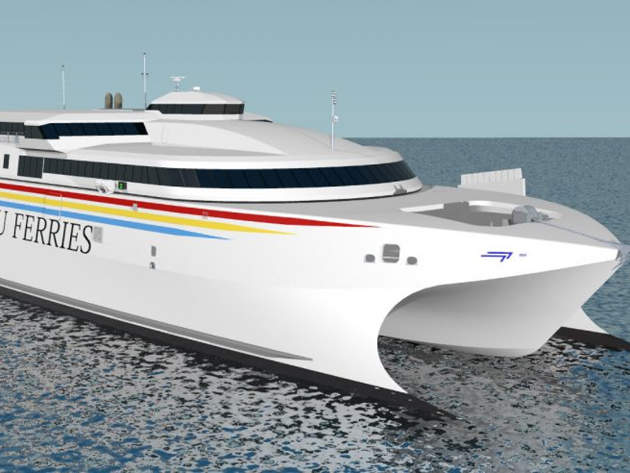 Saint John Paul II is a high-speed vehicle passenger (RoPax) ferry built by Incat Tasmania shipyard in Hobart, Australia, for Virtu Ferries, a Maltese ferry services operator. It is the world's second biggest catamaran to operate at more than 70km/h.
A contract worth approximately $80m for the design and construction of the ferry was awarded to Incat Tasmania by Virtu Ferries in October 2016. The planning and design phase of the project lasted for approximately one year.
Construction on the ship began in 2017 and its launching ceremony was held in December 2018. The ship was delivered in February 2019.
The wave-piercing catamaran joins Virtu Ferries' existing fleet of 14 high-speed craft. It allows the company to provide year-round fast-ferry services between Malta and Sicily in the Mediterranean Sea basin with increased reliability and passenger comfort.
Saint John Paul II catamaran design
Saint John Paul II  features a wave-piercing catamaran hull structure with two slender hulls built using welded and bonded aluminium. The hulls are connected by a bridging section. A wave-piercing type bow is installed in the centre line to provide increased speed and a comfortable voyage at sea.
The high-speed catamaran is built in line with the standards of DNV-GL classification society. Design techniques and safety features of the ferry are designed in compliance with International Code of Safety for High Speed Craft (HSC) 2000 adopted by the International Maritime Organization (IMO).
The ferry complies with the requirements of Italian Port State and is registered under Malta Flag following the receipt of necessary approvals.
With a dead weight of 1,000t, the vessel can carry up to 900 passengers. The overall length and breadths of the vessel are 110.6m and 28.2m respectively.
Deck details of Saint John Paul II
The high-speed wave-piercing catamaran vessel is equipped with two passenger decks, containing four lounges.
The interior is designed to offer three classes of seating with economy, VIP, and business class. It incorporates 996 indoor passenger seats and 138 outdoor passenger seats.
The garage deck of the ferry can accommodate up to 23 heavy commercial trailers / 167 cars / 490 truck lane metres.
Up to two rigid hulled boats are carried at the stern of the ship to for transportation at sea. The boats are launched or retrieved using a crane.
Operation and control of the vessel are performed from the wheelhouse located amid ships. Marine radars and communication systems are fitted atop the wheelhouse to ensure safe operation of the ferry.
Large windows on the passenger deck and bridge areas provide an unobstructed view of the sea.
Propulsion details
The Saint John Paul II RoPax ferry is powered by four MTU 20V 8000 series diesel engines, each generating an output power of 9,100kW.
The vessel's propulsion system comprises four Wärtsilä LJX 1500 SRI modular waterjets, which ensure fast and reliable operation of the ferry by providing a 10% reduction in weight and improved fuel efficiency.
"The high-speed wave-piercing catamaran vessel is equipped with two passenger decks, containing four lounges."
The high-speed wave-piercing catamaran is installed with a Lipstronic control system, also developed by Wärtsilä, for controlling vessel speed, relative load, pitch and rotations per minute (rpm).
Saint John Paul II performance
Virtu Ferries' new wave-piercing catamaran has a service speed of 38k. The ferry is capable of completing its journey from Malta and Sicily in approximately 90 minutes.
The ship's slender demi-hulls provide low wave-making resistance and high transverse stability.
Contractors involved
Incat Tasmania awarded a contract to Wärtsilä in April 2017 for the supply of water jet cutters.
Australian company Revolution Design provided design and architectural solutions for Virtu Ferries' new RoPax ferry (hull number 089). The ship's design was also supported by Seaspeed Marine Consulting.