PANOLIN's family of GREENMARINE products features a range of high-performance, long-life, environmentally considerate lubricants (ECLs) for all vessel applications, including stern tube oils, gear oils, greases and hydraulic fluids.
With more than 60 years of successful operation in the Swiss oil sector and more than 30 years focusing on biodegradable and minimal toxicity lubricants, PANOLIN is now a global leader in ECL technology.
Environmentally friendly lubricants
All products are approved by major OEMs and comply with US EPA VGP environmental requirements. Various environmental accreditations bear testimony to the stringent targets for biodegradability, toxicity and bioaccumulation met by PANOLIN ECLs. Additionally, the US EPA has allowed us to use their logo on our GREENMARINE product data sheets, as an acknowledgement that our products fulfil the ecological requirements of the Vessel General Permit 2013.
Our well-established products have been engineered for the demanding marine environment, and exceed all requirements in performance. In addition to the marine ecology benefits, these lubricants reduce CO2 emissions by offering superior equipment efficiency through lower friction and a reduced need to dispose of used lubricant (the conservation of resources through longer oil change intervals).

The GREENMARINE product line comprises high-performance, long-life, environmentally considerate lubricants.

PANOLIN products meet the stringent environmental requirements of the marine sector, with the approval of major OEMs.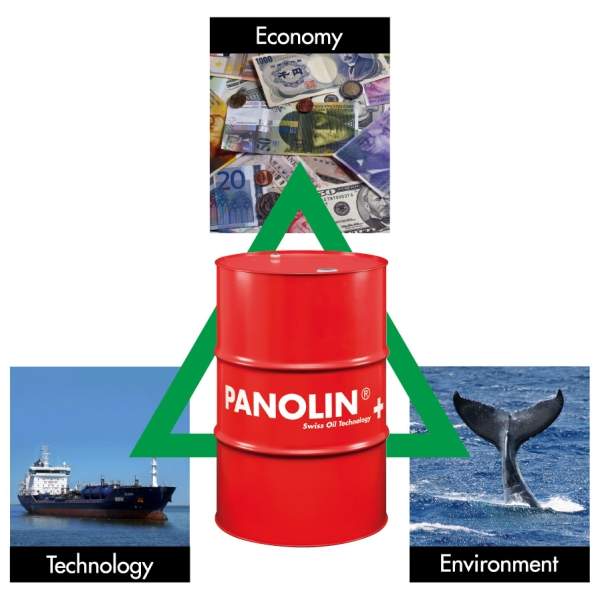 Our lubricants use unique technology to reduce cost and enhance sustainability, thanks to the long life of ECLs.
Long-life lubricants
PANOLIN uses unique technology, employing different saturated synthetic esters and specially selected additives, to produce lubricants of outstanding performance. With our products and knowledge of application requirements, we have ensured that there is no financial penalty for using our GREENMARINE lubricants, due to their long-life capabilities.
The long life of our products can contribute to extended times between dry dockings. Major OEMs approve the use of PANOLIN lubricants in their equipment. With the correct lubricant selection, operating costs will be reduced and environmental sustainability increased.
Marine lubricant applications
GREENMARINE ECLs are applied in hydraulics and component lubrication systems in ships, dredgers, subsea equipment and extensively in the oil and gas sector. Their advantages include:
Outstanding resistance to thermal oxidation (anti-ageing)
Stability at elevated temperatures (higher than many specialist mineral oil-based lubricants)
Wear protection
Long life between refills
Environmental benefits in areas of great ecological sensitivity