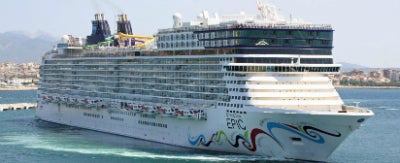 The Norwegian Epic, the third largest cruise ship in the Norwegian Cruise Line (NCL) fleet, recently spent several months in drydock at Damen Shiprepair in Brest, France. The purpose of this visit was to undergo a refit and maintenance.
As part of the upgrade, Bolidt worked on the outdoor decks of the ship, which was built by STX Europe St Nazaire France in 2010. The initial installation of the decks during the construction was also carried out by Bolidt.
A growing number of people of all ages and nationalities are discovering cruising as a relaxing way to spend their holidays. Supporting this trend, modern cruise ships are equipped with every luxury imaginable and offer a multitude of options in terms of restaurants, bars, entertainment, sports facilities, shopping and culture.
The 329m-long Norwegian Epic features no less than 23 culinary dining choices and can accommodate 4,100 passengers. A special entertainment venue aboard the ship is the circular theatre extending over two decks that hosts a spectacular dinner show for up to 217 passengers each night.
The ship's facilities further include an aqua park, swimming pools, bowling alleys, and a climbing wall. Passengers can also enjoy golf or work out in the fitness centre.
The growing demand for luxury cruise holidays made NCL decide to modernise its ships. NCL has been entrusting both the installation of new decking and deck refit work to Bolidt for years.
On the Norwegian Epic, Bolidt carried out the refit of all Bolideck® Select Soft and Bolideck Future Teak outdoor decking. It took Bolidt's specialised application team less than two weeks to revitalise a total of about 3,500 square metres of decking. An impressive achievement, given the time pressure and the fact that many companies were working on the ship at the same time.
In addition to the refit of the outdoor decks, an existing deck on the Norwegian Epic was replaced by Bolideck Future Teak, underlining the growing popularity of this sophisticated decking system.
Cruise operators are increasingly looking for a combination of luxury appearance and sustainability. Bolideck Future Teak meets both requirements because it is durable and low in weight. This helps, among other things, to save fuel and unlike traditional teak decks, Bolideck Future Teak does not require any trees to be cut down.
Bolidt's maritime division director Jacco van Overbeek said: "Modernising the decks on NCL's ships is one of the largest projects of this kind that we have been involved in to date.
Meanwhile, the Norwegian Epic is back at sea and we are currently working on the refit of the Norwegian Gem in the Bahamas. Before the Epic, we had already done the Norwegian, the Norwegian Star and the Norwegian Pearl.
"With our work we contribute to NCL being able to offer its guests a consistent experience and a fantastic cruise holiday on all Norwegian ships."