HEROSE is the leading manufacturer worldwide of valves for cryogenic applications and services. Based on 140 years of experience in the development and manufacture of valves, we strive to provide customers with technical solutions over and above industry standards.
Cryogenic safety valves
Our cryogenic safety valves are installed for protection against overpressure in tank containers and pipelines used for the storage, distribution and transport of liquefied gases — such as oxygen, nitrogen, argon, carbon dioxide, helium, hydrogen, etc. — at temperatures as low as -270°C (-454°F). A bellow-sealed option is available.
A major global gas company successfully subjected our cryogenic safety valves to an endurance test of 144,000 opening and closing cycles, and have subsequently been using our valves with trouble-free operation in over 35,000 installations for almost ten years.
Diverter valves
Our diverter valves have been tested by a well-known cryogenic bulk vessel manufacturer. These tests reported a valve life expectancy of over 150 years.
Cryogenic LNG valve group picture.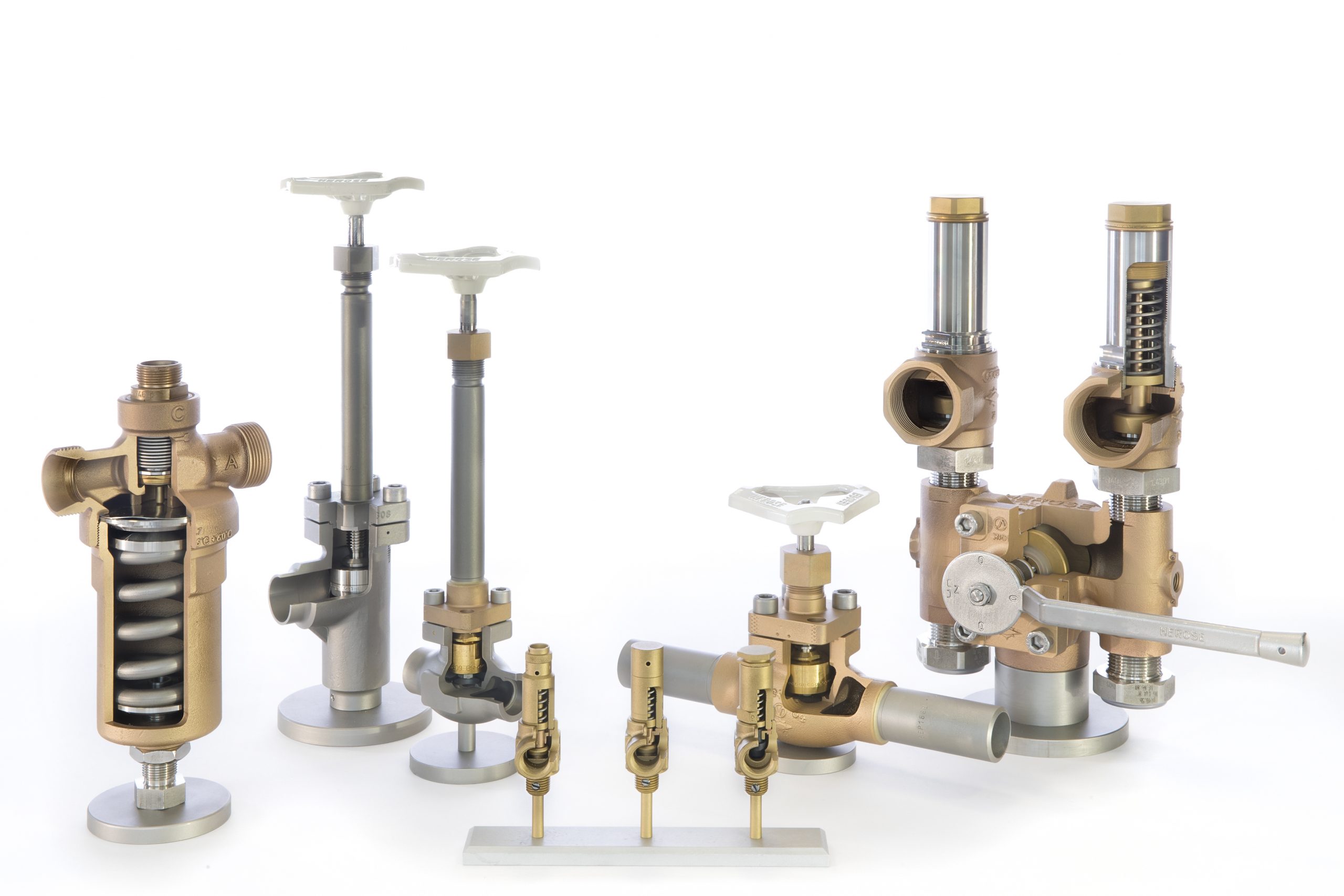 Cryogenic air gases valve group picture.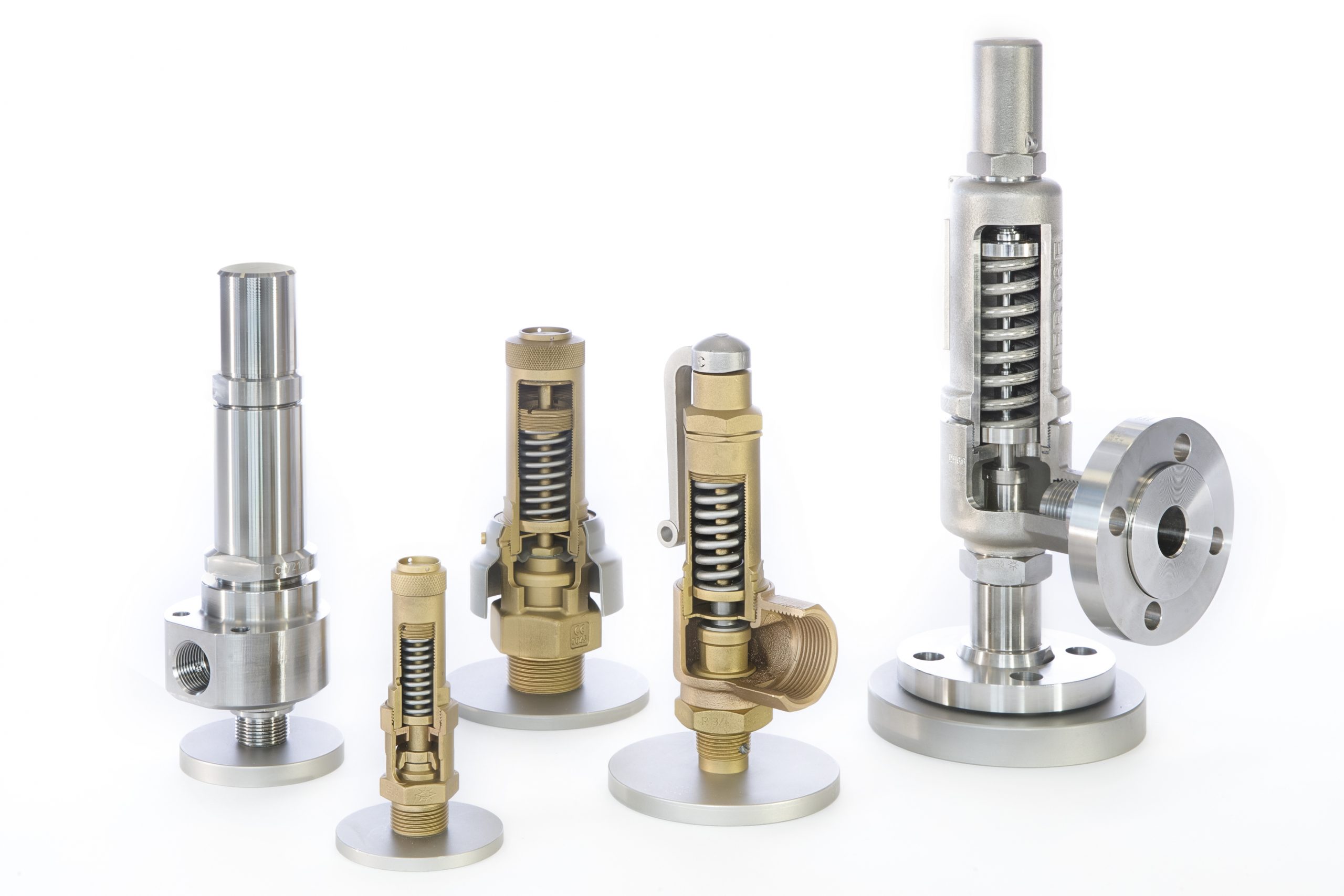 Industry valve group picture.
Fire-safe LNG valves
HEROSE's product range of LNG valves included bronze valves which are TUV-certified according to EN 12567, as well as stainless-steel valves which are additionally fire-safe approved according to EN ISO 10497.
This approval ensures that our fire-safe LNG valves remain tightly shut off, protecting plant and personnel when fires occur. HEROSE's fire-safe LNG valves have been installed in critical applications worldwide.
Industrial safety valves
Our product range of industrial safety valves covers the fields of gases, vapours, fluids and refrigerants. A special development is the industrial safety valve for pneumatically drained silo vehicles. Like other valves in the HEROSE range, this industrial safety valve is resistant to extreme vibration and environmental conditions.
As an environmentally aware company, we strive to ensure excellent sealing characteristics in all our industrial safety valves, minimising emissions to the atmosphere.
Cryogenic valves
HEROSE offers the full package of cryogenic globe valves, control valves, check valves and emergency-closure valves, as well as diverter ball valves and change-over valves. All types are available in bronze or stainless steel, either for manual operation or as an actuated design.
Gate valves
More recently, we have introduced a complete range of stainless-steel gate valves, which takes HEROSE's quality and design capabilities into new applications, such as cryogenic road tankers.
Cryogenic globe valves
HEROSE offers a wide range of cryogenic globe valves, available in bronze or stainless-steel, either for manual operation or as actuated designs.
Cryogenic ball valves
HEROSE is extending its range of products for cryogenic technology with ball valves. Especially for CO2 tanks and ISO containers for offshore use, or any other application where a rapid opening and closing of the valve is required, these cryogenic ball valves are an optimum supplement to the HEROSE product range.
Cryogenic control valves
HEROSE offers a range of pneumatic actuated cryogenic control valves. These valves are working with a linear or equal percentage control characteristic and are approved for air gases, vapours and cryogenic liquefied gases including LNG.
HEROSE's success is ensured by our highly qualified staff. Our engineers are committed to the ongoing development of our valves to find tailor-made solutions for our customer base when existing products fail to meet their application requirements.
Our customers benefit from our TÜV approved quality systems according to the latest editions of DIN EN ISO 9001, PED 97 / 23 / EG, AD 2000 and TPED 99 / 36 / EG. The high-quality design of the HEROSE range is verified by the fact product complaints have only been made against less than 0.03% of the total valves we have manufactured. The company's primary target is customer satisfaction.