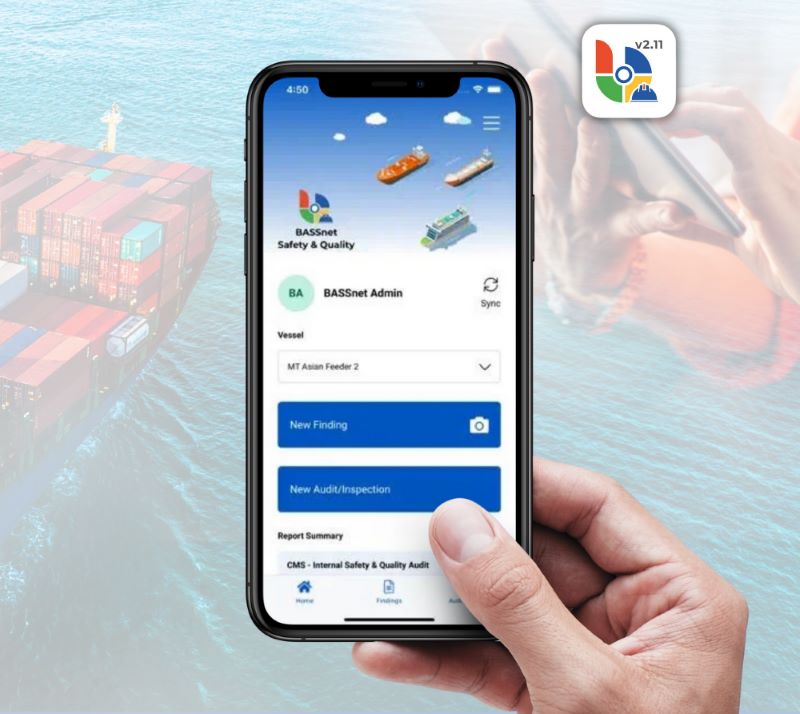 BASS Software has launched a brand new BASSnet Safety and Quality mobile app for audits, inspections, and findings 'anytime, anywhere'. The app sports a user-friendly, intuitive user interface (UI), with rich functionality. It fully supports Android and IOS.
Users can employ this on-site digital assistant to:
Instantly create new findings (including suggestions for improvement, near misses, defects, non-conformities, claims, or accidents/incidents)
Effectively create and execute audits and inspections
Create and assign follow-up actions with due dates
Snap, upload, and mark up images on the go
Export and share audit/inspection reports.
With the click of a button, users can sync updated data to BASSnet.
"Maritime digitalisation brings high value with end-to-end process solutions like BASSnet," notes BASS Software CEO and Managing Director Per Steinar Upsaker.
"BASSnet Safety and Improvement Reporting (SAFIR) is our 'best practice' solution to manage effectively, safety-related reports. The Safety and Quality app integrates with SAFIR to offer seamless multi-platform access."
Vessel and shore-based personnel such as Officers onboard, Superintendents, vessel managers, and HSEQ auditors will reap benefits from the app's:
User friendly design
Intuitive process flow
Instant paperless reporting and quick access
Flexibility and efficiency
Ease of task execution
Safety is the cornerstone of successful fleet management. Using a mobile app for site audits, inspections, and findings greatly increases efficiency and reporting speed while reducing errors from paper reporting.
The BASSnet Safety and Quality mobile app is an innovative testament to BASSnet's value as the complete, end-to-end ERP software to streamline maritime operations.
This paper presents a detailed overview of the relationship between climate change and the maritime industry.
Pacific International Lines (PIL) is a shipping company headquartered in Singapore with a mission to be a leader in the maritime industry by providing high...
This major upgrade reflected Anthony Veder's desire to leverage opportunities in digital technology.