MAREFSUP
Equipment Supplier for Cruise Ships, Fishing Vessels and Reefers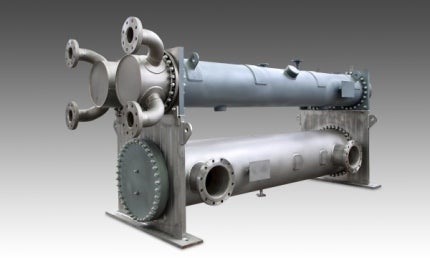 MAREFSUP has specific know how of what type of system, equipment and materials can be applied for different applications. Specialist knowledge and long term experience is available on marine refrigeration applications as well as expertise in heat exchanger design for corrosive media, low temperature and high pressure applications (CO).
MAREFSUP is the exclusive representative of INTEGASA, manufacturer of shell and tube heat exchangers and pressure vessels. It has the expertise and the means to deliver complete assembled compressor or chiller units to meet the requirements of the customer. MAREFSUP is also supplier of their own designed plate freezers specially suited for marine applications.
Delivery program MAREFSUP
• Shell and tube heat exchangers for all types of refrigerants and refrigeration systems:
Seawater cooling (RSW) and brine coolers (cooling and freezing)
Water chillers (AC)
Condensers
Specials such as ammonia spray coolers
• Assembled compressor or chiller units
• Vertical and horizontal plate freezers
• Air coolers and static cooling coils
• Pressure vessels such as oil separators and liquid receivers
MAREFSUP Heat exchangers
MAREFSUP is the exclusive representative of INTEGASA, which is one of the leading heat exchanger manufacturers and has designed and produced equipment for fishing vessels, cruise ships, process and off shore industry.
MAREFSUP uses HTRI software, in combination with long term practical experience, to make heat transfer calculations and to determine design of heat exchangers. MAREFSUP is therefore not just a representative, but a partner who knows what they are talking about!
For every type of application different kind of materials, design code and notified body for the tests and certification of the equipment are required. 90% of the equipment that is made by INTEGASA is tailor-made and delivered to customers all over the world.
MAREFSUP delivers cupro nickel and titanium shell and tube heat exchangers for seawater and corrosive media up to a capacity of 10MW. Usually these heat exchangers are custom made according the clients specification.
We also deliver replacement marine boxes for seawater cooled condensers which can be made from CuNi or CuNi sheeted carbon steel or any type of stainless steel including titanium. In case of leaking heat exchangers we can offer service for the repair or replacement of the heat exchangers.
Assembled units
MAREFSUP can provide tailor made solutions to meet the requirements of the customer: complete design and engineering; complete delivery and assembly of the package; delivery including CE-PED declaration of conformity or certification by ships classification society.
Our possibilities range from the assembly of heat exchangers with compressor, electric motor, cabling and its interconnecting piping. The design is always established in close cooperation with the client and we use 3D design software of Solid works to create a realistic picture of the design of the units before starting the production of the units.
Plate freezers
MAREFSUP can deliver vertical as well as horizontal platefreezers. Vertical plate freezers are very effective in freezing large quantities of bulk products such as whole fish, meat products and fruit pulp. Horizontal plate freezers are generally used for the freezing of high value products such as fish fillets, shrimps and prawns.
Different plate dimensions are available which allows the customer to choose the optimum freezer in relation to the required block dimension that will need to be processed. Every type of plate freezer can have a different number of freezing stations.
MAREFSUP has developed a high quality CO2 plate freezer. The knowledge and experience of the problems that users have had in practice when using CO2 freezers made it possible to include some very important improvements on the freezer such as the connections of hoses to the plates and to the headers. This will reduce the CO2 leakages from the hose connections to an absolute minimum.
Air coolers and cooling coils
The frozen storage holds of a fishing vessel usually have air coolers with forced air circulation by means of fans or so called refrigerated coils that are fitted to the ceiling to create natural air circulation. Both types are supplied by MAREFSUP.
Stainless steel air coolers may be required for food processing applications or when the ambient conditions and the regulations do not allow the use of galvanized steel air coolers
Air coolers are built to customer demand and can be delivered with plain fins or corrugated fins. We can supply the coolers with fans, fan casing and drip trays.
Pressure vessels
Pressure vessels are to be considered to be simple and easy to produce. In many cases however specialized vessels are required such as liquid separators, oil separators and high pressure vessels for CO2 that are used in refrigeration plants.
Especially in case when there are special requirements for the construction of the pressure vessel or when specialist knowledge is required of liquid separation from a gas such as oil, or liquid refrigerant we will be able to offer you a solution. In such cases our design knowledge for such equipment can be essential to make a proposal according to clients' requirements