ShibataFenderTeam (SFT) provides fender systems that protect ships and port infrastructure, as well as consulting, engineering, manufacturing, testing, and after-sales services.
SFT supplies simple rubber profiles, highly engineered systems, accessories and fixings that can be installed on container applications, as well as naval, bulk, oil, gas, general cargo, cruise, ferry, and roll-on / roll-off (ro-ro) terminals.
Easy-to-install conical fenders
The SPC Cone Fender features a conical body, which offers high-energy absorption to reaction force ratio (E/R), high-shear stability, and no loss of performance up to a 10° approach angle.
The fender is fitted with anchor recesses for easier installation and optional overload stoppers.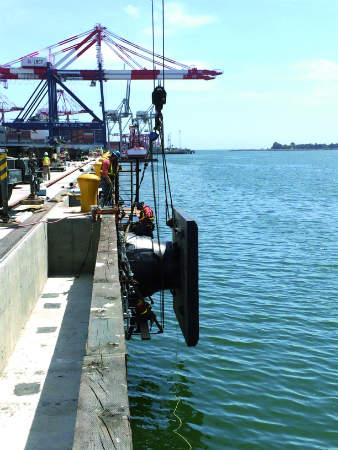 SPC Cone Fenders have an exceptionally good energy absorption to reaction force ratio and a high shear stability.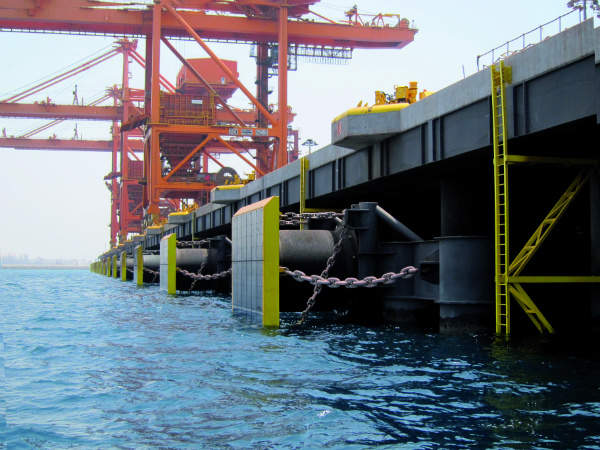 CSS Cell Fenders are very robust and provide a good load distribution on substructures.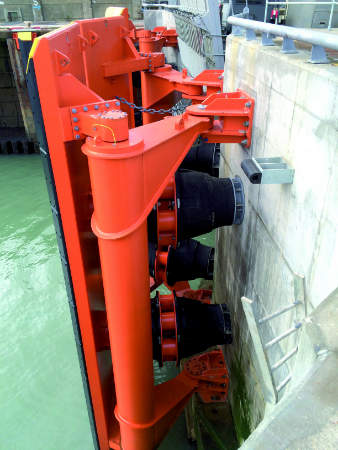 Parallel Motion Fenders are highly customised systems which eliminate a second ship / panel contact.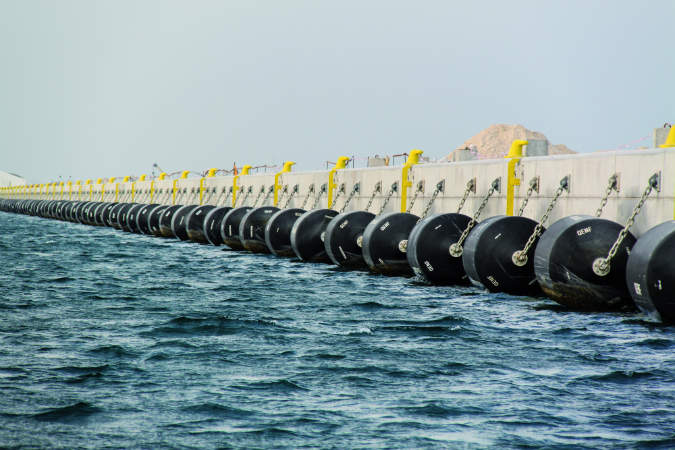 We deliver a wide variety of foam products, including Ocean Guard, Ocean Cushion, Submarine Foam Fenders, SSD Fenders, Donut Fenders, and Buoys.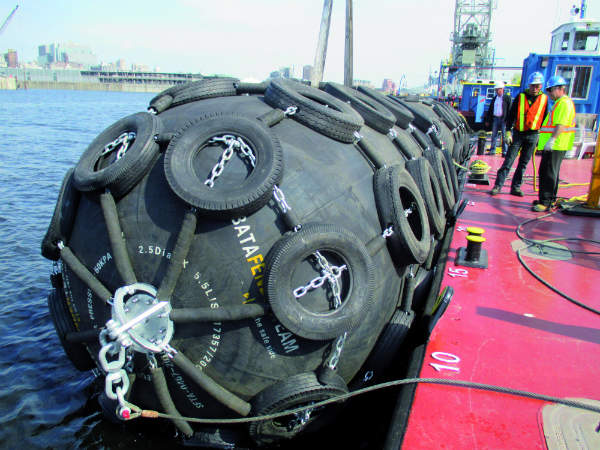 Pneumatic Fenders show a proportional increase of energy and reaction; built as per ISO 17357-1:2014 . Also available as Hydropneumatic Fenders.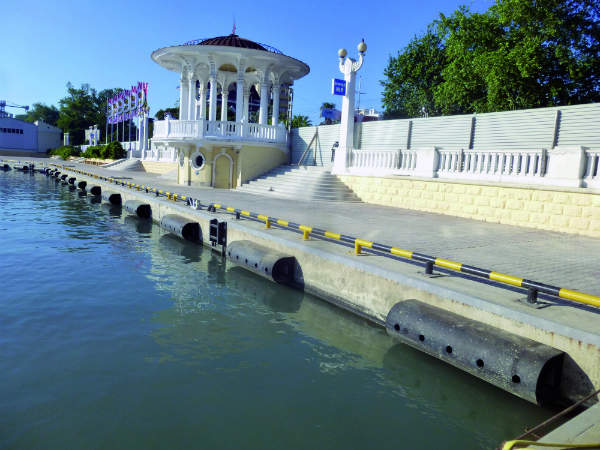 We deliver Extruded Fenders in different shapes, as D or as Square Fenders.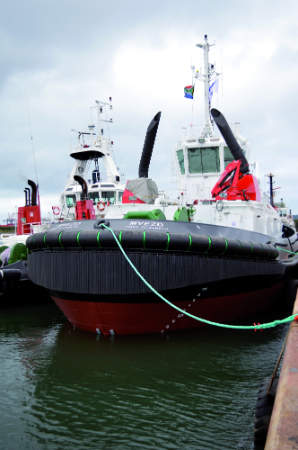 ShibataFenderTeam offers reliable and high abrasion-resistant Tug Boat Fenders for extreme conditions. All fenders are cut to size for immediate installation.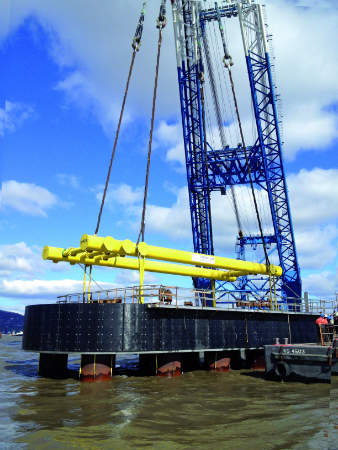 Low friction HD-PE Sliding Fenders are offered as well as UHMW-PE Plates for steel panels.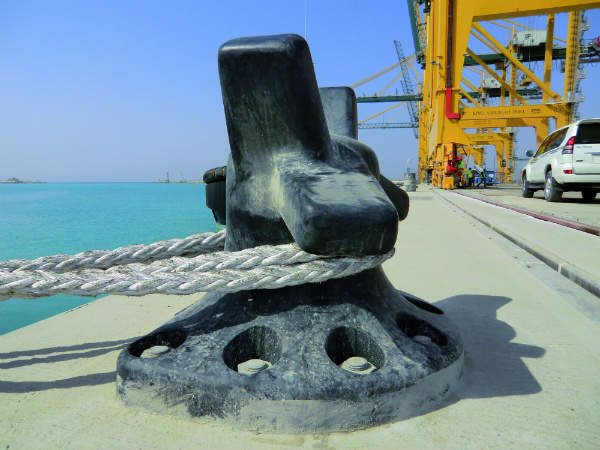 A wide range of standard shapes, load ratings, materials, and anchor systems are available with strong and long-lasting designs.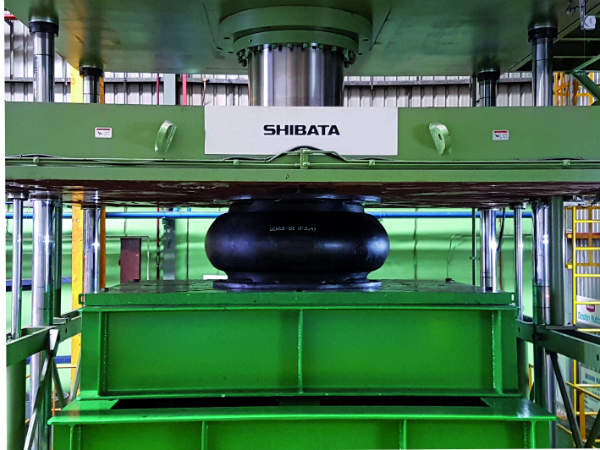 Testing as per latest PIANC protocols. Full size combined shear compression test equipment. Third party certified in-house laboratory.
Hollow and lightweight cell fenders for vessel terminals
The CSS Cell Fender features a hollow cylindrical body and fully rubber-embedded mounting flanges.
SFT's Cell Fenders are easy to install, robust, and offer a high-shear-resistance.
The systems are cost-effective and their large footprint leads to a superior load distribution on substructures, resulting in a lighter panel construction.
Fully molded Element Fenders with mounting plates
The FE Element Fenders are fully molded rubber legs with embedded mounting plates.
Based on V Fenders but with separate legs, FE Fenders provide layout flexibilities when installed behind steel panels or limited mounting space.
Offering a high energy absorption to reaction force ratio, the fender comprises vertically and horizontally mounted elements combined in one system.
The Pile Fender design may use single units. The system is easy to maintain and replace.
Energy-absorbent Cylindrical Fenders
The Cylindrical Fender can be installed using chains, bars, ropes or specially designed ladder brackets, depending on the fender size and substructure.
Its proportional increase of reaction force and energy absorption all the way to the rated deflection results in softer berthing.
Special dimensions and features, such as pre-bending or jointing, can also be requested.
V Fenders for turning dolphins and pivot points
SFT's rigid, one-piece V Fenders are available in SX and SH cross sections, which offer different head widths and maximum surface loads. Each type can be equipped with an additional embedded steel plate in the fender head.
This is used for the installation of an ultra-high-molecular-weight polyethylene (UHMW-PE) frontal plate, a steel fender panel, or the mounting of the fender unit behind a pile construction.
The robust, durable, low-maintenance V Fender is suitable for various applications such as General Cargo Terminals or turning dolphins and pivot points. It can be installed both vertically and horizontally.
Parallel Motion and Pile Fenders
Parallel Motion (PM) Fenders are individually engineered systems that are typically equipped with SPC Cone Fenders, CSS Cell Fenders or FE Element Fenders.
A turning lever arm (torsion arm) is mounted between the back structure (concrete or steel) and the frontal steel panel. The arm restrains the panel movement during the entire fender compression, allowing it to move only in parallel to its mounting, irrespective of impact level and angle.
A common alternative to PM Fenders are Pile Fenders, which ensure a single point-of-contact between the vessel and fender system.
Roller and Wheel Fender systems and Cushion Rollers
SFT provides Roller and Wheel Fender systems that provide ship guidance in narrow areas. Both have a good energy absorption. A wide range of types and performances is available to suit almost all project requirements.
Cushion Rollers feature a rubber cushion to withstand berthing impacts. They are used to protect pontoons and floating structures.
Tug Boat and Extruded Fenders
ShibataFenderTeam offers eight standard Tug Boat Fenders as well as customized solutions. The robust fender types are suitable for heavy-duty and demanding tug boat operations.
The company also provides Extruded Fenders as D or Square Fenders for various applications that can be manufactured in almost any length and drilled for easy and quick installation.
High-quality Foam Products and Pneumatic Fenders
SFT provides Foam Products that can be used for navy vessel berths and cruise terminals, as well as for ship-to-ship and ship-to-shore operations such as Ocean Guard and Ocean Cushion Fenders, Donut Fenders, Submarine Foam Fenders, SSD Fenders, and Ocean Guard Buoys.
Pneumatic and Hydropneumatic Fenders are often used for ship-to-ship operations as they can easily be deflated and stored on deck. They provide a proportional increase of energy and reaction, a low hull pressure, and a submerged contact area (Hydropneumatic Fenders only).
Accessories, Fixings and Special Solutions
Besides standard rubber fender units, SFT also supplies highly customized products made from rubber, steel and other materials for fender and related marine applications.
The company also delivers high-quality chains, accessories and compatible fixings for assembling and installing fenders.
PE Sliding Plates and Fenders
Polyethylene plates and fenders combine impact strength with high-abrasion resistance and low friction. HD-PE Sliding Fenders can be supplied with lengths up to 6m and cross-sections up to 300mm x 300mm. UHMW-PE Plates are mostly used for steel fender panels.
Both can be used for many applications in the marine environment.
Consulting services for engineers and operators
SFT provides detailed and extensive design input and support to engineering companies, operators and other stakeholders from the early stages of projects.
Consulting is provided by the SFT offices, local agents and the company's global network of partners, allowing it to support projects while ensuring that local standards and regulations are met.
Manufacturing and testing of customized fender solutions
All SFT products are designed, manufactured and tested in accordance with International Navigation Association (PIANC 2002), BS 6349, Harbours and Waterways (EAU 2012), EC 3, DIN 18800, BS 5950, and American Institute of Steel Construction (AISC) standards.
The company produces its products in Europe and Asia, and buy-in items are sourced from pre-approved and reputable suppliers.
SFT's production facility in Germany has expertise in steel fabrication for fender systems since the early 1990s.
After-sales services
SFT provides installation and maintenance support throughout the service life of fender systems.
The company carries out site assessments to assess the condition of marine furniture, as well as draws up customized maintenance plans.