Dellner Brakes
Marine Brakes, Clutches, Stopping, Turning, and Locking Systems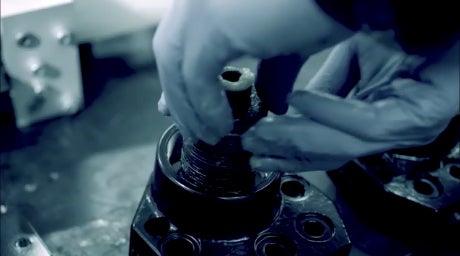 Dellner Brakes supplies technologically advanced products, components and systems for marine braking, stopping, turning, locking and clutch applications.
The company's product range also includes shaft couplings, rotorseals, quick release valves and PTOs.
Precision designed in Sweden, Dellner's brakes and clutches can be found in marine vessels, such as modern aircraft carriers, cargo ships, ferries, workboats, luxury yachts, and cruise liners, including Cunard's flagship the RMS Queen Mary 2.
Stopping, turning, locking (STL) system solutions
Dellner's innovative STL braking systems are precision-engineered to facilitate faster directional changes with maximum manoeuvrability.
The unique design also reduces fuel consumption, load on the propulsion systems, and sea growth on the propeller, and enables easy and safe maintenance.
STL braking systems follow the process below:
Stop: a hydraulic or electric disc brake system stops the shaft quickly in any position
Turn: after the brake has stopped the disc, a separate mechanism turns the disc and connected shaft into position for locking
Lock: once in position, the locking mechanism pushes a specially designed tapered pin into a machined slot on the brake disc
This process locks and holds the shaft securely in place, even in ship failure modes. The systems are modular, so customers can choose one, two or all three STL functions to meet their requirements.
The electrically powered continuous turning (cT) function, available with the electrical STL or as an option on the hydraulic STL, allows the shaft and propeller to be turned forwards and backwards for long periods at variable speeds, easing maintenance, checking and testing processes.
Fully automated electrical STL (eSTL) braking systems
Dellner's fully automated electrical STL (eSTL) braking system is the first of its kind in the world and has a patent pending.
Developed in response to an increasing global focus on environmental issues and a demand for smaller, flexible braking solutions, this electrical system offers high levels of power in a compact configuration.
eSTL needs no additional piping, making it quick, easy and cost-effective to install, especially where space is limited. It's simple to use and maintain, hard-wearing, and suitable for applications where a clean environment is critical or for use in green shipping zones.
The fully automated system can also be operated from an optional remote hand-held control, giving operators the freedom to inspect the system during maintenance and testing.
The standard eSTL range offers stopping torque up to 285 kNm, turning torque up to 119 kNm and locking torque up to 600 kNm. Dellner's custom-built eSTL systems can be scaled up with higher torques and adapted for a range of applications.
Precision-manufactured disc brakes for marine vessels
Dellner's SKD disc brake systems are precision-engineered for powerful, reliable and safe braking of rotary motion, as well as increased brake lifespans. They are designed for use on propulsion propeller shafts or wherever service, stopping, holding or tensioning is needed.
These direct-acting, hydraulic or electrically applied, spring-released units have a braking force up to 516 kN, which is directly proportional to the pressure applied.
Each symmetrical brake half has two guide pins that transmit the tangential braking force from the brake lining to the housing and mounting support. This removes any radial force on the brake pistons, contributing to a longer brake lifespan. Brake pad wear is automatically compensated for with the systems' increased piston stroke.
SKD disc brakes are available in a range of standard sizes and can be customised to order, with a range of optional mechanical switches to indicate on / off and brake wear.
Dellner also produces a range of SKP spring applied / hydraulic pressure or electrically released failsafe brakes for cranes, winches and other deck and dockyard machinery.
Locking devices for ship propeller shafts
With a locking force of up to 1,000 kN, which is higher than a holding brake, Dellner's locking devices provide a compact, cost-effective solution for holding propeller shafts in place while also reducing brake wear.
The locking devices can be operated manually, hydraulically or electrically.
Pneumatic clutches and brakes
Through their Dellner Gummi USA brand, the company provides a range of high-quality drum style pneumatic clutches and brakes, both constricting and expanding types, that are fully interchangeable with all other clutch brands in the market today.
About Dellner Brakes
Dellner Brakes is a world leader in marine braking solutions. The company's flexible, customer-oriented approach allows them to continually adapt their products to meet customers' specific needs and changing market requirements.
The company's commitment to cutting-edge design, robust assembly and precision testing ensures reliable, high-quality products.
Strategically located warehouses and a global network of contractors and distributors allows Dellner Brakes to deliver components and spare parts across the world within 24 hours.
Dellner Brakes AB is part of the global Dellner group, which acquired US brake and clutch company Gummi USA in September 2017. In January 2018, the group bought Germany-based industrial brake manufacturer Pintsch Bubenzer.