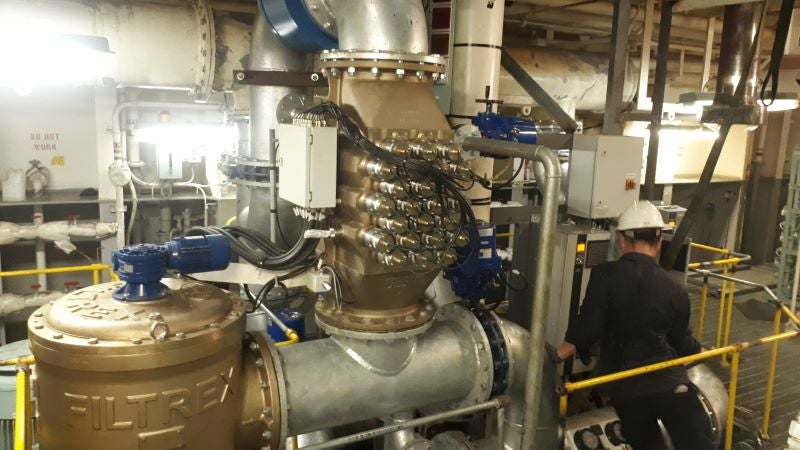 DESMI Ocean Guard develops compact ballast water treatment systems for the marine industry.
The company's systems feature low-power consumption and reliable performance in challenging water conditions, with one of the smallest operational footprints in the ship industry.
Optimized ballast water treatment system
DESMI Ocean Guard systems can be easily installed without the need to relocate other equipment. The system combines small footprint with large flow rates, with only 3m2 required for a system with a 1,000m3/h, or 4,403 US gallons per minute (GPM) capacity, in addition to 0.84m2 for the electrical panel, which can be placed up to 100m away from the system.
Based on mechanical treatment, the fully automated CompactClean system eliminates the risk of hazards to the crew, vessel or the environment caused by chemicals or active substances. The first step of this process involves filtration, followed by ultraviolet (UV) treatment. For de-ballasting, the UV treatment is repeated but filtration is skipped.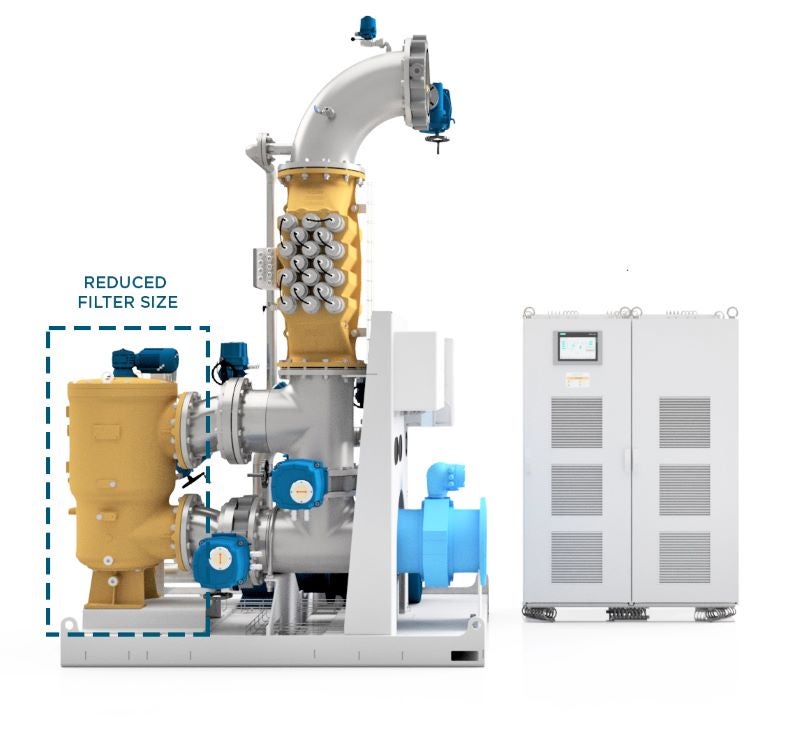 CompactClean: If your vessels operate worldwide, you will need the standard CompactClean system. Chose CompactClean to achieve simplicity with One Global full flow mode for the whole world.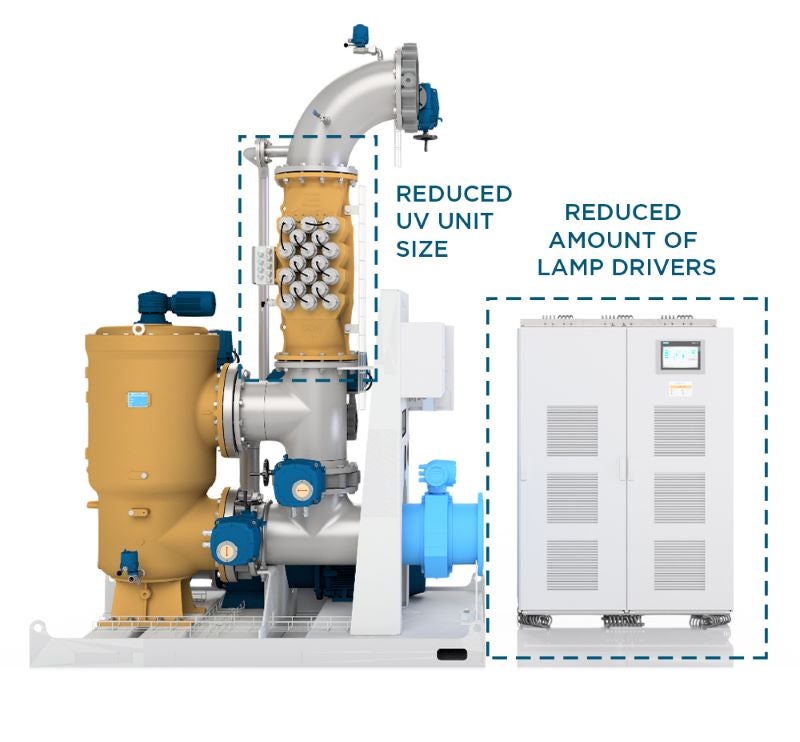 CompactClean OptIMO: If your trading pattern is mainly in IMO waters, then we recommend the CompactClean OptIMO solution. The CompactClean OptIMO is designed to utilise the fact that the IMO regulations uses the MPN test method for approvals, which is more suitable for UV systems.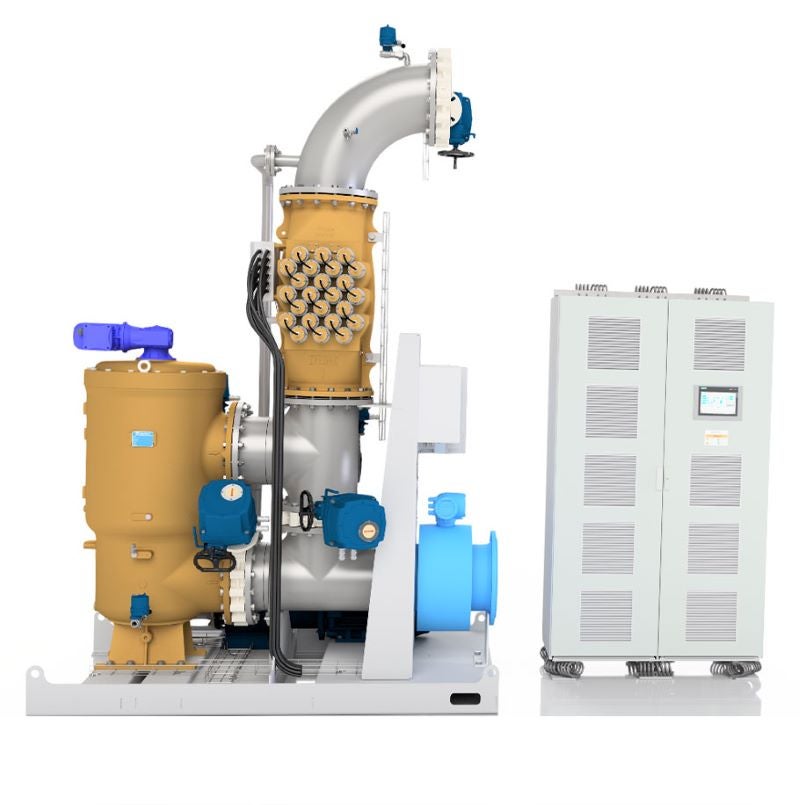 CompactClean Bulker: If you have a bulk carrier, then consider the CompactClean Bulker Solution. To account for longer unload times than load times, the CompactClean Bulker de-ballast at an increased flowrate.
We offer three system variants, namely the CompactClean, CompactClean OptIMO, and the CompactClean Bulker.
The ballast water treatment system has no salinity or temperature limitations and features International Maritime Organization (IMO) and US Coast Guard (USCG) type approvals.
UV treatment for ballast water
The innovative shape of the UV chamber provides optimal performance. It has been developed using advanced Computational Fluid Dynamics (CFD) simulations. UV units are made of nickel-aluminium-bronze material with high seawater corrosion-resistance to provide a long lifetime.
CompactClean automatically adjusts treatment in challenging water conditions to avoid triggering alarms or interrupting port operations. This allows the vessel to continue port operations instead of making the vessel interrupt the ballast water discharge processes, saving costs caused by delays.
Integrated solution for ballast stripping operations
The system's filter backflush pump can be used as a stripping pump for ballast tanks. This can be used as an alternative to ejectors, which can affect compliance with IMO and USCG discharge standards as untreated water is mixed with the treated ballast water.
Automated ballast water management with reporting
CompactClean uses a Programmable Logic Controller (PLC) and supports most standard communication interfaces.
As a fully automatic system, CompactClean can be easily integrated with existing systems to provide efficient operation. It is easy-to-use, with one button for starting ballast operations and one for discharging ballast water, available on the graphic touchscreen interface.
CompactClean can automatically create PDF reports for authorities and to document treatments, including key monitored parameters. Files are stored in the system and can be transferred to a USB memory stick through the electrical panel.
This function helps vessel owners meet increasing demands from authorities for documentation required by IMO conventions and USCG and Environmental Protection Agency (EPA) regulations.
UV water treatment for ships
DESMI's CompactClean has a unique patent-pending shape that ensures a high dose of UV is applied in ballast water treatment.
This ensures that water is processed in accordance with IMO and USCG standards in adverse conditions with low UV transmission.
The CompactClean system is available in various sizes with a maximum flow rate ranging from 35m3/h (154GPM) to 2500m3/h (11000GPM).
IMO and USCG type-approved ballast water management system
CompactClean has IMO type approval according to the revised ballast water management system code and Lloyd's Register standards. The system also has full compliance with USCG standards, meaning that it is approved for worldwide use.
The system has no minimum holding time limitation in IMO territory, and just 2 hours minimum holding time limitation in US Territory.
Accessible control panel for ballast water unit
The system is supplied with a main control panel that can be placed within easy access. It features a Human-Machine Interface (HMI) that is used to control the system and visualize alarms.
Operations can be controlled from a secondary screen in the deck control office or on the bridge if an optional remote screen is selected.
The range of standard fully automated treatment modes includes ballast, de-ballast, stripping, water filling and recirculation operations.
Operators can switch between screen views to display the relevant information and monitor component status during operation. Values such as temperature, pressure, flow, and UV intensity are displayed in real-time, along with trend curves to display development over time.