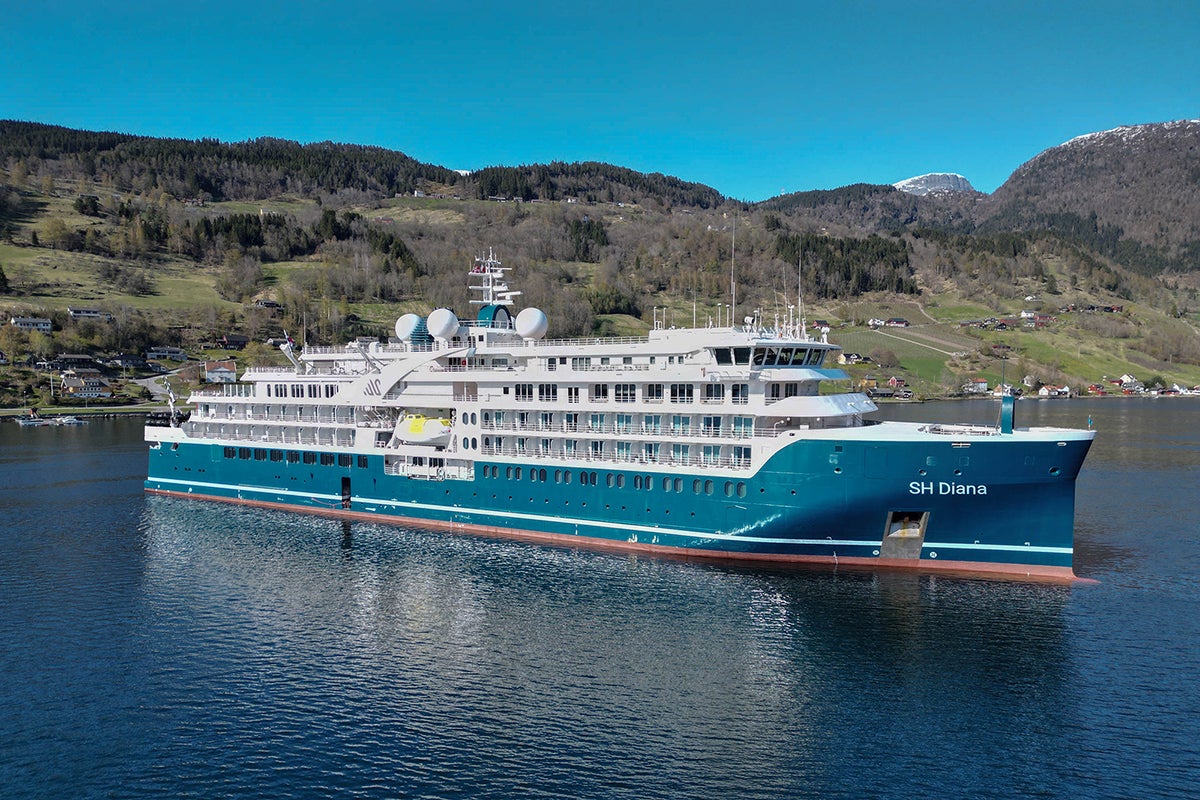 After SH Diana's naming ceremony in Amsterdam, expedition cruise operator Swan Hellenic's CEO Andrea Zito appears jubilant and relieved in equal measures.
"We've been through a nightmare," he tells me, candidly, before he headed back to Monte Carlo to deal with an unexpected work issue; unable, after all, to join the inaugural sailing of the SH Diana's Norway Explored itinerary to Tromsø.
Referring to the tumultuous impact of the Covid-19 pandemic and the subsequent Russian invasion of Ukraine, Swan Hellenic's first ship, SH Minerva, is still unable to sail.
Her operations are halted due to GTLK Europe's financial stake and ownership of the vessel. The Ireland-based maritime financier, controlled by Russia's Ministry of Transport, was sanctioned in April. Since then, Zito has reorganised the ownership to a full European ultimate beneficial owner.
"We're waiting for the authority of the Central Bank of Ireland to release the assets, which will happen soon, and then all three ships in our fleet will be back in operation," he explains.
Swan Hellenic, which first sailed in 1950s post-war Britain, christened SH Diana on 4 May 2023, with travel industry veteran Valerie Wilson, of Valerie Wilson Travel, as godmother.
The 125m-long polar class 6 expedition cruise ship will cruise mostly in the Polar regions, similar to her smaller sister ship SH Vega, and will transfer from the Arctic to Antarctica through the Mediterranean, the Red Sea/East Africa, and back North through Southwest America and the Caribbean.
Minimal delays: a lucky escape
Launching a luxury expedition cruise company just before the pandemic and during a war has been challenging for Zito and he admits that the expedition cruise operator faced many obstacles getting SH Diana built. But he remains optimistic, buoyed by the expedition cruise company's sustained progression despite the adversity.
The big luck was that we placed ship orders before the pandemic and Minerva was only delayed by three weeks, which is exceptional.
"The big luck was that we placed ship orders before the pandemic and, as the Helsinki Shipyard has one of the highest standards in the industry, SH Minerva was only delayed by three weeks, which is exceptional – we delivered in 2021," he says.
"Our second vessel, SH Vega, came out with one month delay and now we've delivered SH Diana – with all the supply chain disruption, this is a success."
SH Diana is equipped with exhaust gas cleaning, waste storage facilities for operating in sensitive polar areas, advanced wastewater treatment and water purification systems, and can run autonomously for 40 days or 8,000 nautical miles. An ongoing project to install zero-emission battery technology would mean it could operate silently, whether in port or at a marine reserve.
The Ship's captain, Kai Ukkonen, previously worked as a chief/safety officer and ice navigator on ice breakers in the same Arctic neighbourhoods, including Alaska, Greenland, and Svalbard.
"I was working on ice breakers, in the Baltic Sea escorting commercial vessels in and out, as well as up in the Arctic areas," he tells me as we cruise towards the Norwegian Fjords.
"After that, I joined a sea trials programme for a new ice breaker that Australia was building and at this point, Swan Hellenic contacted me to ask if I would like to work for them," he continues. "I was highly interested to combine my ice-breaking experience with the passenger ship element – to me, Swan Hellenic's expedition cruise ships are the jackpot."
Luxurious onboard offerings
SH Diana feels more like a yacht than a ship. There are 141 staff looking after 192 guests in 96 staterooms, which are deluxe Scandinavian-style with warming wood and neutral hues – as are all the interiors – with plenty of charging sockets, complimentary toiletries and storage space.
Although this may be slightly reduced when the staterooms are refitted later this year to include flame-effect fireplaces – their popularity on SH Vega has driven demand for an immediate change.
She also exudes luxury – in part due to the sleek infinity pool and large exterior jacuzzi, which adjoins the spa, sauna (with ocean-view window), steam room and well-equipped gym – yet the company doesn't market their cruises as a luxury cruise product.
"If you sell in excess of a thousand euros a day in Antarctica, then you are a luxury service," admits Zito. "We're catering to a worldwide audience and our guests are curious travellers, serious people who love to travel and delve deeply into the destinations."
Swan Hellenic has already partnered with the SETI institute, but Zito's vision is to have around ten similar partnership that enable passengers to immerse themselves in travel.
Zito is also aware that guests' overall wellbeing and travel experience is linked to the food they eat just as much as it is to destination discovery and wellness facilities, so he launched Maris, a new partnership with chef association JRE-Jeunes Restaurateurs.
If you sell in excess of a thousand euros a day in Antarctica, then you are a luxury cruise service.
A pre-planned programme sees the Maris chefs come on board SH Diana (and SH Vega) to create dishes and give culinary lessons. Chef Michael Ammon (owner of one-star Michelin restaurant Gasthof Jakob in Germany) who contributed to the Gala Dinner menu, remained on SH Diana after the christening for the inaugural sailing.
The menus had consistently delicious vegetarian options – such as veggie bolognese, quinoa salad, and aubergine parmigiana – as well as meat-based meals, including chicken karaage and sole roulade.
Swan Hellenic: reinventing a storied brand
The naming ceremony was attended by press, travel agents, Swan Hellenic's team, and VIPs. Among the VIPs is Elizabeth Swan, whose father Richard Kenneth Swan founded the company back in the 1950s, firstly as Swan Tours and subsequently as Swan Hellenic, following the company's first cruise in partnership with the Hellenic Society.
When we speak, she explains that the origins actually date back to her grandfather (born 1889), who entered the travel business as private secretary to Sir Henry Lunn in 1911.
"After the First World War, [my grandfather] joined the YMCA to set up a special department that enabled close relatives of soldiers killed in the war to visit their war graves in France and Flanders," she explains to me.
"By about 1923, he had created a tour department within the YMCA called Red Triangle Tours. When the YMCA decided to close their travel section in 1930, he set up Swans Travel Bureau and my dad joined the business in 1935 aged 16."
The first cruise took place in 1954, then 14 years later, in 1968, Charles Forte bought the company and in 1983 Swan Hellenic was acquired by P&O. Zito reveals that his reinvention of Swan Hellenic was a serendipitous opportunity.
"With friends and partners, we decided there was an opportunity in the expedition sector, so we placed our ship orders and then they asked me to lead it," he explains.
"I had to decide what name to give the company and I knew Swan Hellenic was available because I'd sold the name to G Adventures, so when the option came up, we bought back Swan Hellenic as it was in sync with what we wanted to create as an iconic brand."
Exploration cruises: a growing market
An industry that is still in its infancy with much potential – and which is expected to grow at a CAGR of almost 6% to 2028 – Zito says there were 46 vessels trading in Antarctica this winter with an average age of 33 years.
"There is a lot of new building, but there are only 10-12 new vessels and still many 40-year-old vessels floating around," he adds.
Now that SH Diana has been delivered, there are three major obstacles challenging the company. The first – in addition to the SH Minerva situation – is the war's impact on itineraries.
"We're very constrained by the situation because 65% of the Arctic is Russian and the nicest part of the Arctic is Russian, so we're concentrated between Svalbard and Canada," Zito explains. "We've had to change itineraries about 25 times."
The second is a hangover from Covid-19 and the resulting gap in passenger bookings.
"People book expedition cruises 18-24 months before departure, but guests only started booking six months ago as we've been exiting Covid-19," he says.
"There was a lot of bad publicity about the cruise industry and people are only now forgetting this – people are booking cruises for the end of 2024/2025, so there is a gap."
There was a lot of bad publicity about the cruise industry and people are only now forgetting this.
A third barrier in the form of costly airline tickets, also due to fallout from Covid-19, is proving problematic.
"Airline tickets are between 50%-100% more expensive than in 2019. Pre-pandemic, the return ticket to South America, to go on an Antarctica cruise, was $3,00-$4,000. Now, it's between $7,000-$9,000. It's a massive amount and it makes people think twice, they rightly don't want to be taken advantage of," he explains.
Despite these trials and tribulations, Zito is focusing on the release of SH Minerva, a return to full operations and says that slowly the problems are "coming around".
So, he'd consider expanding the fleet then?
"What we can say is," he replies, "that we will not stop at three vessels."