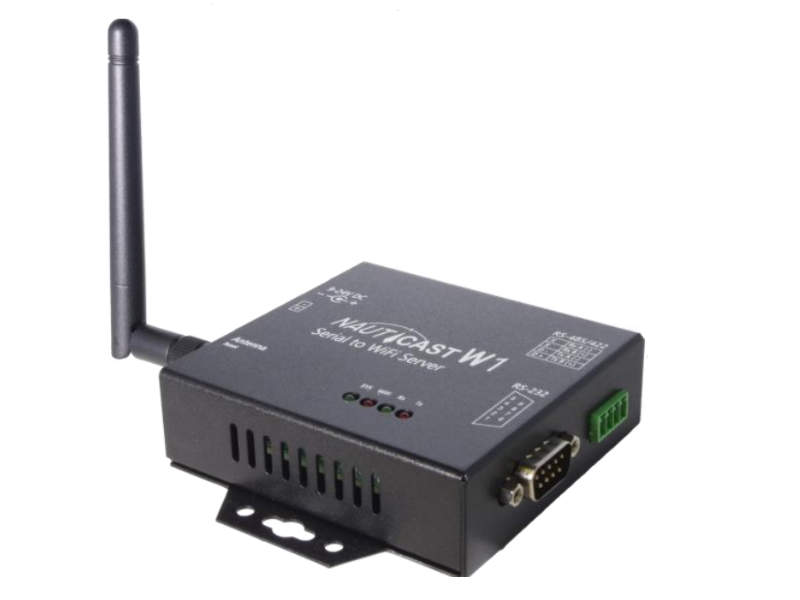 Nauticast's W1 server is designed for marine applications that integrate data into Wi-Fi networks or devices.
It features a rugged metal casing, surge protection for signals and powerful and reliable WiFi.
Build for marine applications, it uses 9VDC-24VDC power, connects any NMEA0183 device to Wi-Fi and can be used with a variety of software and hardware choices.
It is perfect to connect the Nauticast A2 or B2 with software like Link2AIS, OpenCPN or other charting software.
You can use the Nauticast W1 to easily monitor and analyze any serial data stream. Data-logging functionality comes with the Windows application Link2AIS that is included with the device.
W1 Serial technical specifications
Size
68mm×90mm×28mm
Power
9VDC-24VDC
200mA@12VDC
Hardware
ARM9 CPU, 200MHz,
32MB Internal SRAM
64MB Flash ROM
4 LEDs
Single or mulitcolour, indicating the operational and error status
Interfaces
RS232 (D-Sub 9 male) RS422/RS485 (4-pin Terminal Block Connector, ESD and over-current protection)
Environmental
Temperature: -10°C to 65°C (14°F to 149°F)
Humidity: 10% to 95% (non-condensing)
Wi-Fi
802.11b/g/n 2.4Ghz WLAN range up to 100m
Security
WEP 64-bit /128-bit data encryption
AES
WPA/WPA2-personal
WPS2.0 WAPI
Network
Infrastructure, Ad-Hoc, Soft AP TCP Server / TCP Client /UDP / Virtual COM /Pairing
Baud Rate
110bps – 115.2Kbps
Software
ICMP, IP, TCP, UDP, DHCP, ARP, DNS, HTTP, SMTP, SNTP – Protocols
Web-Browser Configuration
Casing
Metal