Volstad took delivery of its latest offshore construction vessel, Grand Canyon, in November 2012. Image courtesy of Skipsteknisk as.
The 12,652dwt vessel was launched in January 2012 in Turkey in the presence of Norwegian Prime Minister and Turkish Minister of Transportation, Maritime Affairs and Communication, Image courtesy of Tersan Shipyard.
The Grand Canyon offshore construction vessel completed sea trials in September 2012, Image courtesy of Helix ESG.
The Grand Canyon is fitted with an active heave compensated (AHC) MacGregor HMC 4240 offshore crane, Image courtesy of Helix ESG.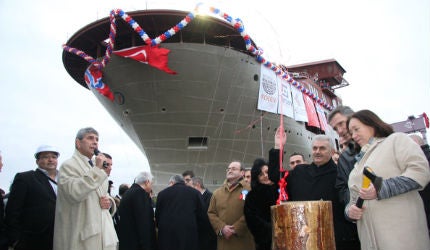 Grand Canyon is a large multipurpose offshore construction vessel (OSV) capable of performing a variety of subsea activities such as jet trenching and heavy soil trenching. The high manoeuvrability and station keeping capabilities of the vessel allow it to operate even in adverse climatic conditions.
Norwegian ship-builder Bergen Group received the order for construction of the Grand Canyon from Volstad Maritime in December 2010. The keel of the vessel was laid in August 2011. The construction was carried out at Fosen in Rissa, Sør-Trøndelag.
The hull of the vessel was manufactured by Tersan Shipyard in Turkey. The hull was launched in January 2012 in the presence of the Norwegian Prime Minister, Jens Stoltenberg. It was then towed to Bergen Group's shipyard in Norway for final outfitting.
Grand Canyon was delivered in November 2012 having completed sea trials in October. The new build was financed by three Norwegian finance groups – Garanti-instituttet for eksportkreditt (GIEK), Export Credit Norway (Eksportkreditt) and SpareBank 1 SMN.
The vessel is currently on a five-year charter with Canyon Offshore, a company owned by Helix Energy Solutions Group.
Features of Volstad's new offshore construction vessel
"The under-deck has enough strength to bear the load of heavy equipment."
Grand Canyon is built according to the ST 259 CD design developed by the Norwegian ship designer Skipsteknisk. The vessel carries DNV's 'Clean Design' notation for its eco-friendly operation.
The vessel boasts a dynamic positioning (DP) Class-3 control system for automatic positioning and heading. She can be deployed for use in shallower depths because of her modest draught.
In order to carry out subsea installation, burial support operations and general offshore construction work, the vessel is provided with a working platform that is stable and has a large capacity. Jet trenching can be performed from the ship's forward port side, while soil trenching can be carried out from the aft of the vessel.
The vessel features two indoor remotely operated vehicle (ROV) hangars, which can be prepared for the deployment of up to five work-class ROVs (WROV). The ROVs can be deployed to a depth of 3,000m.
A carousel reel-drive system is installed below the ship's deck which is able to lay power cables, pipelines and umbilicals into the trench at the seabed. Once placed, these cables or pipelines can be buried below the surface of the sea to a depth of up to 9m with the help of the ROVs.
The under-deck has enough strength to bear the load of heavy equipment, which allows the crew to finish mobilisation and demobilisation operations in shorter times.
Main dimensions and accommodation
The dead weight of the vessel is 7,000t, while gross and net tonnages are 12,652t and 3,796t respectively. She has an overall length of 127.75m, a moulded breadth of 25m and scantling draught of 7.5m. The length between perpendiculars is 114.6m, and the deck area is 1,650m².
The Grand Canyon accommodates up to 104 people in single and double cabins. Facilities onboard the vessel include a meeting room, internet café, reception, sauna, gym, coffee house and hospital.
Deck cranes
The vessel is equipped with two cranes, including an active heave compensated (AHC) offshore crane, the MacGregor HMC 4240. The crane has a safe working load of 250t at 10m outreach capacity. The second crane is the MacGregor HMC 2201 model and can lift 15t at 20m outreach.
"Grand Canyon accommodates up to 104 people in single and double cabins."
Diesel-electric propulsion system
Grand Canyon is powered by a diesel-electric propulsion system. The ship is fitted with six six-cylinder Wärtsilä 32 main engines. Each engine generates 2,880kW of power at 720rpm and drives a NES generator (NEGR 710 LB10 model) rated at 3,450kVA. In addition, there is a nine-cylinder Wärtsilä 20 emergency generator of 1,665kW capacity and a Mitsubishi S6R-MTPA harbour generator of 595kW capacity.
Propulsion is provided by two electric motors of 2,500kW each. Side thrusters comprise six Wärtsilä tunnel thrusters, each with 2,000kW of power. Four of the thrusters are mounted forward and the other two are mounted aft.
---
Related content
---
Aegir is a deepwater construction vessel (DCV) scheduled to start operations in the fourth quarter of 2013.
Skandi Acergy is a subsea construction and flowline lay vessel that entered service with Acergy on a long-term charter in 2008.
---