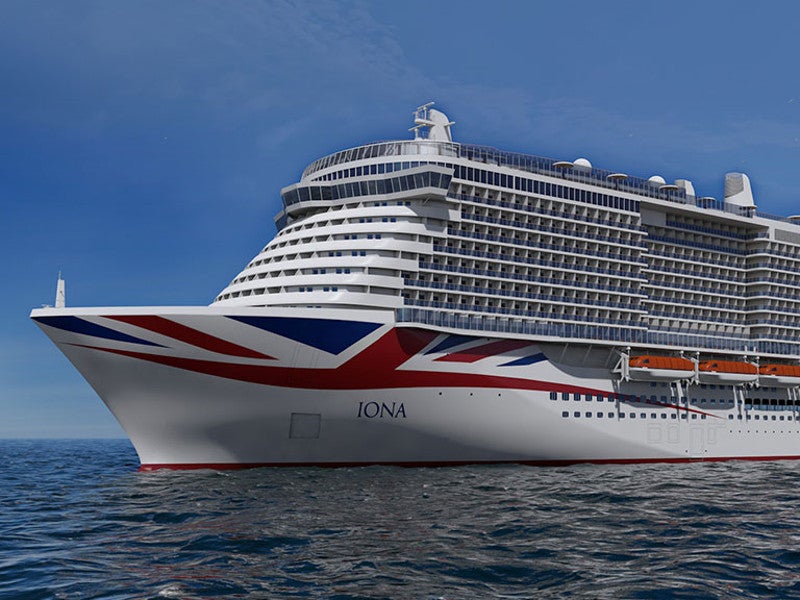 Iona is a new cruise ship under construction for P&O Cruises. Credit: Jestico + Whiles.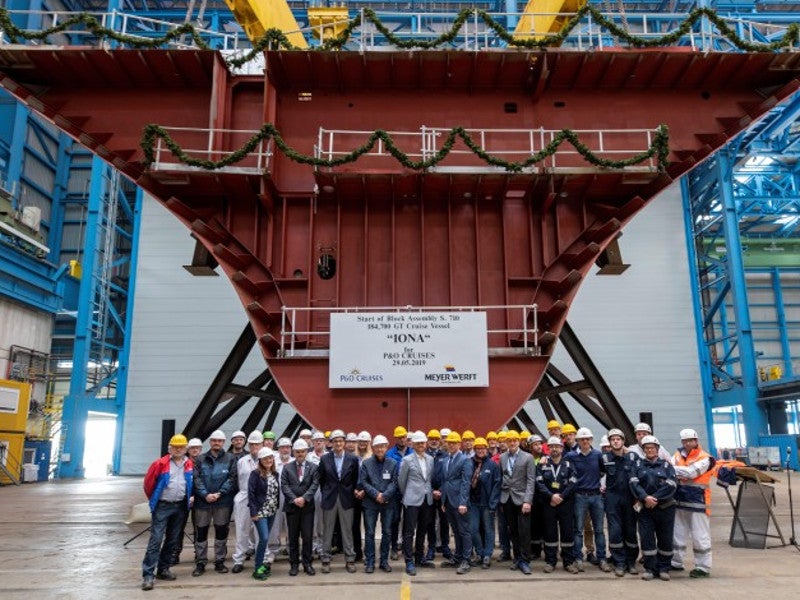 The keel-laying ceremony of the Iona cruise ship was held in June 2019. Credit: MEYER WERFT.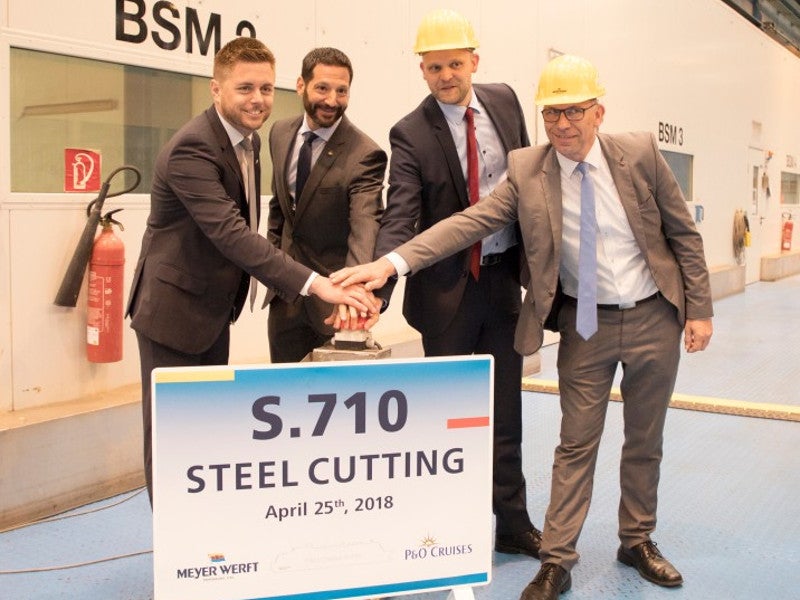 The maximum passenger carrying capacity of the ship is 5,200. Credit: MEYER WERFT.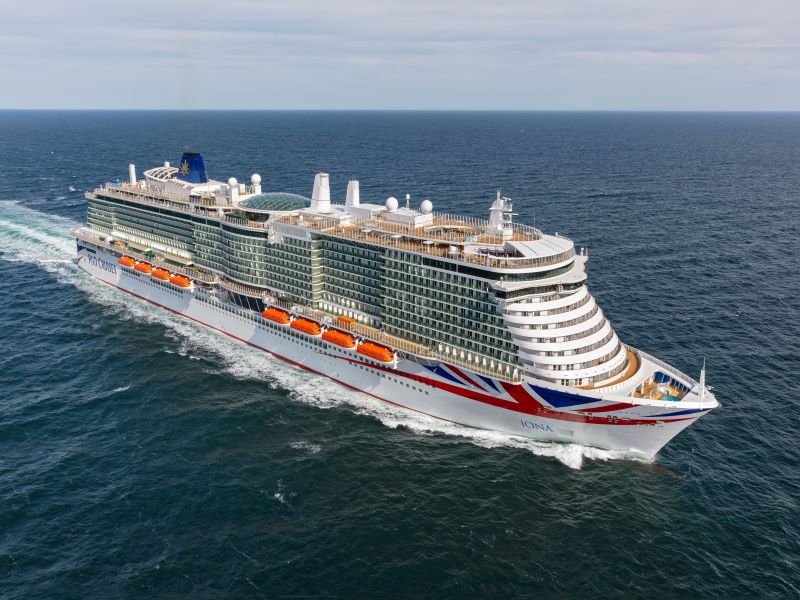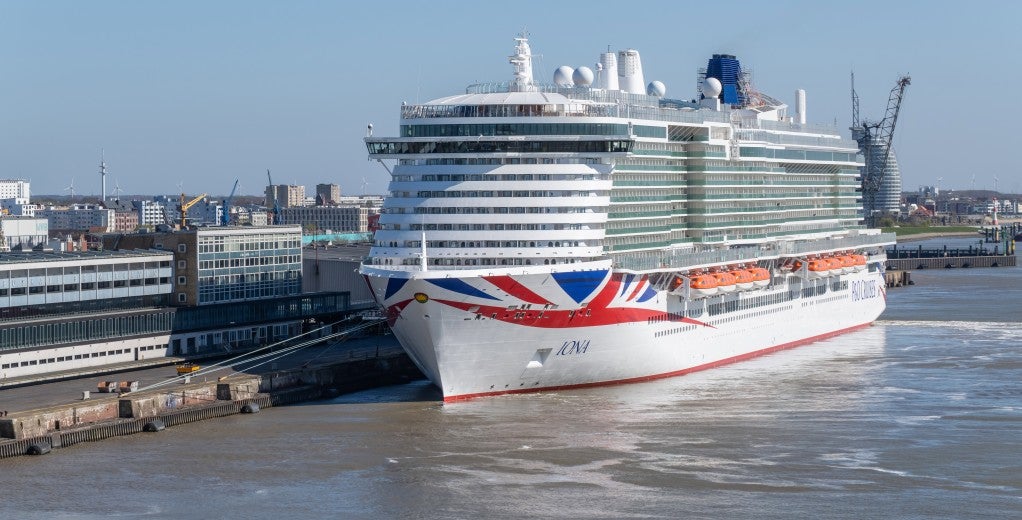 Iona is the latest Excel-class cruise ship built by MEYER WERFT, a German shipbuilding company, for the British cruise line P&O Cruises.
Construction of the vessel began with the steel-cutting ceremony held at MEYER WERFT's shipyard in Papenburg, Germany in May 2018. The keel-laying ceremony was held in June 2019. The ship arrived at Rotterdam for inspection work in June 2020 and was delivered to P&O Cruises in October 2020. The Iona cruise ship embarked on its maiden voyage from Southampton, England in August 2021.
Iona is the first of two cruise ships being built by MEYER WERFT for P&O Cruises. The second vessel will be delivered in mid-2022.
The Iona is one of the largest cruise ships in the UK and among the few environmentally friendly cruise ships powered by liquefied natural gas (LNG). The cruise ship has a reduced carbon footprint with zero sulphur and nitrogen emissions.
Iona cruise ship design and features
Iona cruise ship features innovative design, superior cabins and complete amenities. Its interiors were designed by Jestico + Whiles and Richmond International. The SkyDome, which is a glass dome measuring about 970m2, is the architectural highlight of the cruise ship. Weighing 105t, the dome features 340 triangular glasses.
The ship has a length of 344m, a beam of 42m, and gross registered tonnage (GRT) of 184,700t. It can accommodate 5,200 guests and 1,800 crew members.
The cruise ship is divided into 19 decks. Engine and propulsion units are positioned in the lower deck, while accommodation facilities for the crew are located on the fourth and fifth decks.
Staterooms on board Iona
The cruise ship offers plenty of choices for accommodation with its cabins and suites. Inside cabins are spacious and offer comfortable accommodation facilities for guests. The cabins' floor area varies between 101ft² and 213ft².
Sea view cabins offering views of surroundings are ideal for guests who want comfortable private spaces. Cabins with patio style doors and a private balcony with floor area varying between 107ft² and 362ft2 are available.
Conservatory mini-suite cabins, measuring 274ft², are the signature option on the Iona cruise ship. Suite cabins with an approximate floor area between 434ft2 and 530ft2 offer a boutique-hotel experience.
Dining and entertainment facilities
Iona features multiple restaurants and dining facilities, including pubs and bars. It features renowned restaurants, such as The Glass House, Epicurean restaurant and Italian restaurant Taste 360. Additionally, it integrates the gastropub and steak house Keel & Cow and The Quays piazza.
Guests can also avail the services of a self-service food market. Several other restaurants serving dishes that reflect cultural heritage, domestic cuisines, and delicate flavours are also available on board.
Entertainment facilities on board the cruise ship include a grand atrium, spas, movie theatres, art gallery, studio, shopping mall, casino, and the glass house. Swimming pools, whirlpool spas, and a beach house are also available on the ship.
Lido deck at Deck 16 features an infinity pool, Horizon restaurant, The Beach House, crystal bar, Skydome pool, Skydome pizzeria and grill. A jogging track, pool, and bar are available on the panorama deck at Deck 18. Sky deck at Deck 19 offers sunbathing facilities.
Iona cruise ship propulsion and power
MEYER WERFT awarded a contract to NEPTUN WERFT for the development of floating engine room units (FERU) for the cruise ship. In addition to supplying the energy required for propulsion, the units also power restaurants, galleys, public places, and air-conditioning units on the ship.
The installed power output of the units is between 60,000kW and 80,000kW. Each unit measures 140m long, 38m to 46m wide, and 16m tall.
Iona cruise ship itineraries
Iona's maiden voyage from Southampton was followed by three days of cruising covering the Isle of Colonsay, Lochbuie, Duart Castle, Tobermoay, Bac Mòr, Fingal's Cave, Sound of Jura, Claggain Bay, Mull of Kintyre and Sanda Island.
Iona then embarked on 14-night journeys to Spain and the Canary Islands from September 2021. Iona's itineraries in 2022 include seven-night cruises covering Northern Europe, and the Norwegian Fjords.