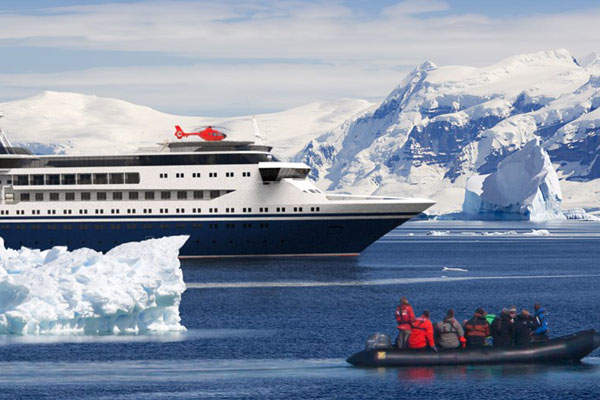 Knud E Hansen revealed the design of its latest 300 Pax Expedition Cruise Vessel in September 2015. Image: courtesy of Knud E Hansen A/S.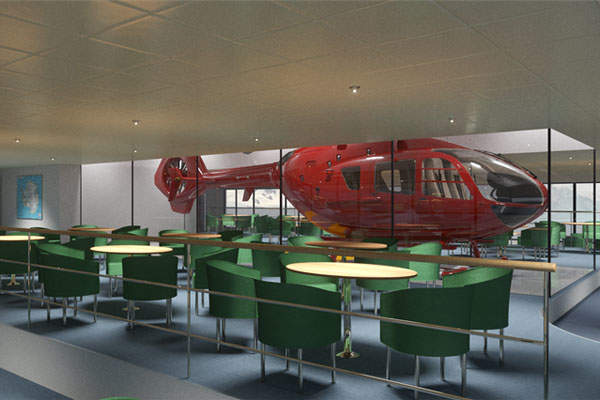 A fire and explosion-proof glass aircraft hangar will be located within the observation lounge. Image: courtesy of Knud E Hansen A/S.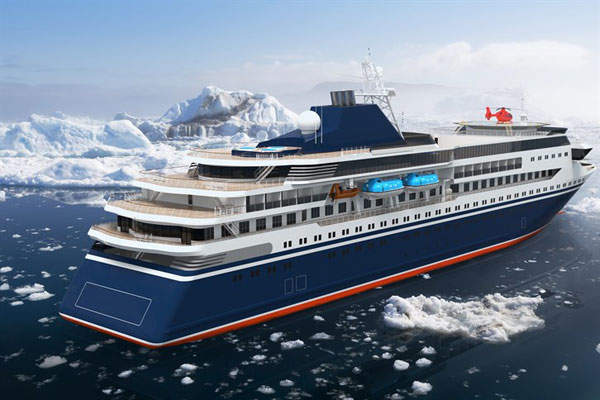 The vessel's hull is reinforced for ice class 1A requirements, enabling it to provide itineraries in the polar regions. Image: courtesy of Knud E Hansen A/S.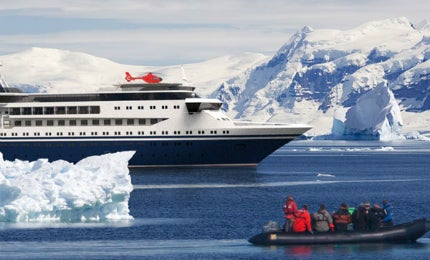 Details of the innovative and environment friendly luxury expedition cruise vessel designed by Knud E Hansen were revealed in September 2015.
Designed to provide maximum passenger comfort, the vessel is capable of operating globally. It will provide accommodation facilities for 300 passengers and itineraries for up to three weeks.
With its hull reinforced for ice class 1A requirements, the vessel can also provide polar itineraries and expeditions.
The vessel is expected to be assigned a number of class notations provided by major classification societies such as ABS, Lloyd's Register, DNV GL and Bureau Veritas for passenger ships providing unrestricted ocean voyages.
Design details of the expedition cruise vessel
"Certain standard cabins can be reconfigured into luxury suites using Knud E Hansen's proprietary FlexCabin system."
Overall length of the vessel is 139.4m, length between perpendiculars is 120.2m, moulded breadth is 20.5m, design draught is 4.8m and deadweight is approximately 1,350t.
The vessel features three main fire zones and complies with safe return to port (SRtP) regulations. It is also fitted with fin stabilisers for passenger comfort and safety.
Deck plan and facilities
The vessel has three passenger decks housing 150 standard cabins, two lower decks to accommodate crew members, and two decks for public facilities, including an observation lounge that provides 360° views.
The top deck provides sea views and has two jacuzzis, which are primarily heated by solar energy. Passenger cabins are designed to provide outside views, while balconies are provided for cabins located on the bridge deck.
Certain standard cabins can also be reconfigured into luxury suites using Knud E Hansen's proprietary FlexCabin system.
A heli-deck and aircraft hangar is provided on top of the observation lounge. A lift within the lounge can be used to lower the helicopter into a fire and explosion-proof glass enclosure.
The vessel's transom has a garage that is capable of accommodating ten Zodiac-type boats and five jet-skis. An associated boarding station located close to the waterline at the ship's aft integrates a lobby, a disinfection area and an expedition store, and can be accessed from passenger cabins via an elevator or stairway.
The vessel is also equipped with a remotely operated vehicle (ROV) fitted with camera equipment, which can explore the marine environment at depths of up to 3,000m and transfer video and images that can be viewed on big screens fitted within passenger areas.
Engine and propulsion machinery
---
---
The ferry is named after Leonora Christina, a daughter of the Danish King Christian IV, and is the biggest catamaran ferry ever built by Austal.
---
The vessel is propelled by two azipod units and two bow thrusters driven by a diesel-electric power plant comprising four 2,760kW medium speed diesel generators fuelled by marine diesel oil (MDO).
Engines are fitted in two separate engine rooms and can further be specified to comply with Tier 3 nitrogen oxide (NOx) emission levels without exhaust gas treatment.
The propulsion machinery will enable the luxury expedition cruise vessel to sail at a service speed of 18kt.
Environment-friendly features
The integration of solar cells and advanced LED lighting, smart control systems and innovative heating, ventilating and air conditioning (HVAC) systems help in offsetting the vessel's electrical requirements, while heating requirements are met by incorporating engine heat recovery systems.
A reserved space is provided for accommodating battery systems to provide an emission-free and silent sailing in sensitive areas. The vessel's windows and outside window walls are insulated.