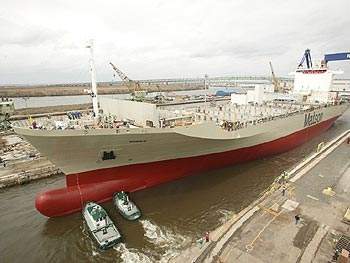 The sisterships Manukai and Maunawili were built at the Kvaerner Philadelphia shipyard for Matson Navigation. The Manukai, delivered in 2003, represents the first delivery from the shipyard. The Muanawili was delivered mid-2004 at a cost of $110 million. The ships have been designed to meet Hawaii's current and future market requirements. Foremost among those is the additional capacity for large container sizes, such as 20ft, 24ft, 40ft, 45ft and even 53ft boxes. The total TEU capacity for each ship is 3,000 units.
The ship has an overall length of 217m, or 200.24m between perpendiculars. The depth to the main deck is 32.2m. It has a design draught of 11m and a scantling draught of 12.5m.
The ship has a double skin with a thickness of 1.8m. It has a deadweight of 30,000dwt and registers 32,600gt. The design is a single deck, forecastle and sunken aft mooring deck.
CONTAINERS AND CARGO
On deck, the storage capacity is 556 x 40ft units, 130 x 45ft units and 156 x 24ft units. The holds can accommodate 585 x 40ft units. There are cell guides in all the holds.
There are 260 reefer plugs on deck and 40 in the holds. The refrigeration system is provided by Seacos. The lift-on/lift-off pontoon type hatch covers are supplied by Hamworthy KSE.
In total, there are 11 hatches which cover the six cargo holds. These are arranged forward and aft of a three quarter, eight-tier superstructure. Stowage is arranged on the hatch covers and over the mooring deck.
ENGINES, POWER AND MANOEUVRING
The main engine is a MAN B&W 8K80MC-C unit, manufactured by Hyundai Heavy industries. It has an output of 28,800kW when driven at 104rpm. This consumes 100t/d of fuel, with the auxiliaries consuming a further 25t/d.
The ships' bunkers include 3,700m³ of heavy fuel oil, 180m³ of diesel oil and 11,600m³ of water ballast.
The engine is linked to a Nickel-Aluminium-bronze medium skew propeller, designed and manufactured by Mecklenburger Metalguss. The fixed pitch propeller is 7,200mm in diameter.
For manoeuvring, there is a Brunvoll tunnel-type bow thruster featuring a controllable-pitch propeller with an output of 1,300kW. The mooring equipment includes two mooring winches / windlasses and five mooring winches, all made by Kocks.
Power is provided by four diesel-driven alternators. There are two MaK 8M20 units and two 9M20 units. The former have an output of 1,360kW at a speed of 900rpm while the latter have an output of 1,530kW at 900rpm. The main composite boiler is made by Aalborg; it has an output of 3,200kg/h from each side.
NAVIGATION AND VESSEL CONTROL
The ship has a Data Chief C20 bridge control system made by Kongsberg comprising two radars, a DB2000/BL/MK-500 S band and a DB2000/BL/MK-5-X10U X band, both manufactured by Norcontrol. There are also two Norcontrol satellite navigation systems as well as an Ecdis navigation system. The heel controls system is supplied by Maskinfabriken Iron.
There is an Autronica fire detection system and a Unitor fire extinguishing system based on CO2 in the holds and engine room.
The ship has a complement of eight officers and 13 crew as well as seven supernumaries. All rooms are single except for the four riding crew.
The ship is classified by the American Bureau of Shipping under the notation +A1 Container Carrier E, +AMS+ACCU,SH.