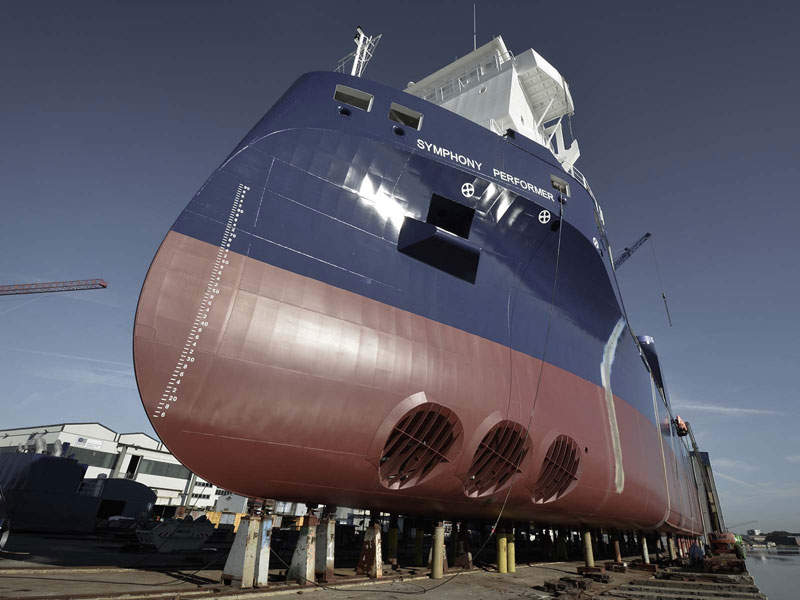 Symphony Performer is first in a series of two offshore supply vessels ordered by Symphony Shipping. Image courtesy of Ferus Smit.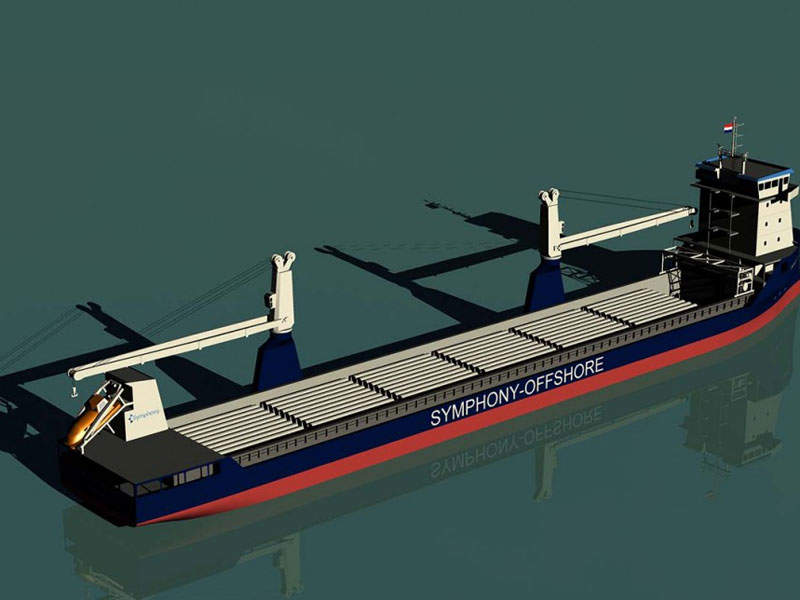 Symphony Performer will be delivered by December 2016. Image courtesy of Ferus Smit.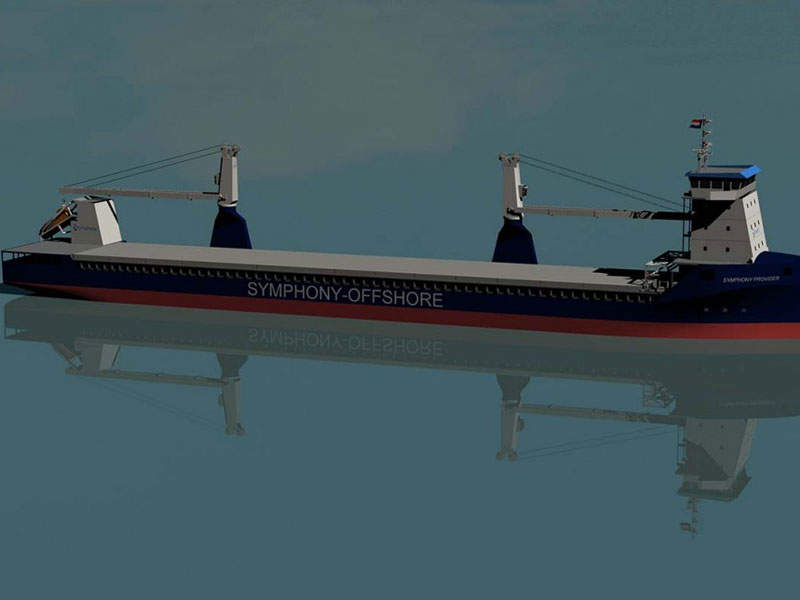 Symphony Performer is a DP2 vessel based on the Ferus Smit ECOBOX design. Image courtesy of Ferus Smit.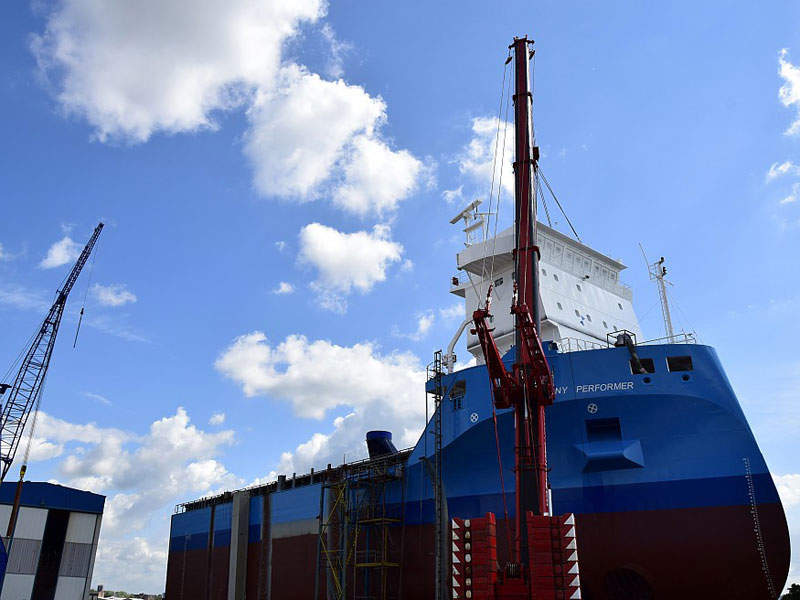 The deck of Symphony Performer will be installed with two 85t cargo cranes. Image courtesy of Royal Wagenborg.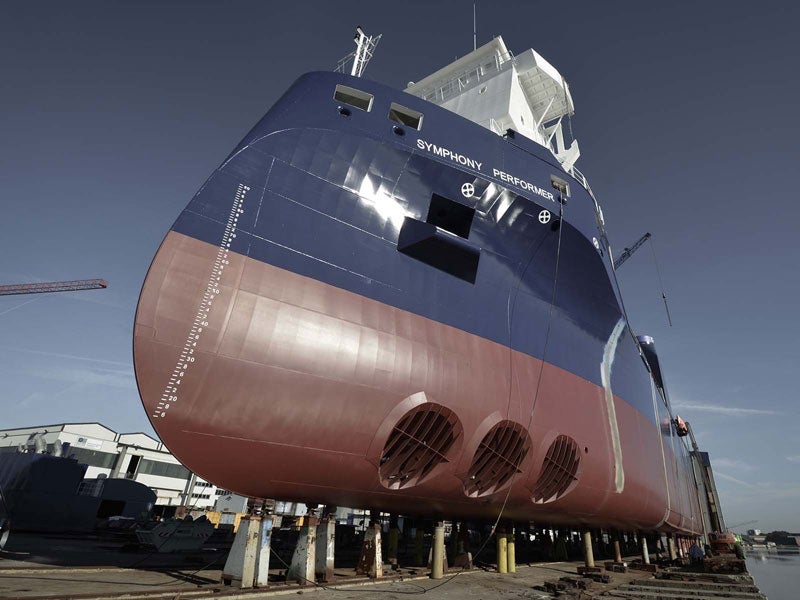 Symphony Performer is the first of two new long-range offshore supply vessels being built by Ferus Smit for Symphony Shipping.
The vessel is primarily intended to transport project cargoes for wind power, and oil and gas projects. It will also support pipe and cable-laying operations.
Ferus Smit was awarded a contract by Symphony Shipping to build two DP2 offshore supply vessels in January 2015. The new order is an extension to a six-vessel order placed by Symphony Shipping in November 2013. The contract also includes options to build two more DP2 offshore supply vessels.
The vessel is being constructed at Ferus Smit yard in Leer, Germany. The wheelhouse was placed on the hull of Symphony Performer in June 2016. The vessel will be launched in mid-October 2016 and delivered by the end of 2016.
Symphony Performer design and features
The new vessel is based on the ECOBOX design integrating a bulb-less Canoe type bow, long box-shaped cargo hold, and movable tween deck. The innovative bow design will enable the vessel to sail at sustained speeds in severe weather conditions, while saving on fuel costs.
The large loading floor area will accommodate project cargoes, while the forward deckhouse will enable the loading of oversized loads over the stern. The vessel can operate in all weather conditions with its main deck hatches opened.
The DP2 dynamic positioning system aboard the ship will allow it to maintain exact positioning and heading limits in different weather conditions, including the most severe wind and wave conditions.
The vessel will have an overall length of 124.7m, moulded beam of 18m and a depth of 10.7m, whereas its gross tonnage will be 7,000t.
Cargo handling systems
The cargo hold on the vessel will measure 91m-long, 13.5m-wide and 10.7m-high. It will have the capacity to hold a cargo volume of 429,000ft³ and will enable the transportation of large project cargoes without height limitations.
"The deck will be fitted with two cargo cranes for supporting loading / unloading operation on-board the ship."
The deck will be fitted with two cargo cranes for supporting loading / unloading operation on-board the ship. Each crane will have the capacity to lift up to 85t of cargo.
Tank capacities and accommodation on the supply vessel
The ship can carry 4,500m³ of ballast water, 50m³ of drinking water, 580m³ of heavy fuel oil (HFO), 200m³ of marine diesel oil (MDO) and 30m³ of marine gas oil (MGO).
The offshore supply vessel will be capable of accommodating 13 personnel. The cabins will be equipped with air conditioning system and private sanitary units.
Symphony Performer propulsion
The vessel will be equipped with a combined diesel-direct and diesel-electric propulsion system, which will integrate three main diesel engines, twin azimuth thrusters in the aft ship and three forward bow thrusters. The engines will burn intermediate fuel oil (IFO) with a maximum viscosity of 380, or ECA-compliant marine gas oil.
The engines, driving all thrusters, will generate a total power output of 7,400kW. The propellers will be fitted with a duct to cut down the maximum installed propulsion power. The propulsion will allow the vessel to sail at a speed of 13.5kt.