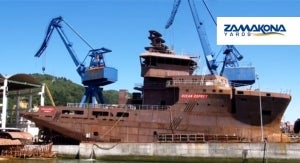 On August 21st, Zamakona yards group successfully completed the launching of the ship "Ocean Osprey" at its facilities in Pasajes (northern Spain).
The ship is the first delivery of three that Zamakona has signed with the Norwegian shipping company Atlantic Offshore AS. The ship's main mission will be to provide immediate attention to emergency situations on oil rigs, being specially adapted to the harsh conditions of the North Sea. There, the vessel will start operations for the oil company Shell in the beginning of 2014.
The ship under construction in Pasajes is a Field Support Vessel (FSV) with HY820 Havyard design. With an estimated price of €25m, the vessel incorporates the latest technologies including deck systems for towing operations with a pulling capacity of 65t. With a length of 66.8m and a beam of 16m it is able to rescue 300 people. It has two MAN main engines with a power of 1,930kW each.
Zamakona Yards Group has facilities in Santurtzi (Vizcaya), Pasajes (Guipúzcoa) and Las Palmas of Gran Canaria (Canary Islands), with over 41 years of experience in shipbuilding and repairs of all types of vessels. We specialize in offshore vessels, fishing boats and tugs.
Zamakona Yards is one of Spain's main shipbuilding and ship repair groups. With more than 40 years of experience in the industry both in the...