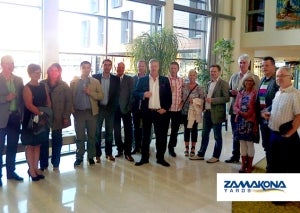 Last week, Zamakona Yards participated in the AQUANOR 2013 fair. It is an event organised by the Nor-Fishing Foundation, created in 1992 by the Fishing Ministry in Norway. It is held every two years in the Norwegian city of Trondheim. This event brings together the leading companies from Europe and South America involved in Aquaculture.
On Wednesday 14, Zamakona Yards together with the MMC Group AS made a presentation for several wellboat shipowners. Both companies held an exhibition, as well as presented the joint construction project elaborated for Solvtrans AS. The Ronja Polaris ship, a vessel used for transporting live fish. The wellboat measures 75.80 meters and is 16 meters wide. It has capacity for 11 crew members and has two Rolls Royce main engines.
Next day, a get-together dinner was held together with MMC AS and Sovtrans AS. A nice time was spent in the presence of LEIF GJELSETH, CEO of MMC AS, FRODE BAADE, Operations Manager at Solvtrans AS and VICTOR VARGAS, CEO of Solvtrans CHILE SA among others.
Zamakona Yards is one of Spain's main shipbuilding and ship repair groups. With more than 40 years of experience in the industry both in the...