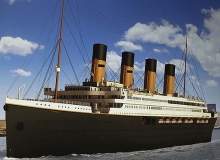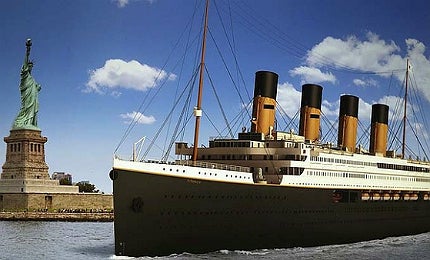 The legendary, doomed ocean liner Titanic is set to be resurrected by Australian billionaire Clive Palmer, who plans to create a replica of the vessel called Titanic II. Palmer's Blue Star Line will operate the new vessel, which will be built at China-based Jinling Shipyard and used as the flagship for a new line of luxury cruise ships.
Construction of Titanic II, which is the first of four cruise ships ordered at Jinling Shipyard by Palmer, is scheduled to start soon in China, with the new cruise ship scheduled to start its maiden voyage in late 2016 from Southampton, England, to New York, US, following the route of the original Titanic's ill-fated maiden voyage.

Closures and cutbacks have hit the shipbuilding industry hard, with new figures released in March revealing that global shipbuilding capacity is now 30% lower than it was in 2008. What's more, the industry's current capacity of 35 million CGT is still considered too much, given the scarcity of new orders.
RS Platou Economic Research, which compiled the report, said that under the prevailing market conditions, where shipbuilders are forced to accept new contracts below cost levels, the industry has seen a significant share of the building capacity withdrawn or removed.
The report also noted a sharp rise in newbuilding deliveries in formidable shipbuilding countries like China, South Korea and Japan.

The ongoing issue of global warming and the gradual melting of the polar ice caps will likely have a profound effect on the long-term future of shipping, according to a study by the University of California, Los Angeles (UCLA).
The study revealed that global warming could make ice in the Arctic Ocean fragile enough for ordinary ships to pass through the region without icebreakers by 2050.
By 2050, vessels should be able to sail directly over the North Pole, reducing trading costs between Europe and China. The study reveals that ordinary vessels should be able to travel easily along the Northern Sea Route and the easiest time would be in September, when annual sea ice cover in the Arctic Ocean is at its thinnest level.

In March, South Korea's Hyundai Heavy Industries (HHI) provided the latest milestone in the industry's push to develop eco-friendly marine engines with the type approval test of two G (Green)-type engines.
According to HHI, the two engines, which provide output of 37,900bhp and 38,200bhp, use seven percent less fuel and produce seven percent fewer emissions, compared to other engines with the same output.
One of the engines has been equipped on a 319,000dwt very large crude carrier (VLCC) owned by Greek firm Almi Tankers. The other engine will be equipped on a 5,000teu containership owned by Thenmaris Ship Management. HHI said the fuel and emissions reductions of the G-type engines would save the two owners around $2.9m and $1.3m a year, respectively.

Finnish ship owner Viking Line's liquefied natural gas (LNG)-fuelled passenger ferry Viking Grace, which was delivered from STX Turku Shipyard in January 2013, is one vessel that is flying the flag for environmentally responsible marine operations. The ship's dual-fuel technology, provided by Wärtsilä, allows it to sail on three fuels – traditional heavy fuel oil, diesel or LNG.
Viking Grace's dual-fuel engines will reportedly allow it to operate while reducing nitrogen oxide emissions by 80% compared to the International Maritime Organisation's existing regulations, and emissions of particulate matter will be 90% lower than conventional vessels.
In March, Wärtsilä secured a five-year contract from Finnish ship owner Viking Line to maintain and service Viking Grace. The deal covers the maintenance of four Wärtsilä 50DF dual-fuel main engines and the LNGPac gas system's safety valves supplied by the company. As part of the deal, Wärtsilä will be responsible for engine maintenance planning, maintenance work, condition monitoring, spare parts supply, technical support and workshop services.

Kawasaki Kisen Kaisha (K Line), Japan Marine United and Daihatsu Diesel have started testing of a selective catalytic reduction (SCR) system for the diesel generator on a new 8,600teu container ship. The test is being conducted to assess whether the vessel meets the nitrogen oxide (NOx) Tier III regulations in MARPOL Annex VI, which are due to come into effect from 1 January 2016.
Compared to the Tier I regulations, the Tier III regulation stipulates that NOx emissions from ships be brought down in emission control areas (ECAs) by more than 80%.
SCR systems have previously been installed on small coastal ships in northern Europe and used at land-based plants, but the company said the onboard test, being carried out on 8,600teu container vessel Hanoi Bridge, represents the first time the system has been equipped on a larger vessel.

As LNG becomes more prevalent as an alternative fuel, the demand for massive LNG carriers is rising in step. Japan's Mitsubishi Heavy Industries (Mhi) and Imabari Shipbuilding have clearly noticed the opportunity; the two companies announced in March that they had agreed to set up a joint venture to pool their resources in LNG carrier design, development and construction.
The new JV, called MI LNG Company, will be 51% owned by MHI with the remaining 49% stake held by Imabari. After receiving its first order, the JV will prepare the specifications for an LNG carrier, which will be built either at MHI's Nagasaki Shipyard & Machinery Works or at Imabari Shipbuilding. With the ability to use the shipyards of two companies, the JV is expected to have a shipbuilding capacity of at least eight LNG carriers each year.
---
Related content
---
February kicked off with another strike, protesting against austerity measures at several major Greek ports.
January brought major orders for cruise vessels, wind farm support ships and container vessels, while ports in the UAE and UK reported progress on expansion projects.
---