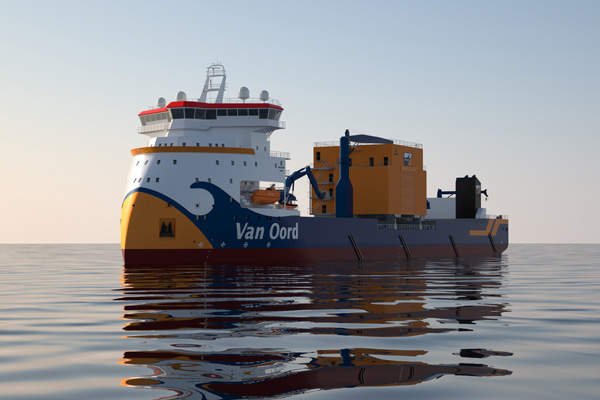 Van Oord ordered a new Subsea rock Installation (SRI) Vessel in September. Image courtesy of Van Oord.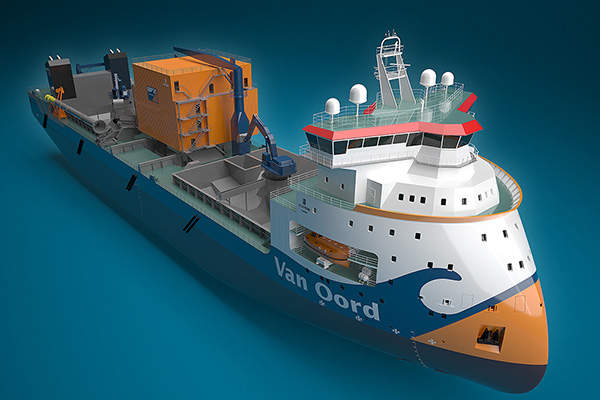 The vessel features Ulstein's advanced X-Bow design. Image courtesy of Ulstein Group.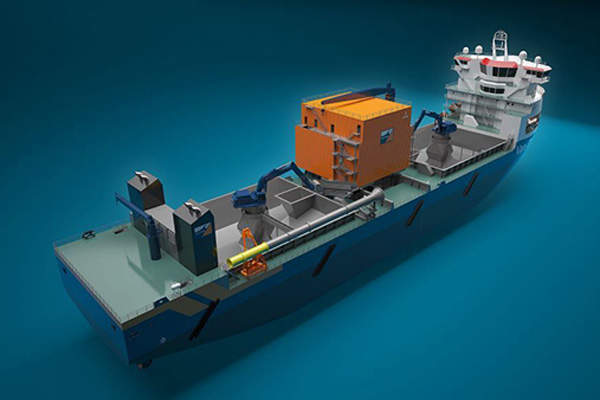 Bravenes SRI vessel is fitted to perform installation works in water depths up to 600m. Image courtesy of Ulstein Group.
Bravenes is a new subsea rock installation (SRI) vessel built at Sinopacific Shipbuilding's Ningbo yard in China for Van Oord, Netherlands, as part of an order placed in September 2014.
The E169 fall-pipe rock installation vessel is used for SRI in water depths of more than 600m. The vessel was launched in December 2016 and delivered in mid-2018 for deployment in the offshore oil and gas industry.
Van Oord's fleet of SRI vessels comprises Stornes, Nordnes and Tertnes, which have respective loading capacities of 27,000t, 26,000t and 11,000t respectively.
Design and features of the subsea rock installation vessel
---
Related content
---
Damen Shipyards Galati has launched Van Oord's new DP2 cable-laying vessel, Nexus, which will be deployed to install electricity cables for offshore wind farms.
---
Van Oord awarded the design and equipment contract to Ulstein for its new SRI vessel, which features Ulstien's advanced X-bow design.
Ulstein also supplied the main fall pipe deployment system and other ancillary systems.
The overall length of the ship is 154.4m, moulded breadth is 28m, depth to the main deck is 13.3m, the maximum draft is 8m and the length between perpendiculars is 147.9m. The Van Oord vessel has a maximum deadweight of 14,000t, a loading capacity of 12,000t and is capable of dumping 60kg to 300kg of rock, with a dumping capacity of 1,000m.
The SRI boat features a 6.3m-long, 6.3m-wide moon pool.
The vessel is equipped with a DP-3 dynamic positioning system and is classified under Bureau Veritas Ice class 1A classification, including POLLAR CLASS 7, SPS Comf Noise 1, Comf Vib 1 cleanship, BWT, green passport, Sp60, grab-loading, special service / rock installation ship, unrestricted navigation.
The vessel provides accommodation for up to 60 personnel, have a sea endurance of up to 45 days, and can sail at a maximum speed of 13k.
The vessel is outfitted for year-round operations in adverse weather and high-sea conditions.
SRI equipment on-board Braveness
SRI is a tested technique that ensures protection and stableness of offshore structures and pipelines. It can be performed by two types of ships, including fall-pipe vessels (FPV) and side stone dumping vessels (SSDV). FPVs are deployed in offshore projects for covering pipelines and cables, employing scour protection and levelling the sea bottom.
"Bravenes is equipped with a skidable automatic flexible fall-pipe tower designed by Ulstein to perform rock installation operations through the moon pool."
Bravenes is equipped with a skidable automatic flexible fall-pipe tower designed by Ulstein to perform rock installation operations through the moon pool.
The rocks are transferred via conveyor belts from the hull to the hopper of the deck. The survey and positioning equipment then identify the location and from the hopper the rock goes into the flexible fall-pipe, which places the rock at the pre-determined location.
A 1.5m-diameter fall-pipe, also known as a Tremie pipe lowers the rocks for shallow water operations. Medium water operations are performed via flexible fall-pipe over the side and deep-water operations are performed using flexible fall-pipe through the moon pool.
Engine and propulsion systems of the Braveness SRI vessel
The power plant of the Bravenes SRI vessel integrates two 3,840kW and two 2,880kW main generator sets. An emergency generator of 900kW is also fitted aboard the vessel.
The propulsion system of the subsea rock installation vessel comprises two main 3,100kW azimuthing thrusters. The bow centre aft and the bow aft of the vessel are outfitted with two 2,000kW AR100 retractable azimuth thrusters supplied by Brunvoll, while a set of two 1,500kW FU90 tunnel thrusters is fitted at the bow forward and bow centre-forward.