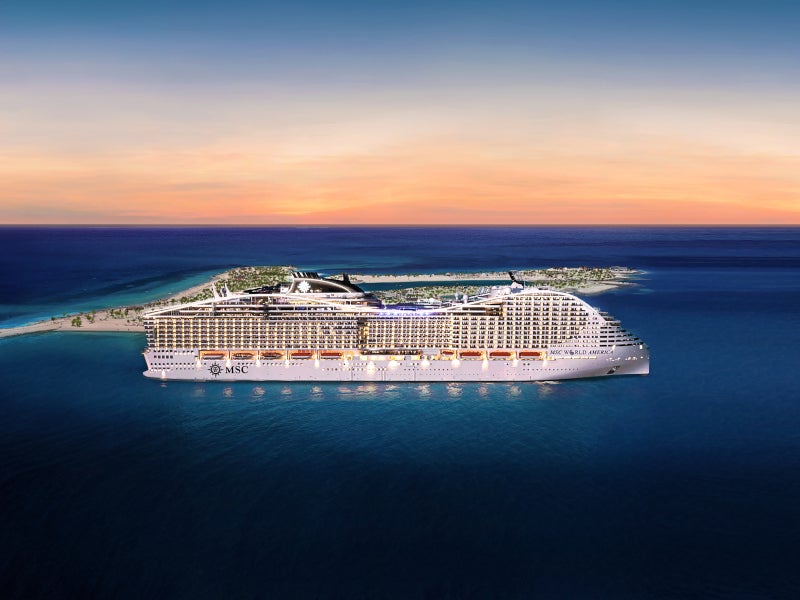 MSC World America is the third LNG-powered vessel of MSC Cruises. Credit: MSC Cruises.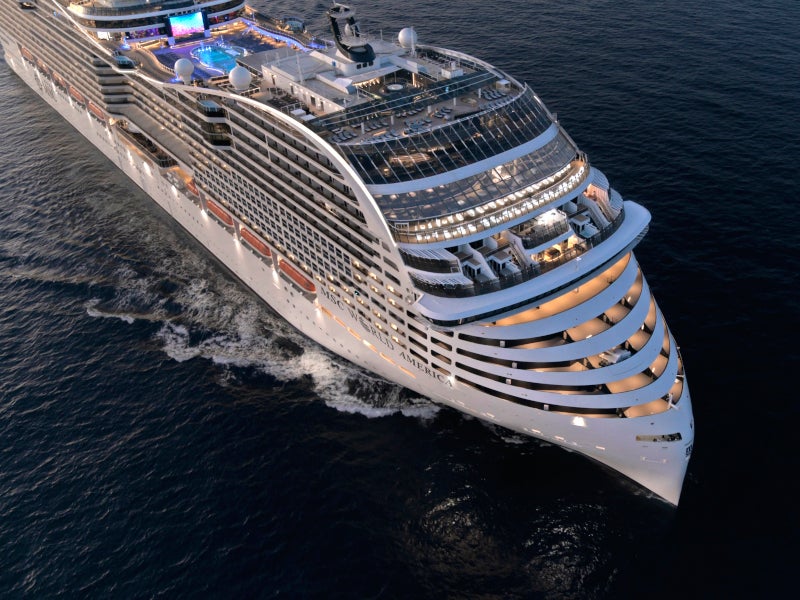 The ship will embark on its maiden voyage in 2025. Credit: MSC Cruises.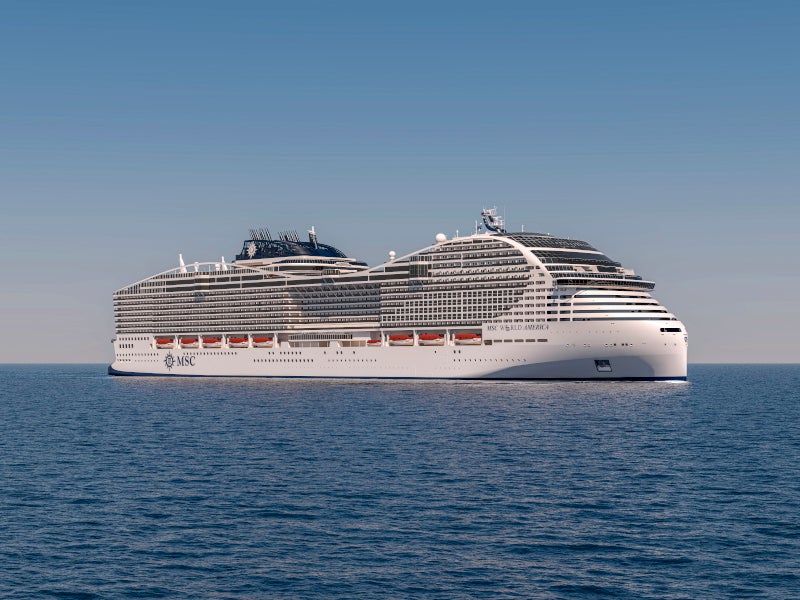 The ship can sail at a maximum speed of 21.8kt. Credit: MSC Cruises.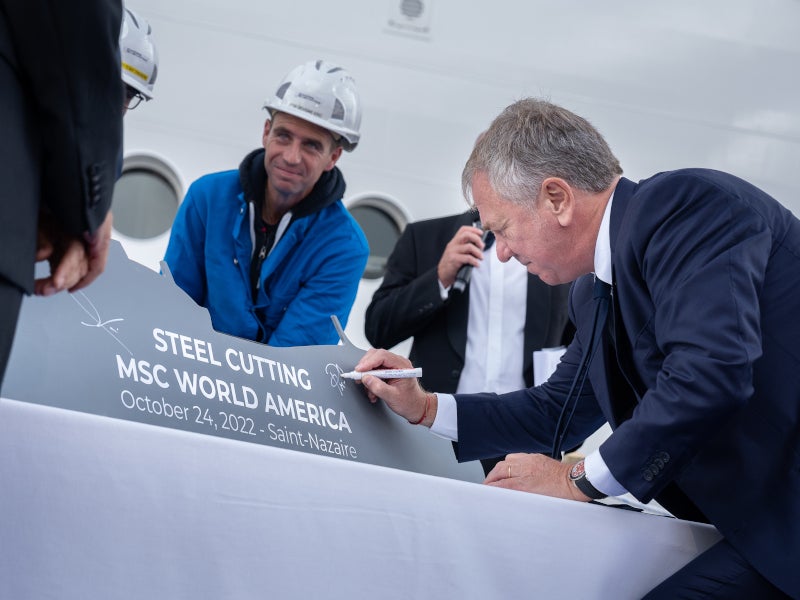 The construction of the ship began in October 2022. Credit: MSC Cruises USA.
MSC World America is the third LNG-powered cruise ship of MSC Cruises, a global cruise line based in Geneva, Switzerland.
The steel-cutting ceremony for the vessel was held in October 2022 at the Chantiers de l'Atlantique's shipyard in France, while the keel-laying ceremony was held in May 2023.
It is the second MSC World Class cruise ship being built by Chantiers de l'Atlantique after MSC World Europa.
MSC World America is expected to embark on its first voyage in April 2025.
MSC World America design and features
MSC World America will be 332.8m (1092ft) long, 47.2m wide, and 68m high and will have a draught of 9.15m. It can accommodate 6,762 passengers and 2,138 crew members onboard across 22 decks. The vessel will have 15,000m² (161,000ft²) of dedicated outdoor space and 420,000m² of public space.
The cruise ship features a distinctive Y-shaped aft for a larger outdoor promenade named World Promenade, which offers breathtaking ocean views to the passengers. The World Promenade will also be lined with stunning LED light shows, dining, entertainment and lounging facilities.
The indoor World Galleria will feature restaurants and shops along with state-of-the-art LED and kinetic light ceiling.
Accommodation onboard MSC World America
MSC World America will feature 2,626 cabins and more than 18 categories of staterooms and suites. The accommodation will be spread across deck nine to deck 21, and 65% of the cabins will have balconies.
The MSC Yacht Club luxury suites will have a surface area ranging between 15m² and 104m²  with a balcony area between 5m² and 65m². They will offer premium interiors, air conditioning, mini bar, 24-hour concierge and butler service. Some of the suites will even have a private whirlpool.
MSC Yacht Club Owner's Suites are the most spacious and luxurious suites. They will have an area ranging between 78m² and 104m² and a balcony ranging between 48m²  and 65m². The suites will offer a private whirlpool bath, an outdoor living area, separate dining and living areas, panoramic floor-to-ceiling windows and glass doors.
MSC Yacht Club Royal Suites will be located on decks 16 and 18 with an area ranging between 51m² and 58m² along with 42m² to 51m² balconies, whirlpool bath and dining area.
MSC Yacht Club Duplex Suite with whirlpool, MSC Yacht Club Duplex Suite without whirlpool, MSC Yacht Club Deluxe Suite and MSC Yacht Club Interior Suite are some of the other luxury suites available on the ship.
The Balcony cabins will be located across decks nine to 16 with a surface area ranging between 52.4m²  and 55.4m² and large balconies ranging between 10m² and 32.6m². The various Balcony cabins include Balcony Aurea, Deluxe Balcony, Deluxe Balcony with partial view, Deluxe Balcony with Promenade and Ocean View, and Deluxe Balcony with Promenade view.
The Suite rooms will be spread across decks nine to 16 with an area between 20m²  and 35m²  and balconies from 7m² to 46m². MSC World America onboard Suite rooms include Grand Suite Aurea with terrace and whirlpool, Grand Suite Aurea with terrace, Grand Suite Aurea, Premium Suite Aurea, Junior Suite Aurea, Premium Suite Aurea and Deluxe Suite Aurea with Promenade and Ocean View.
Entertainment facilities
MSC World America will have six swimming pools and 14 hot tubs along with a retractable roof indoor pool. It will feature twin adults-only Zen pools at the aft and an expansive water park offering a virtual reality (VR) experience.
A stainless steel 11-deck-high dry slide can be used to access the lower decks.
The guests can also enjoy five full-scale theatre shows in the World Theatre. The multipurpose MSC Luna Park Arena will feature three new concert shows and the Panaroma Lounge will offer four themed experiences.
The other entertainment venues onboard MSC World America will include Kids Clubs for children up to 17 years, Botanic Garden Pool, The Lanai, MSC SportPlex, and rollerskate arena.
The Harbor is a new outdoor spot on deck 20 for an ideal family experience with the best ocean view. It features a water park, food and beverages, lounging areas and interactive water features. Sensory play areas and a thematic playground called Harbor Lighthouse will also be available for kids.
Dining, bars and lounges onboard MSC World America
MSC World America will offer six speciality restaurants, which include a classic American-style steakhouse, Butcher's Cut, Kaito Teppanyaki Grill and Sushi Bar, and Hola! Tacos & Cantina.
In addition, four main restaurants will offer global and American cuisine. Guests can also experience food at 13 dining venues and three buffets onboard.
Luna Park Pizza & Burger in the World Galleria will serve fast food and snacks all day and night.
MSC World America will have 20 bars and lounges including the Gin Project with a wide range of gins and classic cocktails.
The Masters of the Sea is a classic British pub, which will offer MSC Signature beers. The Elixir – Mixology Bar will offer handcrafted concoctions, and pre and post-meal cocktails with an authentic ocean view.
The new Sports Bar will offer drinks, food, sports, technology and entertainment in one place. Guests can also play game darts and foosball and watch games on the screens.
The cruise ship also features Coffee Emporium, and the Jean-Phillipe Chocolate Shop and Café for chocolates and beverages.
Sustainable features
MSC World America is powered by liquefied natural gas (LNG), which produces 99% fewer sulphur oxides, 85% fewer nitrogen oxides and 20% fewer greenhouse gas emissions compared to other marine fuels.
Nitrogen oxide emissions are further decreased by the selective catalytic reduction system on the ship using the active emissions control technology.
The resistance through water and underwater noise will be greatly reduced by the improved hull design and latest propellers. The waste generated on the ship will be reduced, re-used and recycled using an advanced waste management system.
The onboard heat generated will be redirected to heat the pool water, while the ship engines can be connected to local power grids in port.
The ship also features an efficient heating, ventilation and air conditioning system, advanced wastewater treatment, ballast water treatment system, and LED and fluorescent lighting to improve energy efficiency.
Trim optimisation, which monitors the way the ship sits in the water, will improve ship performance and minimise fuel consumption.
Propulsion
MSC World America and MSC World Europa cruise ships will have the same propulsion system.
The cruise ship will be equipped with a GE power conversion system comprising two 25MW electric induction motors with 120-127.5 rpm. The motors will be supplied by four press-pack insulated gate bipolar transistor (IGBT) PWM MV7000 converters.