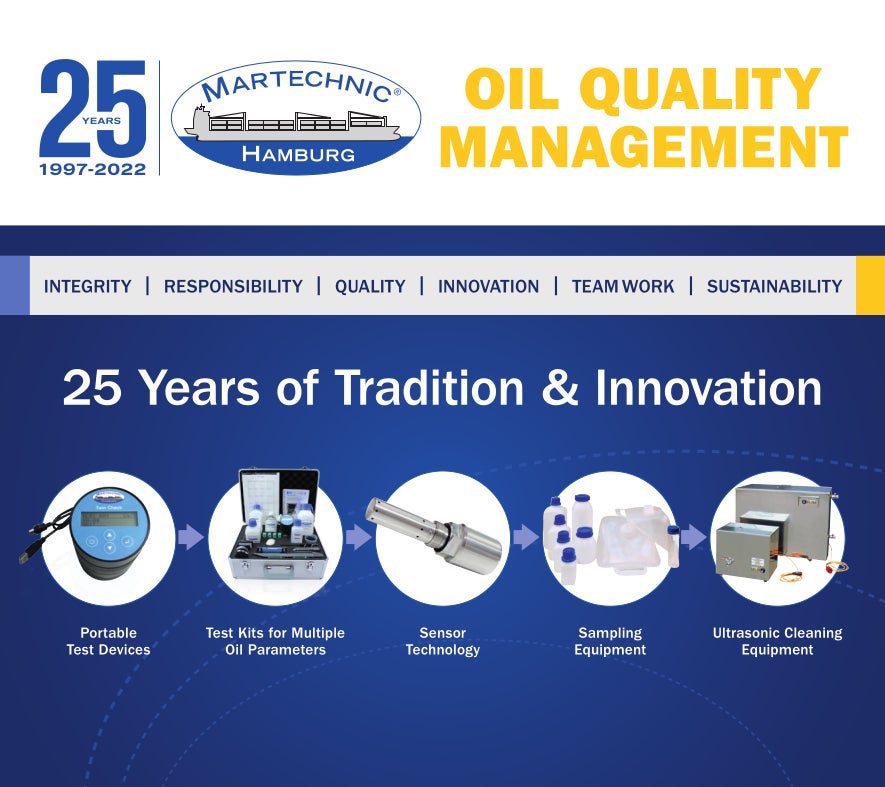 Martechnic is proud to announce that, this year, we are celebrating our 25th company anniversary. The firm was founded on 10 March 1997 as a small, family-owned business in Hamburg, Germany, with a focus on oil quality management.
Throughout our 25 years in business, Martechnic has become a leading expert in the on-site condition monitoring of fuel, lube, and hydraulic oil, with a solid niche market position and a global network of partner companies to provide for 24-hour customer service, quick order processing, and worldwide delivery.
The cornerstone of our business' philosophy for the past 25 years has been offering engineers, technical maintenance personnel, and end-users innovative oil analysis equipment for on-site applications. Our oil test kits and oil sensor technology enable regular or continuous in-service oil testing for quick determination of any off-specification issues or changes in the oil condition, before an actual problem occurs.
Martechnic's high-quality products are aimed to support smooth running and cost-effective maintenance of on-board engine equipment. Optimal and reliable performance of crucial machinery can help to comply with international guidelines and standards of environmental protection, aimed at minimising environmental impact, supporting sustainable development, and saving precious resources.
We look forward to celebrating our silver anniversary this year, and would like to say thank you to all all our customers, business partners, suppliers, and our dedicated employees for their trust, cooperation, and support for the past 25 years. We hope for close teamwork for many more years to come.