MKG has been successfully designing and manufacturing hydraulic cranes since 1969 at its factory situated in the north of Germany. Our existing range of marine cranes comprises knuckle boom, stiff boom, telescopic boom and articulated telescopic boom types.
Marine cranes and ship cranes
Our ship cranes are fitted with a specially designed base for static mounting. All materials are marine-proof and corrosion-resistant, withstanding extreme environmental conditions on-board ships.
MKG marine cranes (HMC) are engineered for compliance with specifications and regulations by all major international classification societies (e.g. ABS, Lloyds, GL and DNV). All materials meet DAST guidelines and all safety requirements.
Before leaving the factory, all cranes are tested with 25% dynamic overload and are approved by neutral experts in accordance with official regulations for lifting gear VBG9/cranes and / or VBG8/winches.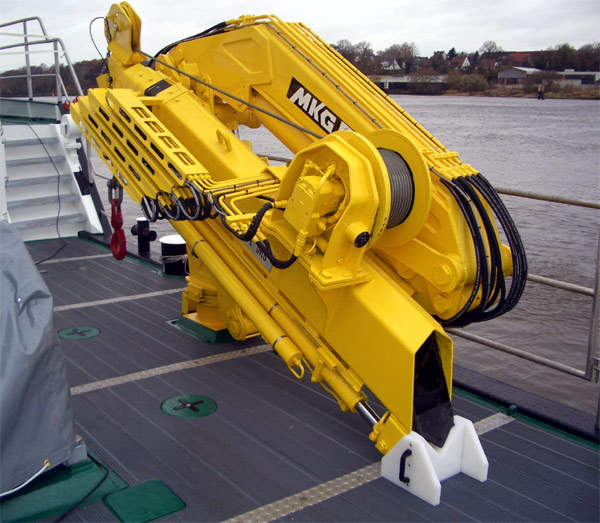 30mt cap. knuckle boom service crane on a work-boat.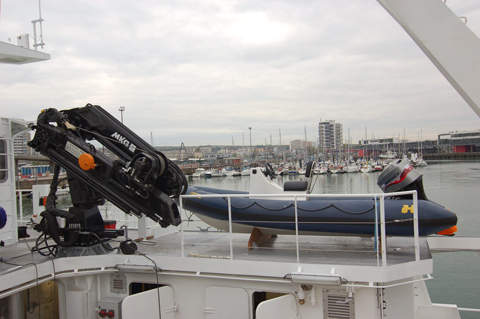 14mt cap. crane with three jib extensions and hydr. winch.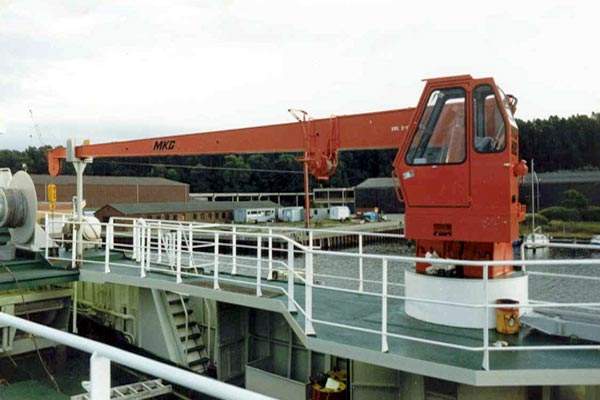 Stiff-boom crane (12m reach mono-boom) with hydraulic winch and steel cabin, aboard an explorer vessel.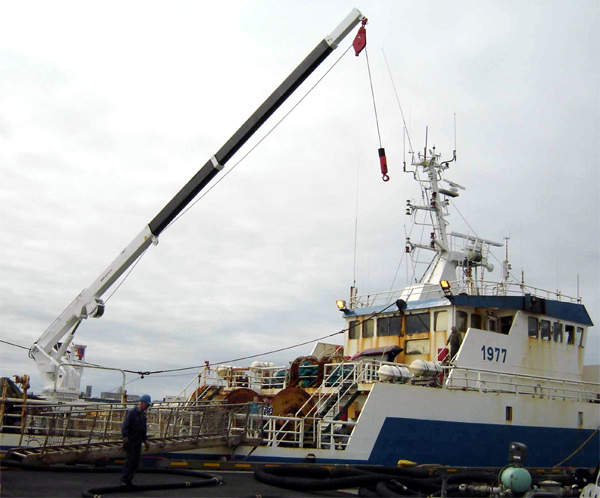 Telescopic crane of 90mt cap. with 2 hydraulic extensions.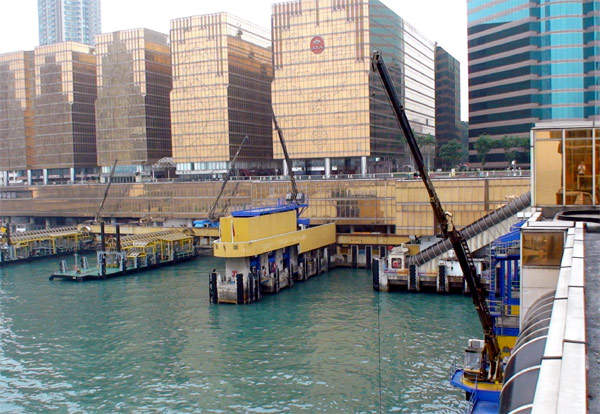 6 harbour cranes (55mt cap. - 25m reach) at China Ferry Terminal in operation 24 hours a day since 1987.
MKG cranes are exported worldwide for static mounting on piers and ships. MKG is the only manufacturer in Germany offering the whole range of 3.5mt to 125 mt capacity marine cranes.
Knuckle boom marine cranes
MKG foldable or knuckle boom marine cranes are available from 3.5mt to 77mt capacity to offer a maximum hydraulic reach of up to 20m. Knuckle boom cranes are widely used as service cranes and/or provision cranes operating on tugboats and anchor handling vessels.
Stiff boom marine cranes
MKG mono-block stiff boom cranes are used for general cargo handling and are mainly tailor made in accordance with customer specifications. All stiff boom marine cranes are equipped with a hydraulic winch as standard.
Telescopic boom marine cranes
MKG telescopic cranes are fitted with up to three hydraulically extendable boom sections and offer a maximum capacity of 125mt. All telescopic boom marine cranes are delivered with high-speed hydraulic winches as standard.
Articulated telescopic boom cranes
MKG manufactures long-reach cranes with a telescopically extendable main boom plus second articulation with a telescopically extendable jib. This crane type mainly operates as a harbour crane for general cargo or luggage handling.
Marine crane accessories
A wide range of options is available for all MKG marine cranes, including top seats, separate control panels, steel cabins, radio remote-control facilities, hydraulic winches, stainless-steel piston rods, pressure reservoirs for lifting cylinders, electro-hydraulic power packs, aerial platforms, and many more.
MKG ship cranes are extremely reliable lifting devices that incorporate the latest technology and the best weight/power ratio, because of their high tensile steel and hexagon or octagonal boom designs.