Westcon Group
Yard Stay Ship Repairs, New Builds, Design and Engineering, Lifting Operations and Retrofits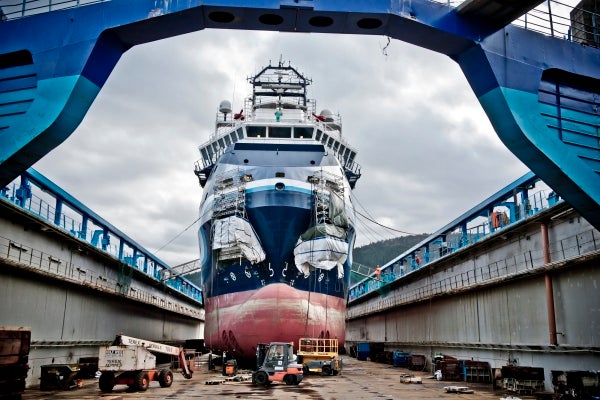 Westcon Group offers a range of services including ship and rig repair, subsea, new-builds, design and engineering, ship classification, vessel lifting operations, rebuilds and retrofits.
The group also provides certifications through its sister companies Westcon Yards, Westcon Power & Automation and Westcon Løfteteknikk.
Westcon Group is a family-owned company with more than 30 years of experience supplying products, services and solutions for the marine and offshore industries.
Shipyards for demanding vessel and rig projects
Westcon has four modern shipyards in Ølen, Florø, Karmsund and Helgeland. Each yard is equipped and ready to carry out the most demanding vessel and rig projects.
Westcon's defining trait is its efficient mobilisation of personnel and resources, coupled with the company's ability to always complete projects on schedule.
Westcon's geographic distribution ensures that one of its facilities is always close at hand; when a project is urgent, the customer can depend on Westcon to mobilise whatever resources are required.
In recent years, Westcon has carried out an average of 200 ship repair projects every year, and has seen more than 100 rig yard stays since 1994.
Engineering, maintenance and modification drilling rig services
Westcon performs engineering, maintenance and modification of drilling rigs, even outside the company's yards. Westcon offers complete projects on all rig systems, as well as all project phases and disciplines covered by the Westcon Group.
The company's factors for success include good rig awareness, excellent implementation ability and advanced use of 3D methods.
Cranes, heavy-lifting services and NRSOK verification
Westcon Løfteteknikk provides crane and heavy-lifting services, including access techniques, control and certification, courses and training, engineering services, NRSOK verification, NDT services and material-handling plans.
Ship power and automation
Westcon Power & Automation offers expertly tailor-made power and electronic automation solutions for ships and offshore rigs. The company has highly qualified employees and resources for installation and commissioning, with more than 30 years of experience in the design of electro and automation installations for ships.
Seismic vessels for subsea services
Westcon owns and operates several seismic vessels and will now be offering cutting-edge subsea seismic technology.
Preventing accidents, injuries, environmental pollution and equipment damage
For the Westcon Group, safety is paramount. The company works proactively to prevent any form of accident, mishap, injury, environmental pollution, or damage to its own, or anyone else's equipment.
WeCare is the health and safety executive (HSE) philosophy shared by all companies of the Westcon Group, and each year we establish new areas of special focus. The long-term goal of our HSE campaign, WeCare, is simply: zero injuries and zero mishaps at Westcon.