ROMAGNOLI Marine Solutions is an Italian company that develops, manufactures, markets and maintains everything concerning winches and deck machinery for marine and industrial applications. The company was formed over 50 years ago, and has significant experience in a number of sectors.
ROMAGNOLI Marine Solutions has significant technical competence and our staff work daily with mechanical, electric and hydraulic construction, assembly and testing. Our organisation is flexible, decisive, and accessible and operates across the world.
We partner with our clients from initial engineering to commissioning.
ROMAGNOLI Marine Solutions is certified according to ISO 9001:2012 with RINA and we take great care in documenting our systems, our progress and our unique solutions.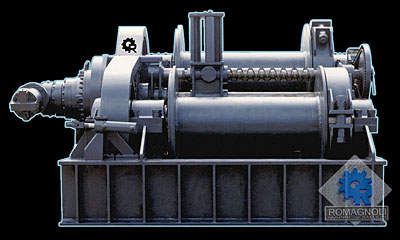 Heavy deck winch for offhore vessel (AHT, platform, pipe lay vessel), up to 450t-500t pulling.

Mooring equipment end winch, combined winches.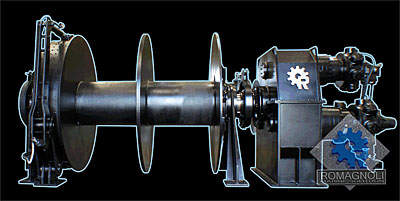 Escort winch, towing winch.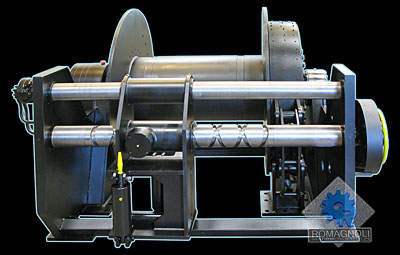 Towing winch, auxiliary winch.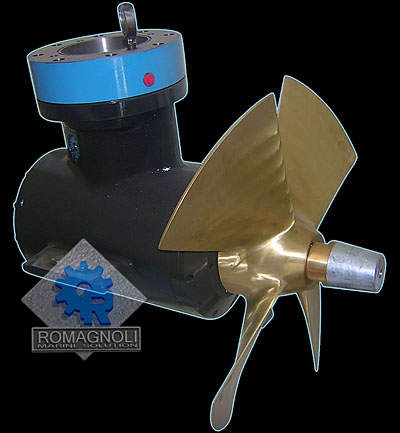 Thruster, bow thruster, stern thruster.
They have repeatedly succeeded in the further development of deck machinery solutions for the marine industry, taking advantage of experience and skill amassed from other sectors.
Module-built winches, thrusters and capstans
Customised turnkey solutions are ROMAGNOLI Marine Solutions' speciality. Module-built winches, thrusters and capstans represent the majority of our sales. Using different combinations of our own standard products, we can offer competitively priced, perfectly customised solutions for a variety of uses. Feel free to ask how we can offer you secure, cost-efficient, one-stop solutions for deck machinery systems.
Our systems are used in large vessels within the offshore, harbour and docking, petrol-oil and energy sectors. Our products are mounted in large military vessels, oil tankers, freight vessels, ferries, dredgers, luxury yachts, tugs, supply vessels, PSVs, AHTS, escort tugs, heavy lift / pipelay vessels, FPSO, crew speed aluminium vessels, landing craft tankers and patrol vessels.
World-leading marine machinery
Producing customised products in close collaboration with our customers is part of our day-to-day work. Our work includes projects for world-leading bow and stern thruster applications (from 15kW to 650kW) in DP vessels, low-maintenance machinery, big winches (up to 450t) and FEM analysis.
Our products are installed and used with success in dynamic positioning (DP) vessels for companies such as of Kongsberg, Rolls Royce and Navis.
All of our mechanical solutions are distinguished by their robust, reliable design.
Our policy is quality and for that reason we equip our systems only with components from a selected but wide range of European (Germany, NL, SW, NO) and US products. Our direct suppliers (pumps, brakes, electrical motors, hydraulic motors, valves, electronic systems and inverters, transducers) have a worldwide presence and world-leading brands. We have vast experience of working with our customers to provide solutions and to provide the best quality product available on the market at the best price.
Winches, capstans and heavy deck equipment
Thrusters, towing winches, mooring winches, tugger winches, windlass, escort winches, offshore winches (with drag brake water cooled), spud winches, capstans (up to 30t) , heavy deck equipment and spare reels form our core business. All our products are both electric end hydraulic, covering a wide range of shipset systems, from main mechanical machinery to the most sophisticated PLC machinery.
ISO 9001-certified design, production, testing and commissioning
All our manufacturing takes place in Italy with a ISO 9001 certificate covering design, production, testing and commissioning and work all over the world. We are organised with core operating bases (our principal building in Civitanova Marche, Italy, consists of around 30 people involved from design to assembly and testing), and a network of regional, European and Italian companies for service around world and the production of semi-finished or finished components destined for final assembly, which is always fulfilled in our factories.
Our workshop is used for the correction of machining, for the production of strategic components and for the management of parallel orders. The entire production group has a workforce of 120 people. We produce under Rina, ABS, BV, and DNV surveyor.
Electric and hydraulic winches for marine applications
The company was founded in 1892 and was originally dedicated to the fishing vessel market. We were the first company in Italy to introduce hydraulic winches for marine applications in 1948. Since then, our work has involved many sectors but marine systems have always been the company's core business.
During the last few years, ROMAGNOLI Marine Solutions has expanded quickly. Most of our customers are located in Europe, Turkey, Asia and the Middle East. Clients have included Fincantieri, Saipem-Eni, the Micoperi group, offshore companies (in Singapore, Emirates, Kazakhstan, etc.), gas terminals and oil gas platforms.